Thanksgiving is here again, and we have so many things to be thankful for — family, great friends, and the fact that all the people listed below somehow survived attempting to cook a Thanksgiving turkey. If you don't get your food catered by the experts, take the necessary precautions to safely deep-fry your turkey this year. Otherwise, you could end up being featured on next year's list of our top five Thanksgiving turkey disasters.
#5: The Dunk from a Distance Technique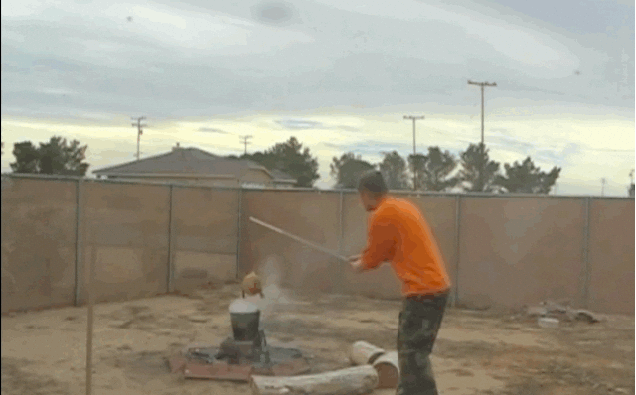 Thank goodness this guy had the sense to use some sort of fishing pole to dunk his turkey, or he would have been the one deep-fried. A quick tip for anyone brave enough to attempt this feat: make sure the oil doesn't exceed the maximum fill line in the fryer. That line is not there as a suggestion. Following the safety rules when deep-drying a turkey can help you keep your eyebrows unsinged this Thanksgiving.
#4: The Griswold Incident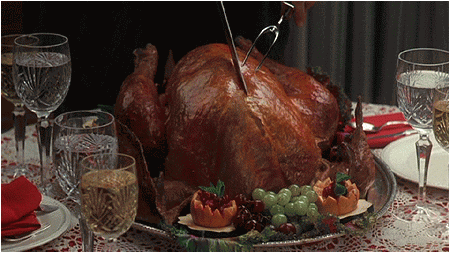 This may not be a real-life incident (and yes, we know it's from a Christmas dinner), but one of the most timeless turkey fails comes from the fictional Griswold family. While a turkey may look gorgeous on the outside, it's really what's on the inside that matters most. To keep your turkey from becoming an arid wasteland, use a meat thermometer. The turkey is perfect when it reaches about 180 degrees in the thigh.
#3: The Limbo Stick Dunking Method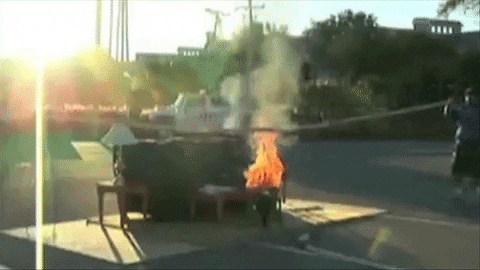 We can't decide what's more ridiculous in this video — the fact that these people thought it was safe to dip the turkey in an already-blazing inferno or the fact that they went to the trouble of bringing the furniture outside to fuel those flames. Here's an easy tip: Before you drop your turkey in the oil, make sure it's not already on fire. The correct temperature for deep-frying a turkey is about 400 degrees.
#2: The Arsonist's Approach
Why someone would deep-fry a turkey directly beside the house we may never know, but we thank these people for the resulting lesson. Homes are not fireproof and dropping a 25-pound turkey into searing hot oil could result in flames spreading more than a foot. Use common sense when deep-frying your turkey this Thanksgiving and keep your fryer more than a few feet away from the house.
#1: The Barefoot Barbecue Tactic
Unless you want to deep-fry your toes, it may be a good idea to wear socks, shoes, and long pants. We know you miss that radiant tan from the summer, but boiling oil won't bring it back. Wear protective clothing when deep-frying your turkey to skip the trip to the emergency room.
Don't make one of these disastrous mistakes this Thanksgiving when preparing your turkey masterpiece. By following the rules and taking a few precautions, you can create a Thanksgiving that is memorable because of the gorgeous turkey, not the resulting injuries. Take the time to read up on safety guidelines to keep yourself and your home safe this holiday season.