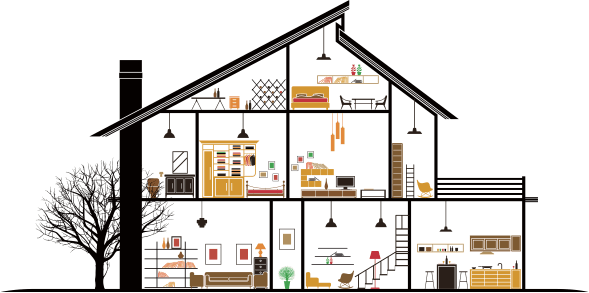 If you're familiar with the SafeWise site, you've probably clicked around to find security tips about practically everything under the sun. But too many clicks might cause you to miss something vital to your personal safety.
To make it easier to find what you need—and stay safe—we've put everything that's important to know about household safety in one place. Here, you can use our room-by-room guides to get tips about common home hazards, shop for the best products, and learn how you can fortify your home.
"Better safe than sorry" couldn't be more of our mantra, so we hope you use this guide to find everything you need to live a safer life—and enhance your home's security.
If you're preparing to welcome a baby into your home, head on over to our baby-proofing guide that's designed specifically for new parents.
General Things to Watch Out for at Home
Houseplants
Houseplants purify the air, but can become deadly when ingested by kids or pets. Keep them out of reach to prevent a disaster, or choose plants that aren't harmful to people or animals:
Christmas Cactus
Coleus
Boston Fern
Spider Plant
Jade Plant
African Violets
Miniature Rose
Unless you have little kids, houseplants pose the greatest risk to curious cats and dogs. Read more about safe houseplants for pets (not necessarily humans) on the ASPCA website.
Lead Paint
This heavy metal is a dangerous one. It can cause developmental delays and even death when touched and ingested, which is why lead poisoning is most dangerous for children under six years old.
If your home was built before 1978, the paint on your walls could contain lead. While this is scary, getting your home tested and reading the Environmental Protection Agency's guide to lead poisoning prevention is a way to avoid tragedy. When lead is properly sealed and remediated, there's nothing to worry about.
Firearms
If you have firearms, tasers, or other weapons, keep them under lock and key. The best way to do this is by storing all weapons in a safe. Prevent kids and intruders from gaining access to your guns by bringing one of these top safes home.
Outlets
Outlets are especially dangerous for babies and toddlers, but can endanger your entire household. When left uncovered, kids can stick fingers and objects into them—resulting in electric shock—and if outlets rub up against furniture, they could start a fire.
Reduce the risk of any of the above by using smart outlets and outlet covers whenever possible. Smart outlets are our favorite because they let you control your appliances and electronics remotely, so if you forget to turn off the curling iron or coffee pot, you can shut it off from an app on your phone.
Room-by-Room Guide to a Safer Home
Ready to take a virtual walk through your home to see where you can improve safety? Let's get to it.