Packages starting at
$30.99/mo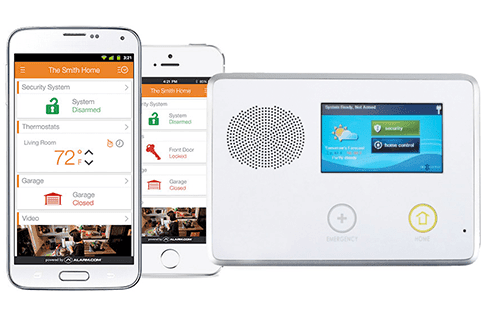 Current Deal: Free Key Fob with the purchase of a home security system
What Sets Link Interactive Apart
Link Interactive doesn't charge for set-up, shipping, or customer support.
Key Features



100% Cellular



24/7 Security Monitoring



Sophisticated Cameras



Customizable Systems



Home Automation
Order your Link Interactive package today.

Call

855-374-4999
Link Interactive Prices & Packages
Insider Tip: For only $5 a month more, you can add video monitoring to your home security package. That's a small price jump for big security benefits—like night vision cameras, HD video, live video streaming, motion sensing cameras, and recording options.
Standard
Services
24×7 Professional Monitoring
100% Cellular
2-Way Voice Communication
Central Station Monitoring
Gold
Services
24×7 Professional Monitoring
100% Cellular
2-Way Voice Communication
Central Station Monitoring
Home Automation
Text & email alerts
False alarm alerts
Crash & Smash Protection
Elite
Services
24×7 Professional Monitoring
100% Cellular
2-Way Voice Communication
Central Station Monitoring
Home automation
Text & email alerts
False alarm alerts
Crash & Smash Protection
Video Monitoring
Live Video Streaming
Video Recording


Current Deal: Free Key Fob with the purchase of a home security system
About Link Interactive
Link Interactive has made a name for itself because of fair pricing, great customer service, and high quality products. It received an A+ rating from the Better Business Bureau and a 5-Star rating from Alarm.com. Whether you're a renter or owner, you can enjoy Link Interactive's 100% cellular security system. It uplinks to cell towers, so you never have an interruption of service due to faulty internet connections or power outages. Whether all you want is the basic package with home automation capabilities or a step up that offers video monitoring, you can't go wrong with a security system from Link Interactive.
100% Cellular Network
Cellular uplink is the most sophisticated technology in the home security industry at the moment. Not all companies offer this capability, but Link Interactive does. Instead of utilizing a landline or wireless signal, your security system will connect through cell phone towers to speak to the monitoring station. If you suffer a power outage or a thief tampers with your landline, it won't affect your security equipment.
Video Monitoring
Video monitoring comes with the Platinum package for just $5 more per month. You won't get dinky cameras either. Link Interactive provides cameras with night vision and HD capabilities as well as those that respond to motion. Every camera is monitored 24/7 by professionals monitoring center. You can even check in on your home yourself by logging into the app to watch live streaming video. To make it even better, you can schedule video to record based on your needs.
Free Set-up, Shipping, and Support
This is a big deal. Most companies charge up to $300 to install home security systems. Link Interactive does not. With your Gold or Platinum security package, you won't have to pay for shipping, set-up, or support. That means you'll only have to pay the monthly service charge and cost of your equipment. While the Go!Control Panel & Cell Module is included, Link Interactive is à la carte. That means you'll need to purchase most every device you install in your home—from window/door sensors to smoke alarms and more. Only some are included.
Extreme Temperature Sensor
If your home gets too hot or cold, it could result in costly damage. Link Interactive has an extreme temperature sensor that monitors equilibrium in your home. If your house's thermostat shuts off and it drops to close to freezing, you'll get an alert so you can act before your pipes burst. If it senses extreme heat or smoke, it will also contact you to inform you of the danger.
Home Automation
Link Interactive has a ton of equipment that allows you to control lights, locks, and temperature from your smart device. Choose from the Z-Wave light bulbs or Lamp Module that control lights in your home, the Universal Garage Door Kit that lets you operate your garage door from anywhere, the 2GIG Smart Thermostat for temperature control, and so much more. There are multiple pieces of equipment you can use for all kinds of home automation needs.
DIY Security Equipment
Link Interactive recognizes the importance of being able to customize your home security system. That's why the company offers DIY security products so you can choose equipment à la carte. Whether you're looking for smoke, carbon monoxide, or heat/freeze sensors, or extra video monitoring equipment, you can add extra items with this option and install them yourself.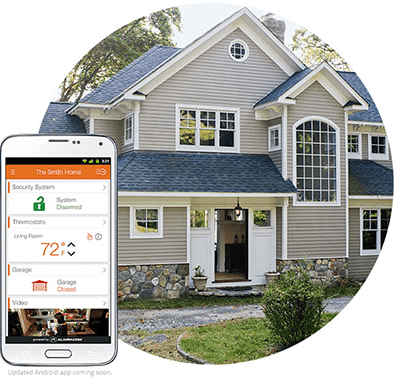 See how stacks up. View SafeWise's best security systems review 
Link Interactive Equipment
Use the digital touch screen to control your entire home security system. Or, upgrade to Go!Control 3.

 Go!Control Panel & Cell Module 

This wireless model can be concealed within a wooden door frame to detect movement.

 Plunger-Type Wireless Door Sensor 

Monitor motion in a 30″x35″ area without your pets setting off the alarm. If they're under 40 pounds, the system will be able to tell.

This wireless sensor listens for breaking glass up to 15 feet away and 360 degrees from where it's placed.

Wear this around your wrist, neck, or waistband so you can call for help wherever you are.

A wireless motion sensor and still camera communicate with your monitoring center for advanced security. Capture up to 40 still images per month.

Keep your home safe from fire and frozen pipes. This all-in-one sensor looks out for smoke, extreme heat, and freezing temperatures.

 Smoke/Heat/Freeze Sensor 

This does everything the smoke/heat/freeze sensor does, plus flood detection.

Connect your existing smoke detectors to your home security system with this device. It listens for alarms and alerts the system when those are detected.

This night vision equipped camera keeps an eye on your home—up to 40 feet away from where it's mounted. And that's in the dark!

 V721W Wireless Exterior Camera 

This WiFi doorbell camera gives you a visual of who's at your front door before you open it. It also controls the Z-Lock on your door.

 SkyBell Doorbell Camera 

Thieves can't tamper or punch through this deadbolt because to doesn't have a cylinder. You also won't need a key since it's a touchscreen!

 Yale Real Living™ Key Free Touchscreen Deadbolt 

Program this from your smart device and control it from afar too. It's a basic home automation product with convenient features.

 2GIG Smart Thermostat 

Control the lights in your home from this main home automation hub. It's compatible with the 2GIG Go!Control Panel.

If you have a garage door from 1993 or older, it'll work with this device that allows you to open, close, and check in on your door from anywhere.

 Universal Garage Door Kit 

This extends the reach between your main security panel and sensors by 80 feet, so you can incorporate more safety products on your property.

 Go!Control Range Repeater 
Pricing listed requires a 3 year monitoring agreement. Prices subject to change.
Why Choose Link Interactive? The Bottom Line
High Industry Rankings
100% Cellular
Free Set-up, Shipping, and Support
Customizable Packages Based On Your Needs
Affordable Video Monitoring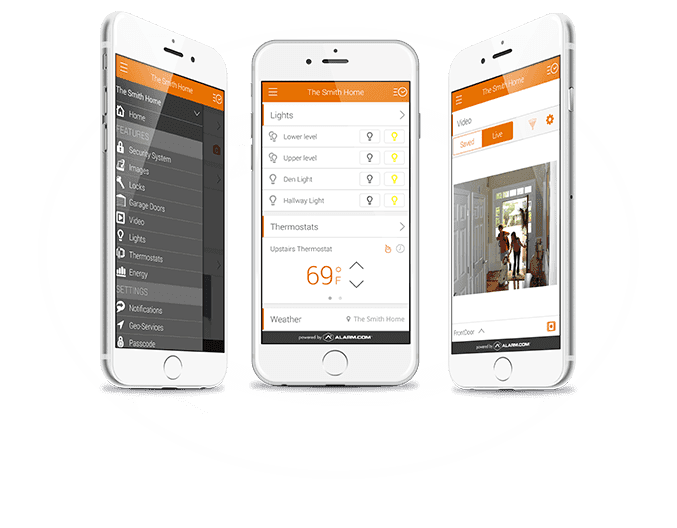 Order your Link Interactive package today.

Call

855-374-4999
Link Interactive FAQs
How Much Does Link Interactive Cost?
Link Interactive offers three monitoring plans: Standard, Gold, and Elite. The Standard plan is $29.99 per month, the Gold plan is $34.99 per month, and the Elite plan is $39.99 per month. Once you decide on a plan, you can call Link Interactive and create a customized solution based on the type of equipment you need. Your price will vary based on what devices you purchase.
Can I Take My Security System with Me When I Move?
Link Interactive allows its customers to move with its security system without a fee. All of Link Interactive's equipment is wireless, making the setup process simple. And because Link Interactive is a national provider, you'll likely have service no matter where you decide to move.
Does Link Interactive Require a Phone Line?
Link Interactive's security system is 100% wireless, meaning there's no need for a landline connection. A wireless connection uses an uplink to communicate with the monitoring center. It's quickly becoming the new standard for security systems because it's the safest and most reliable option.
Do Link Interactive Security Systems Come with a Warranty or Guarantee?
Link Interactive's equipment comes with a two-year warranty. Under the warranty, Link Interactive's support team will resolve any device issues and replace faulty equipment.