Water Filtration Systems: A SafeWise Buyers Guide
2019's Best Water Purifiers and Filtration Systems
Water is life, so stay healthy by ensuring the substance you consume most often is safe. Filtration systems not only remove particulates, but also improve the overall quality of the water you consume.The water filtration and purifying systems that made our list use a variety of filters to improve the taste, color, and odor of your water. We've sorted them by method of delivery, from small pitchers to under-sink reverse osmosis units that'll deliver the fresh, safe drinking water you rely on.
Best Water Filtration Pitchers
Model
What We Love
Downsides
Where to Find It
Poor Filters that Require Frequent ChangingHigher Cost
LargeBPA-FreeNSF Certified
2-Month Filter LifeSlow Flow
InexpensivePositively Reviewed
1-Month Filter LifeNo NSF Certification
Best Faucet Mount Water Filters
Model
What We Love
Downsides
Where to Find It
Has 360-Degree SwivelRemoves 99% of Lead
Plastic with BPAShorter Filter Life
Bacteria and Mold Prevention4–5-Month Filter LifeBPA-Free Plastic
Doesn't Remove LeadIsn't NSF Certified
Best Under-Sink Water Filters
Model
What We Love
Downsides
Where to Find It
Removes 99% of ContaminantsIs SmallerOffers Lifetime Support
Not NSF Certified PlasticComplicated Installation
Removes 99% of ContaminantsIs Least ExpensiveIs BPA-Free
Bulky and HeavyNot NSF Certified
1-Year Filter LifeMineral Adding Capability
ExpensiveNot NSF CertifiedBPA-Free
Things to Consider in a Water Filtration System
Before you jump in with both feet, let's answer a few questions about what type of water filtration system would best meet your needs. Already know what you want? Dive into the details in our product reviews below.
What Contaminants Does Your Water Have?
Before you decide what to filter, you need to know which contaminants your water supply already contains. To determine your tap water's quality and pollutant level, get your water tested by a professional or request the Consumer Confidence Reports from your county's water provider. All community water facilities are required to report results of water quality testing every July. Cities of 100,000 or more residents must publish these reports online with the Environmental Protection Agency (EPA). You can search for your community in the EPA's database below.
Find Your Local CCR
Be on the lookout for heavy metals like lead and mercury, which are considered toxic even in small doses. To learn which type of contaminants are the most dangerous, read the EPA's standards for drinking water contaminants.
EPA Guidelines on Drinking Water Contaminants
What Filter Type Do You Need?
Charcoal Carbon Filters
These granulated charcoal carbon filters use their large surface area and pore structure to absorb particulates from water.1 Carbon filters are common in carafes or pitchers and are considered a cost-effective way to improve taste and remove basic contaminants like chlorine. They do not, however, effectively address minerals, salts, or inorganic compounds. Carbon charcoal filters have a shorter lifespan as well, with recommended monthly or bimonthly replacement.
Reverse Osmosis
This fancy-sounding technical term is one of the most effective ways to filter your drinking water, 2 using pressure and a semipermeable membrane to trap particulates. Often, water filtration systems will combine reverse osmosis methods—which focus on removing heavy metals like lead—with a carbon filter to improve taste and odor. While these filtration systems are usually costlier, over time you'll reap some savings since manufacturers recommend changing the filters in reverse osmosis units yearly.
Ion Filters
Some companies claim that by ionizing and adjusting the alkalinity of water, consumers can reap health benefits. However, the science on this claim, which relies on the idea of healthy pH levels in the body, is nonexistent. 3 Ignore the pseudoscience and stick with filters that utilize either carbon or reverse osmosis so you can filter the things that matter from your drinking water.
Where Would You Like to Dispense Drinking Water?
Pitcher Water Purifier
These are inexpensive pitchers or carafes that rely on a steady supply of manual labor (probably yours), to keep cool, filtered water in your fridge. While you'll need to make space in your crowded fridge for these handheld units, they are an inexpensive, basic first step to effective filtration that typically employ a carbon charcoal filter.
Refrigerator Water Filters
If you've got a modern fridge, chances are it has a water filtration system built in. These systems are a boon for convenience, but the carbon charcoal filters can still be expensive and need to be changed regularly. We don't cover these types of filters in our buyers guide because, while they might be one of the most common ways to filter your water, you probably didn't (and won't) buy your fridge based on the filtration system.
Faucet Water Filters
You've seen these old-school attachments, but most faucet water filters have gotten a facelift since you last looked. Many pivot 360 degrees and have sleek, modern designs that are worlds away from the cheap, white plastic filters from your childhood. While they still tend to exclusively rely upon the cheaper carbon charcoal filters, faucet filtration is an inexpensive alternative to clunky carafes that hog fridge space.
Under-Sink Water Purification Systems
These water-filtration units stay out of the way but are usually more complex and therefore a more expensive method to clean up your drinking water. Many of the ones that made our list employ reverse osmosis as well as carbon filtering, which is effective for removing heavy metals and improving the overall quality of the water you drink. Even though they might be out of sight and out of mind, clear plenty of space down below because these units can be bulky and trickier to install.
Whole-House Water Filtration Systems
Whole-house filtration systems are exactly what they sound like: whole-home systems that treat your entire water supply, not just your drinking water. This is usually an unnecessary and costly approach, so most homeowners opt to treat their drinking water separately and install a water softener as needed. For that reason, we did not include these types of systems in our recommendations and focused instead on the best filters to improve the quality and safety of your drinking water.
What Certifications Does the Filtration System Have?
Manufacturers of water purifiers and filtration systems do have a certification process they can participate in through The Public Health and Safety Organization, better known as the NSF. Manufacturers select what type of contaminants they are going to filter, and the NSF determines whether those products meet its standard.
View the NSF Standards for Water Filtration Systems
In addition to an NSF seal, look for filtration systems that use plastic certified as BPA-free to avoid concerns about toxins leaching into your water as the plastic erodes.
How Much Do You Want to Spend on Water Filtration?
Best Water Filtration Pitchers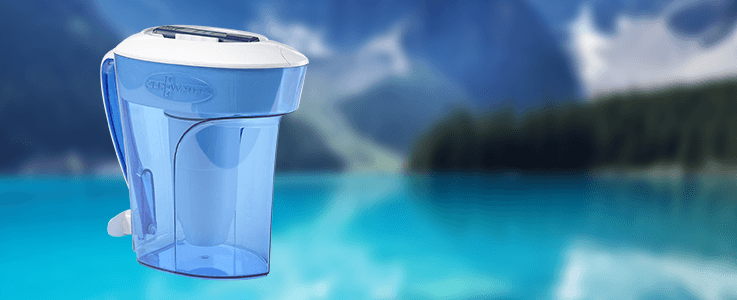 Zero Water ZP-010 10 Cup
This little blue powerhouse of a pitcher employs five stages of filtration to bring you clean drinking water. Using a combination of a carbon filter, an ion-exchange filter, and a membrane, Zero Water brags that this ten-cup pitcher removes 99.6% of dissolved solids. But it requires frequent filter changes and comes with the largest price tag of any pitcher on our list.
BPA-Free Plastic. Studies have shown that plastic leaches contaminants when exposed to heat, cracked, or used repeatedly, so BPA-free plastic is considered safer for containers that might be used repeatedly. 4
NSF Certification for Removal of Lead and Chromium. Some contaminants are inherently more dangerous than others, so look for NSF certification if you have higher levels of lead in your drinking water supply.
Shorter Filter Life. This pitcher includes a test meter to indicate when the filter needs to be changed, but some customer reviews indicated the meter malfunctions and filter life is just over a month.
Higher Price Than Other Pitchers. The robust filtering and high-quality plastic have a cost, and you'll see it reflected in the higher price tag.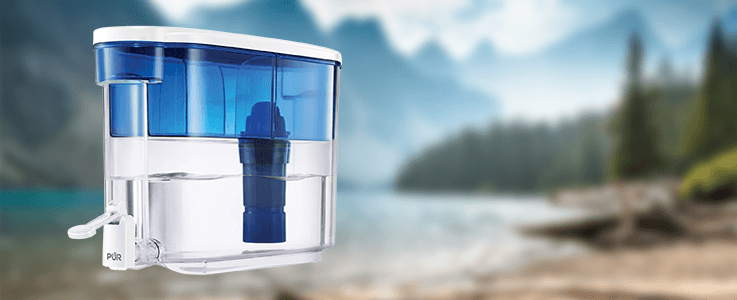 PUR Classic 18-Cup Dispenser
Go big for less with this eighteen-cup dispenser that provides filtration from a combination of methods. While the coconut shells and ion exchange produce dubious results, this filtration container is NSF certified to provide up to forty gallons of clean drinking water. Reviews indicate customers have also complained about flow issues, presumably due to clogged filters or accumulated hard water residue.
BPA-Free and NSF Certified. Clean drinking water is an important safety concern for your family, so make sure the filtration system you use is certified and minimizes contaminants.
Large and Fits in Most Fridge Doors. If you've got a large family, you want a carafe designed to serve a crowd. This one is huge, but you can tuck it subtly into a fridge door.
2-Month or 40-Gallon Filter Life. While it indicates the filter could last you up to two months, this is still a short duration compared to other faucet-mounted and under-sink filtration systems.
Slow Flow. A few Amazon customer reviews indicated that this pitcher dispenses slowly or becomes clogged with water residue that inhibits the flow. You can avoid that by flushing the spout with vinegar periodically.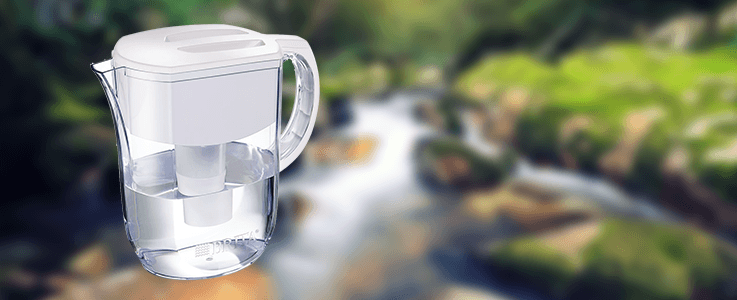 Brita 10 Cup Everyday
It's hard to improve on a classic, and when you're talking about water filtration pitchers, this Brita is definitely old school. The filtration system focuses on taste and odor but doesn't address heavier minerals like lead. It is, however, cheap and BPA-free, and it retains its signature space-saving design. It also earns some of the highest ratings from customers on Amazon, despite reports that the filter needs to be replaced monthly.
BPA-Free Plastic. If there's one thing you don't want to go old school with, it's plastic. Look for pitchers that are certified BPA-free to minimize possible contaminants from the plastic itself.
Lower Price. Brita is one of the most economical and trusted brand names in water filtration.
Great Reviews. Customer feedback on Amazon indicates most are satisfied with the filtration Brita offers and the quality of the carafe.
No NSF Certification. While Brita doesn't offer a certification on its filters, you're always welcome to test the water yourself to ensure you're getting exactly what you're paying for.
Shortest Filter Life (1 Month). These relatively inexpensive charcoal filters require monthly changes to keep up with the volume of drinking water most households use.
Best Faucet-Mounted Water Filters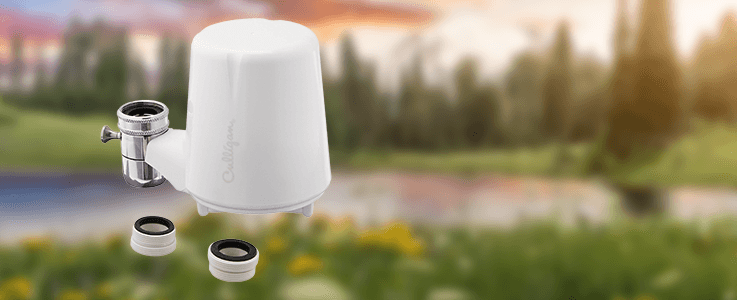 Culligan FM-15A
While this faucet-attachment filter may be made of cheap, white plastic, it does all the basics—including being NSF certified—to address lead and chlorine. It also has a two-year warranty, and Culligan reports that the FM-15A filters about 200 gallons of water, which is almost five times what other similarly priced pitchers filter.
Inexpensive. This is the lowest priced faucet filter on our list and is comparable to purchasing a carafe.
NSF Certified. You will get the satisfaction of NSF-guaranteed testing on the contaminants filtered by this faucet-mounted Culligan.
Not BPA-Free. This isn't as important a consideration as it is for carafes, where the water will sit in the plastic continuously, but it's still a drawback.
Simply Designed. This faucet filter is straightforward white plastic, so if you're looking for a more modern design, you'll be disappointed.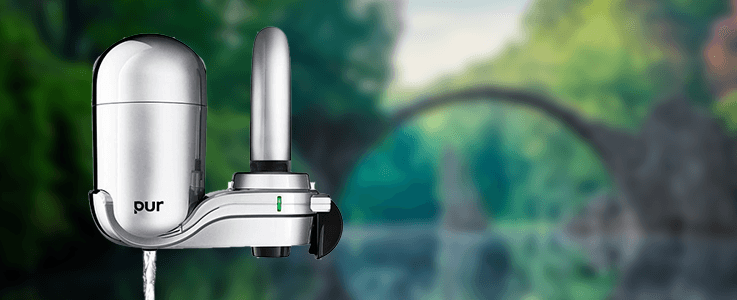 PUR FM-3700B 3-Stage Advanced
This is essentially the faucet version of the same filter utilized in the eighteen-cup dispenser from PUR that we recommended earlier. It is certified to deal effectively with lead and mercury contaminants but has half the filter life of the Culligan faucet-filter model. The higher price may reflect aesthetics over performance since the faux metal finish on this attachment will blend into your modern kitchen décor.
NSF Certification for Removing 99% of Lead. Heavy metals are a big deal when it comes to long-term health effects, so ensuring a minimal amount of lead is important.
Modern, Faux Metal Finish. This faucet filter design will fit right into your modern kitchen décor without making a fuss.
360-Degree Swivel. This agile feature allows you to work around obstructions in your kitchen sink to get the flow you need.
More Expensive. Those extra design features have a cost, but you still won't break the bank with this faucet filter in comparison to more advanced reverse osmosis units.
Not BPA-Free. As we discussed previously, the plastic is not as much of a concern since water won't be stored in this filtration unit, but BPA-free plastic is still a best practice for health reasons.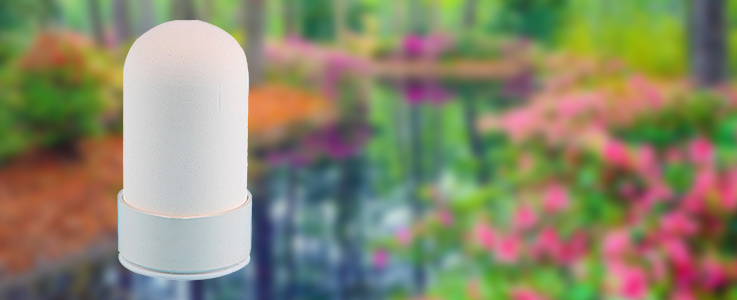 Kabter Healthy Faucet
Kabter's faucet filter earns rave reviews from customers on Amazon due to its sleek design and sturdy construction of BPA-free plastic. But buyer beware since it's not NSF certified and doesn't address contaminants like lead. And despite the slightly higher price tag, you'll get about the same filter life as other faucet models on our list.
BPA-Free Plastic. Kabter has done the due diligence here and ensured the plastic involved is BPA-free to minimize contaminants.
Bacteria and Mold Prevention. This feature is unique to this faucet filter and makes it attractive for those who might live in climates that experience frequent humidity and mold growth.
Great Customer Reviews. Amazon customer reviews for this faucet filter are overwhelmingly positive, citing great flow and improved taste.
No NSF Certification. While Kabter makes some pretty bold claims about what the filter provides, these aren't backed by a certification process.
Average Filter Life. While you may be able to use this faucet filter for three months without changing it, most customers report that's probably a stretch. Actual filter life is much closer to two months.
Higher Price. While it's the most expensive faucet filter on our list, you're getting some pretty nice features for just a few additional dollars.
Best Under-Sink Water Filtration Systems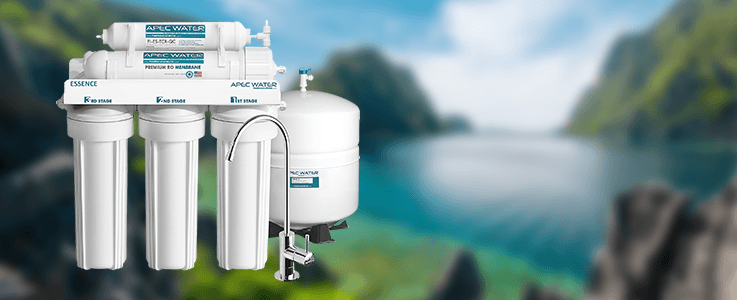 APEC 5-Stage Reverse Osmosis System
A reverse osmosis system that cleans over 1,000 contaminants, the APEC uses five stages of filtration to minimize lead, arsenic, and more. While the filters are not NSF certified, the manufacturer does offer lifetime support and a one-year satisfaction guarantee.
Removes 99% of Contaminants, Including Lead and Arsenic. Reverse osmosis systems are some of the most robust filters on the market, especially when it comes to removing heavy metals.
Is Smaller Than Other Recommended Models. While you do get to tuck these units under your sink, some of them can be quite large, so check out the size before you commit.
Offers Lifetime Support and One-Year Satisfaction Guarantee. APEC stands behind its products with the promise of support whenever you need it.
Not NSF Certified, Except for Tubing. The filters are not NSF certified, although the tubing that runs from the filtration unit to your sink is.
Not BPA-Free. Again, this is not as large of a concern for reverse osmosis units since they don't store water for long periods of time, but it's still worth noting as a basic safety concern.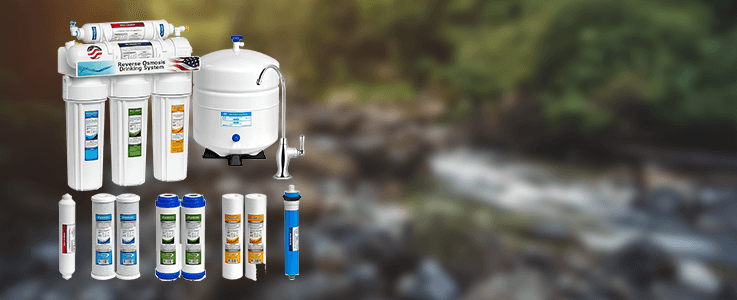 Express 5-Stage Reverse Osmosis System
In terms of value, this reverse osmosis under-sink unit delivers. Not only is it the lowest priced RO unit, but it also includes four extra filters. Plastic housing, valves, and tubing are BPA-free, and the filter, while not NSF certified, reportedly removes most major contaminants. But make sure you've got room under the sink for this super-sized filtration system, which weighs nearly twice as much as the other recommended models on our list.
Is BPA Free. This filtration leaves nothing to chance with BPA-free plastic components.
Removes 99% of Contaminants, Including Lead and Arsenic. Like most reverse osmosis systems, this one excels at removing dangerous heavy metal contaminates like lead.
Is Least Expensive Reverse Osmosis Unit Recommended. Out of all the higher-end filtration systems on our list, this one comes in with the lowest price tag.
Not NSF Certified. Despite some pretty lofty promises, this filtration system is not backed by testing from the NSF.
Large and Bulky. Make way under your sink because this unit demands quite a bit of space.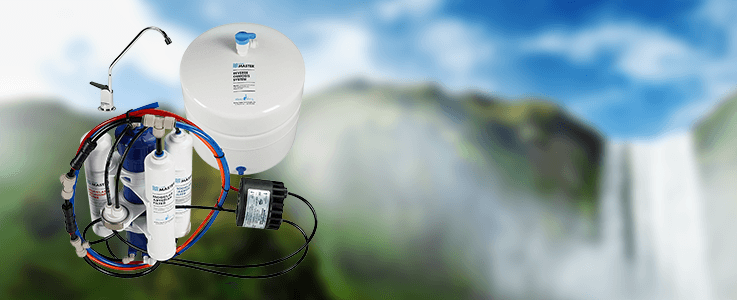 Home Master TMAFC-ERP Artesian Reverse Osmosis System
An artesian RO system, this filtration unit not only removes dangerous contaminants from your water, but also infuses it with additional minerals like calcium and magnesium. The built-in pump delivers great flow with less water waste, and filters only need to be changed yearly. Despite the higher price tag, Home Master's Artesian Reverse Osmosis System is the only water-filtration unit on our list to earn an almost five-star rating on Amazon.
Adds Minerals Like Magnesium and Calcium. Of the items on our list, only this unit can add specific minerals to the water—an advantage to those with specific health concerns.
Has Better Flow and Less Water Waste with Built-In Pump. A built-in pump provides more muscle to increase the water flow, resulting in less water pooling within the unit.
Has Longer Filter Life. Because these filters have an advanced design that doesn't require changing the entire cartridge, they have a much longer filter life than some other systems.
Earns Great Customer Reviews. This filtration systems knocks it out of the park with excellent Amazon approval numbers.
Not NSF Certified. Despite some fantastic advantages, the actual performance of the filter isn't certified by the NSF.
Not BPA-Free. Unlike the previous unit our list, Home Master doesn't use BPA-free plastic, which is less of a risk for these types of filtration systems but still a concern.
Expensive. Ouch. This one may fit the bill for your household water filtration needs, but be sure it fits your budget as well.
Find Your Perfect Home Security System