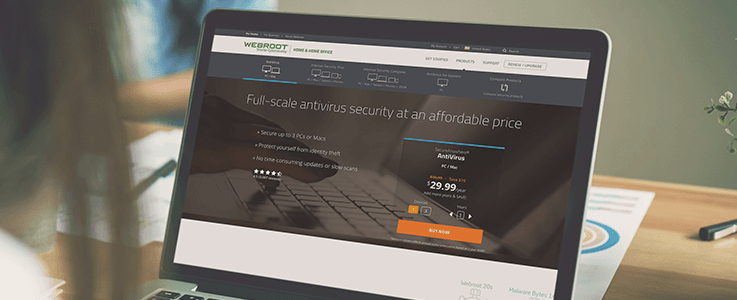 Webroot Antivirus
An Amazon favorite, Webroot garners tons of positive reviews for using minimal disk space while still providing maximum protection.
Inexpensive This is one of the least expensive software programs on our list, but also one of the highest ranked by customers—which goes to show that sometimes, you really can get more than you pay for.
Fast Webroot takes up a tiny bit of space, allowing it to address threats quickly with minimal disruption to your activities. It does this by utilizing a clever cloud security approach.
Backed by a 70-Day Guarantee This company stands behind its product and backs it with an extensive warranty. This approach earns plenty of kudos from customers, who give Webroot high marks for service.
Not Tested by Experts While the customer reviews are positive, this software has not been extensively tested by industry experts, so buyer beware. This is where that 70-day money-back guarantee can really provide some confidence.