2018 Best Identity Theft Protection Services Buyers Guide
Updated: October 13, 2017
Identity theft is no laughing matter: protect your identity, credit, and finances with the help of these SafeWise-approved services. Identity theft can happen to anyone and everyone: there is no rhyme or reason, and it has the capacity to gravely impact your future. But what exactly is identity theft? Identity theft is when your personal information is stolen for profit. Typically, your identity (or personal identification information) consists of things such as your full name, Social Security number, home address, credit card numbers, date of birth, and so on. Sensitive information like that can be used to purchase big-ticket items (without your consent), in turn affecting your credit score and future, too.
While identity theft complaints have decreased 3% from 2015 to 20161, recent events have shown us that identity theft remains a pervasive problem.
Recovering your identity can be a long and arduous process. So, instead of falling victim to an identity thief, arm yourself with preventive and proactive measures such as credit monitoring or identity theft protection services. To make the process easier to navigate, we've done the research for you and compiled a list of effective identity protection services to prevent your Social Security number and other valuable information from falling into the hands of an identity thief.
24/7 comprehensive monitoring and protection
Mobile app
Lost wallet assistance
Social Security number tracking
Manual cancellation
Extra cost for child coverage
Insurance offered only on certain plans
Credit monitoring and identity theft protection
Computer protection software
Credit card protection
Customer service issues
No child identity protection
No mobile alerts
24/7 customer service
Plans for children and older adults
Lost wallet assistance
Dark web surveillance
No daily credit monitoring
No medical identity protection
Expensive price tag
Insurance offered only on certain plans
Mobile app
Low-price monitoring and restoration
Coverage for 2 adults and 8 children
No recovery reimbursement
No computer protection software
Only quarterly credit score
IBM Watson AI
Mobile app
User-friendly dashboard and interface
Limited customer service availability
Expensive price tag
Insurance offered only on certain plans
Things to Consider with Identity Protection Services
Choosing the best identity protection can feel like trying to find a needle in a haystack. It's important to understand that identity protection services are a proactive means that monitor your identity for potential theft, rather than prevent identity theft from happening. Most of the identity protection services detailed in this guide also offer recovery services that make it easier to recover your good name. But recovery services are unique to each company, so no two are the same.
There are some major things to consider when purchasing an identity protection service. First, understand the differences between credit monitoring and identity theft monitoring. Then, assess the cost and convenience of a plan, as well as coverage extensions and add-ons. Ultimately, you'll arrive at a clearer understanding of what you want in an identity protection service.
Credit Monitoring vs. Identity Theft Monitoring—Which Is Best?
Some companies provide a comprehensive credit and identity monitoring service for a flat rate, while others offer customizable plans. And some companies provide only one monitoring service, but not the other.
Credit Monitoring
Credit monitoring tracks activity that populates on your credit report via a credit reporting agency (CRA). Credit monitoring services often post an alert or warning if any of the following instances occur:
Your credit history is checked (e.g., when a lender checks your credit for an auto loan)
A new loan or credit account is opened in your name
A creditor or collector sends a late payment notification
A legal judgment is taken against you
Bankruptcy is publicly declared
Your credit limits or personal information change
Confirm the provider's monitoring frequency and which CRAs they patrol. Some providers put limitations on the number of reports you can access—be on the lookout for report access fees or restrictions.
Identity Monitoring
Identity monitoring observes personal identification information that a credit report doesn't cover. Identity monitoring services cross-reference databases that accumulate varied pieces of personal information. This is done to see if the database populates information that is incorrect or new, both of which are red flags for identity theft. Instances that might alert an identity monitoring service are as follows:
New court or arrest records
New orders for utility, cable, or wireless services
A request to cash a check
Any activity on online black market websites
A payday loan application
A social media account is opened in your name
Cost and Convenience
Everyone wants to get the most bang for their buck. Ensure you're making the most of your plan and its respective cost.
Stolen Funds Reimbursement
Identity theft can incur financial harm, which is why some services offer stolen fund reimbursement. Depending on the plan, the reimbursement can be a separate add-on called identity theft insurance, or some companies will integrate it into the plan's offerings. Always double-check to see how much the stolen fund reimbursement covers and whether or not you'll have to pay out-of-pocket expenses related to the identity reclamation process.
Customer Service
Reporting identity theft is a stressful experience—calling your identity theft protection service's hotline shouldn't feel equally stressful. Read reviews regarding a company's customer service: did customers feel as though their needs were met? Were they treated with kindness and compassion? Or were they ignored and kept on hold for hours at a time?
Mobile App
Consider the convenience and comfort of having an identity theft monitoring service at your fingertips wherever you go. A mobile app is especially fitting for people who travel frequently or also monitor their family members' credit.
Coverage Extensions and Add-Ons
Extensions or add-ons provide a sense of customization. This is convenient if you're seeking a thorough and comprehensive plan or if you're looking to protect your loved ones from identity theft.
Family Plans
If you have children or another adult in your immediate family, see if the company offers a family plan. Ideally, family plans cover identity theft and credit monitoring.
Medical Record Protection
Medical records aren't exempt from identity theft. A thief may steal your identity to acquire health insurance, prescription drugs, or even file fraudulent insurance claims. If you visit the hospital frequently or use your medical insurance often, look into medical record protection.
Computer Protection Software
If you've ever shopped or banked online, your computer contains sensitive personal information. Some companies offer protection for your computer. However, if you want to go the extra mile, check out our Anti-Malware Buyers Guide.
Identity Theft Protection Plans Compared
| | | | | | |
| --- | --- | --- | --- | --- | --- |
| | Identity Force | Privacy Guard | Lifelock | IDShield | Identity Guard |
| Credit Monitoring | ✔ | ✔ * | ✔ | ✔ | ✔ |
| Identity Monitoring | ✔ | ✔ * | ✔ | ✔ | ✔ |
| Restoration Services | ✔ * | ✔ | ✔ * | ✔ | ✔ * |
| Stolen Funds | ✔ * | ✔ | ✔ * | | ✔ * |
| Mobile App | ✔ | | ✔ | ✔ | ✔ |
| Mobile Alerts | ✔ | | ✔ | ✔ | ✔ |
| Child Protection | ✔ | | ✔ | ✔ | |
| Older Adult Protection | | | ✔ | ✔ | ✔ |
| Computer Protection | | ✔ | ✔ | | ✔ |
| Medical Record | ✔ | | | ✔ | |
| Lost Wallet Assistance | ✔ | ✔ | ✔ | ✔ | ✔ |
*dependent on plan
Best Identity Theft Protection Services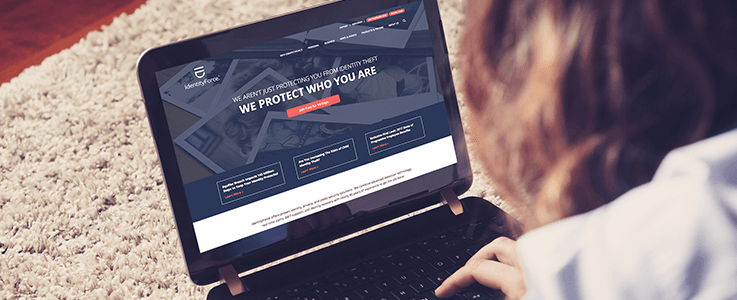 Identity Force
Identity Force offers two tiers of monitoring plans replete with insurance, alerts, and child-specific identity monitoring. Credit monitoring is limited to the upper-tier offering.
24/7 Comprehensive Monitoring and Protection Identity Force provides real-time notification and 24/7 monitoring, so you're able to act fast should your identity be stolen.
Mobile App The Identity Force app offers immediate control and access to your protection plan, allowing you to keep an eye on your identity whether you're at home or abroad.
Lost Wallet Assistance Should you lose your wallet or have it stolen, this plan feature enables you to quickly cancel and replace credit, debit, and ATM cards.
Social Security Number Tracking In the event that an unfamiliar address, alias, or name pops up under your SSN, the SSN tracking feature alerts you to potential identity theft.
Manual Cancellation Identity Force's lower-tier option offers a free trial period for 14 days, yet it requires a manual cancellation upon completion of the free trial.
Extra Cost for Child Coverage Instead of incorporating child identity monitoring into your plan, Identity Force charges extra for the feature. However, it does monitor your child's identity, tracks their SSN, fully restores their identity, and provides identity theft insurance.
Insurance Offered Only on Certain Plans The insurance and stolen funds replacement is dependent on the specific plan you purchase.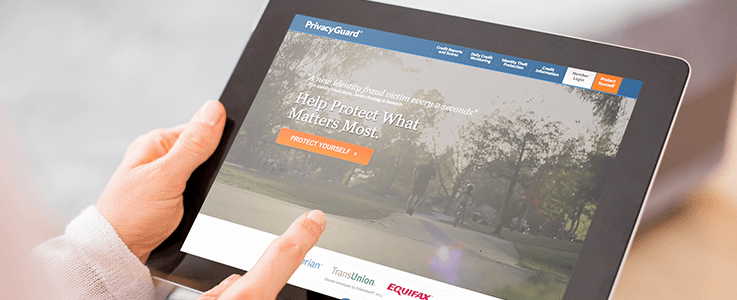 Privacy Guard
Privacy Guard is a multi-offering service that monitors your credit and identity, providing you the best of both worlds.
Credit Monitoring and Identity Theft Protection For the top-tier plan, Privacy Guard offers a blend of credit monitoring and identity theft protection. To do so, Privacy Guard monitors all three credit bureaus, public records, and black markets.
Computer Protection Software Safeguard your sensitive digital information with the computer protection software.
Credit Card Protection Through its daily credit monitoring service, Privacy Guard offers credit card protection to ensure no one has opened up a new credit card in your name.
Customer Service Issues Multiple reviews have rated Privacy Guard's 24/7 customer service as untimely and lackluster. Additionally, customers noted frequent issues with billing and high monthly rates.
No Child Identity Protection If you have children, there's no way to add them to your Privacy Guard plan. You'd have to purchase an additional plan through Privacy Guard or with another provider.
No Mobile Alerts Without a mobile alert, your reaction time to a potential threat is delayed. Thankfully, Privacy Guard isn't without an alert system—it monitors your credit report daily and will send you an alert if your credit score has changed.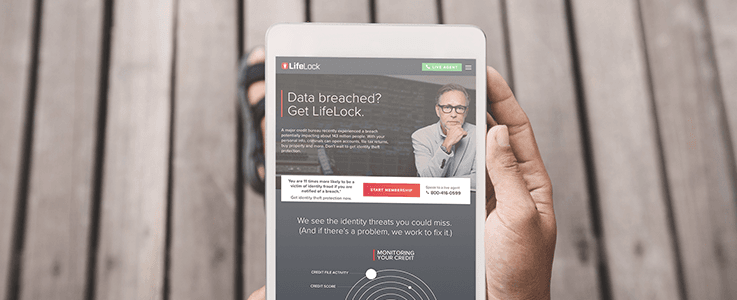 LifeLock
LifeLock offers a variety of identity and credit monitoring services. LifeLock also provides response plans and features an optional mobile app with real-time response capabilities.
24/7 Customer Service Should a problem or query arise, you can count on LifeLock's customer service to answer your call.
Plans for Children and Older Adults Get complete, family-wide coverage—LifeLock offers add-on plans for children and older adults.
Lost Wallet Assistance In the event that you lose your wallet or it's stolen, this feature allows you to cancel and replace credit cards, licenses, and Social Security cards.
Dark Web Surveillance LifeLock patrols and monitors websites that identity thieves use to sell stolen information, adding a level of enhanced defense. Also, LifeLock provides an alert if your information or data is used.
No Daily Credit Monitoring LifeLock's credit report monitoring happens only periodically, not daily.
No Medical Identity Protection If you visit the doctor frequently, LifeLock might not be the plan for you. LifeLock doesn't offer medical identity monitoring or protection, so you'll have to monitor your medical records manually.
Expensive Price Tag The top-tier plan is a bit pricey, so you'll have to weigh what's most important to you—an inexpensive plan or peace of mind?
Insurance Offered Only on Certain Plans While LifeLock states that it will reimburse you "dollar for dollar," the reimbursement limit is actually dependent on which plan you opt for. This discrepancy is offset by theiIdentity Restoration Support Services.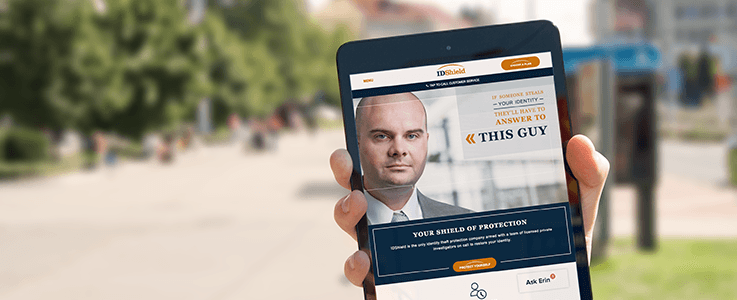 IDShield
IDShield is an identity monitoring service that works hand in hand with a licensed private investigator should your identity be compromised.
Mobile App Get immediate access to your monitoring service with IDShield's mobile app.
Low-Price Monitoring and Restoration For $9.95 a month you get basic identity and credit monitoring, but computer protection software is not included.
Coverage for Two Adults and Eight Children IDShield offers basic coverage for your family for a mere $19.95 a month.
No Recovery Reimbursement As we mentioned before, restoration services are different than recovery reimbursement. And while IDShield will ensure that your identity is restored to its pre-theft status, it ill not provide reimbursement for stolen money.
No Computer Protection Software IDShield doesn't provide computer protection software, so you'll have to purchase anti-malware services independent of your IDShield plan.
Only Quarterly Credit Score Monitoring IDShield's custom platform offers only quarterly updates—meaning you might miss a potential threat.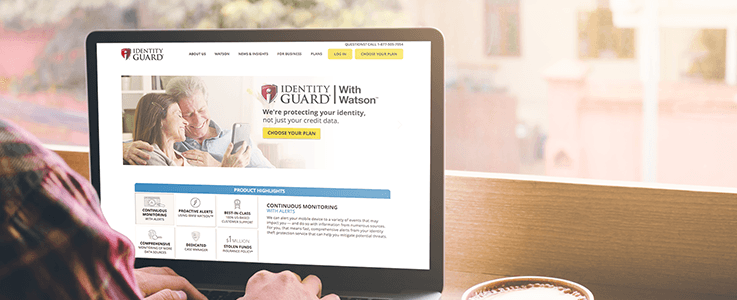 Identity Guard
Identity Guard provides multi-tier plans that monitor, protect, and insure against identity theft.
IBM Watson Artificial Intelligence The Identity Guard with Watson™ plan uses IBM Watson cognitive computing to filter social media, news articles, and research reports to see if any fishy data surfaces. Then, IBM Watson curates a profile specific to you and makes prevention suggestions.
Mobile App Get on-the-go access to your account and alerts. Identity Guard also has an anti-phishing mobile app to defend your phone from potential threats.
User-Friendly Dashboard and Interface Identity Guard has an extremely user-friendly and uncomplicated interface.
Limited Customer Service Availability Identity Guard's customer service is available only Monday through Friday. This can be a point of pain if you receive an alert on the weekend.
Expensive Price Tag Identity Guard is more expensive than its compatriots, especially in contrast to providers that include child identity protection services.
Insurance Offered Only on Certain Plans Depending on the plan you select, your identity theft insurance and recovery reimbursement could be limited in quantity, rather than the lump $1 million dollars that is advertised by Identity Guard.
Find Your Perfect Home Security System