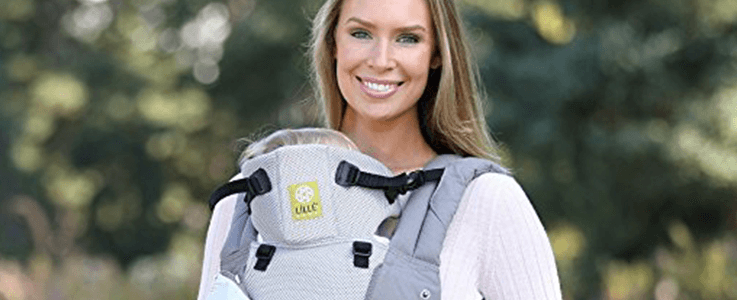 LILLEbaby All Seasons Ergonomic Baby & Child Carrier
If you want it all, this is the baby carrier for you. With the most carrier positions of any product on our list, LILLEbaby offers plenty of comfort, storage, and extras that make the additional cost worthwhile.
Up to 6 Carry Positions Inward, outward, back, or hip—you name it, this carrier does it.
Wide Weight Range LILLEbaby's All Seasons accommodates babies from seven to forty-five pounds, ensuring you'll be able to use this carrier well into toddlerhood.
Zipper Pockets for Storage You're already wearing a baby, so packing along a purse seems foolish. LILLEbaby understands and provides several zippered pockets for your wallet, keys, and more.
Breathable 3D Mesh This carrier incorporates the same kinds of fabrics used by athletic wear companies to keep both parties cool and comfortable.
Sleeping Hood Insulate your little one from noise and the elements with a handy hood.
Wide Waist Belt with Lumbar Support Parents report that the wider belt and built-in support make this carrier one of the most comfortable on the market.
Excellent Reviews Customers agree that LILLEbaby earns top marks for a quality carrier that delivers comfort and convenience.
Bulkier This carrier has all the bells and whistles, but that means it can feel a little cumbersome at times, weighed down by its own ingenuity.
More Expensive You get what you pay for and that's certainly true here. Because LILLEbaby really delivers on extras, there's also a few extra zeros in the price tag.
Some Complaints about Leg Rubbing A few parents have complained that the carrier rubs at the leg opening, causing discomfort for babies. This doesn't appear to be a widespread problem and could be the result of improper adjustment rather than a product flaw.