2018 Best Baby and Safety Gates Buyers Guide
You don't want to put up barriers between you and your little ones, but baby and safety gates are important to keep children (and pets) safe around the house. We looked at functionality, strength, and real user reviews to pick the best gates to keep your wee ones safe in 2018.
Product
Best For
Pros
Cons
Where to Find It
Pressure or hardware mount
Durable construction
Good value for price
Narrow gate opening
Latch that kids can figure out
Equipped with double-lock handle
Safe for top of stairs
Sturdy enough for toddlers
Tough on drywall
Less convenient due to bottom bar
No bars
Neutral color scheme
Expandable design
No quick-release latch
Tripping danger if you step over
Perfect for larger play areas
Easy to set up and take down
Customizable
Less stable
Flimsy due to plastic joints
Homes with babies and pets
Built-in pet door
Easy-lock latch
Smaller pets can get through gaps
No safety certification

Summer Infant Multi-Use Walk-Through Gate
Door stopper for extra safety on stairs
Taller height than other gates
Auto-close feature
Higher price tag
Safety risks for small pets

Evenflo Walk Thru Top of Stairs Gate
Signals red or green to show lock status
Includes a swing lock for extra stair safety
Lasts for years
Comes with flimsy hardware

North States Supergate
Not tripping over the bottom bar
Walk-thru door that swings both ways
Self-locking latch
Tough, durable construction
Tricky installation and instructions

Safety 1st Natural Bamboo Gate
Eco-friendly
Portable
Easy to install
Basic
No walk-through gate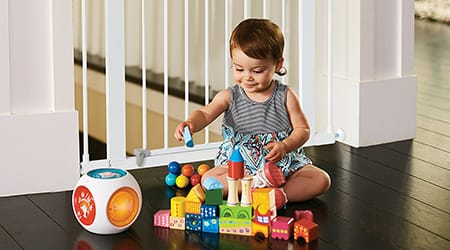 Pressure-Mounted
These baby gates use a tension system to stay upright. The plus side of pressure-mounted baby gates is that they're easy to move around. They also don't put holes in your walls or require much assembly. However, they won't be able to stand up to strong pressure or someone falling over them. If your child is strong enough, they could push this gate over.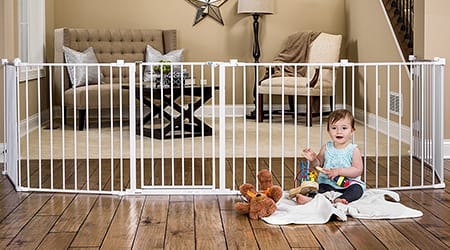 Hardware-Mounted
Hardware-mounted baby gates are the safest solution. They use caps that you screw into the wall to anchor the gate. With this kind of fortification, the odds of knocking over your baby gate are very low. They're extremely sturdy and can still be moved around your house if you install caps in different locations.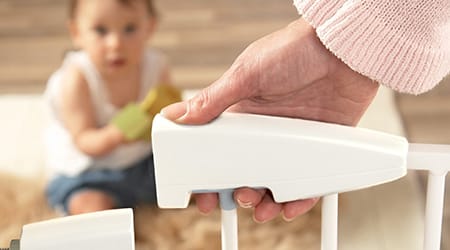 Walk-Through
You're probably familiar with those simple wooden gates that easily block an entryway but require you to step over or take down the gate to pass through. Walk-through gates eliminate those hassles with a built-in doorway that lets you walk through the barrier without having to take down the gate.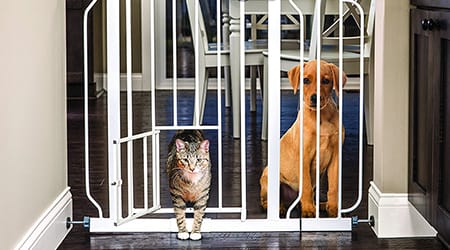 Pet-Friendly
While your child is rampaging around your home with newfound legs, you won't want to inhibit your furry children from roaming the house. Some baby gates have small openings for cats to get through. Some have larger gates you can open for dogs. Just make sure the opening is smaller than your child, or the gate will fail to do its job!
Things to Consider before Buying a Baby Gate
Once your kiddo starts crawling (or running) around the house, there's a whole new world of risks to trip them up. Protect your little one with safety gates that keep them out of danger zones near stairs or fireplaces. But before you hit the purchase button, keep these safety considerations in mind.
Where do you want to use the baby gate?
The future home of the safety gate can make a difference when selecting the best type of gate for your needs. If you want to protect your baby from falling down the stairs, you need a baby gate that's sturdy and unlikely to slip out of place. Look for hardware-mounted gates or specifically designed stair gates that won't fall down on the job.
If all you want to do is keep baby out of the kitchen or corral them in a safe play yard, then a pressure-mounted gate is the practical choice. This way you can easily change the location of the gate to suit your immediate safety needs. For creating safe outside play areas, consider a freestanding or expandable gate that lets you set up an instant barrier.
Will you need to move the baby gate?
If you plan to move the baby gate around the house as you go about your day, you'll need to pick a child safety gate that's designed to be on the go. Because kids rarely stay in one place for long, we've included a few mobile-friendly, retractable safety gates in our top ten. The portable safety gates we like best are compact, easy to install, and feature a simple release that can be operated with one hand.
Another perk that comes with baby gates that are easy to move is the ability to take this safety tool with you to Grandma's house or the office. A portable safety gate helps you instantly baby-proof almost any place you want to go.
Do you need a safety gate for pets and kids?
If your home is blessed with both a child and a fur-baby, then you need to consider the safety of all the little ones scurrying underfoot. Sometimes you may want to keep baby and pet separated, and other times you want to make sure that kitty can still get to the litter box even when the safety gate is up.
Fortunately, more safety gate makers are taking these multiple needs into consideration. There are a number of gates out there that are designed to work for both children and four-legged family members. To make your selection easier, we've noted which baby gates on our top ten are also pet-friendly. Just be sure to avoid using a pet-only gate to protect your child. Pet gates don't always meet the same safety standards that gates for babies and children do.
Is the baby gate safety certified?
Speaking of safety standards, you want to make sure any gate you rely on to keep your little one safe meets all current safety standards. We recommend looking for a gate certified by the Juvenile Products Manufacturers Association (JPMA), which enforces the safety standards of both the Consumer Product Safety Commission and the American Society for Testing and Materials.
Things they look for include the height of the gate; the distance between the bottom of the gate and the floor; the durability and strength of rails, bars, and the frame; and the reliability of the latches. All of the gates on our list (except the Carlson gate) are JPMA certified, but always check the product information or packaging for evidence that any safety gate you purchase meets these standards.
Compare the Best Safety and Baby Gates
| | | | | | | | | | | |
| --- | --- | --- | --- | --- | --- | --- | --- | --- | --- | --- |
| | Regalo Easy Step Walk Thru Gate | Munchkin Easy Close Baby Gate | Evenflo Soft and Wide Gate | Regalo Super Wide Gate | Carlson Extra Wide Walk Through Gate with Pet Door | Summer Infant Multi-Use Walk-Through Gate | Evenflo Walk Thru Top of Stairs Gate | North States Supergate | Safety 1st Natural Bamboo Gate | Evenflo Expansion Swing Wide Gate |
| Mounting Type | Pressure | Pressure | Pressure | Hardware | Pressure | Pressure | Hardware | Hardware | Pressure | Hardware |
| Width in Inches | 29″– 39″ | 29″– 38″ | 38″– 60″ | 24″– 192″ | 29″–37″ | 28″– 48″ | 29″– 42″ | 28″– 48″ | 28″– 42″ | 24″– 60″ |
| Height in Inches | 30″ | 29″ | 27″ | 28″ | 30″ | 36″ | 30″ | 29″ | 24″ | 32″ |
| Safety Certified | Y | Y | Y | Y | Y | Y | Y | Y | Y | Y |
| Swings Both Directions | N | Y | N | N | N | Y | Y | Y | N | Y |
| Safe for Top of Stairs | N | Y | N | Y | N | N | Y | Y | N | N |
| Use Between Rooms | Y | Y | Y | Y | Y | Y | Y | Y | Y | Y |
| Walk-Thru Doorway | Y | Y | N | Y | Y | Y | Y | Y | N | N |
| Auto-Close Door | N | N | N | N | Y | Y | N | Y | N | N |
| Easy One-Hand Operation | Y | Y | N | Y | Y | N | Y | Y | N | Y |
| Pet-Friendly Design | Y | Y | Y | Y | Y | N | Y | N | Y | Y |
| | | | | | | | | | | |
Top 10 Baby and Safety Gates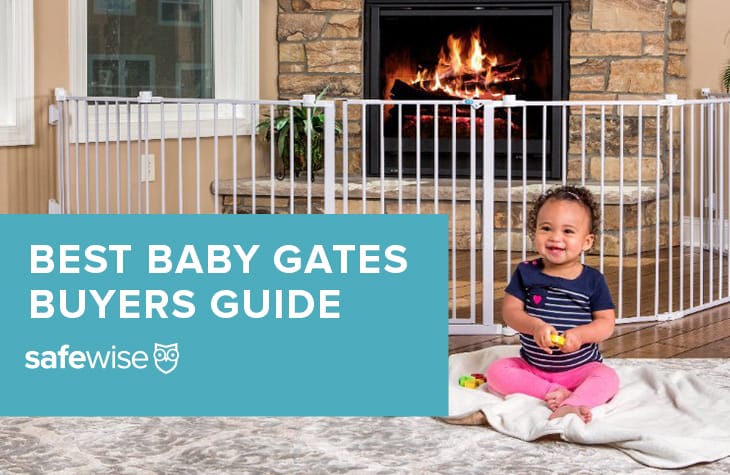 ---
Pros
Regalo understands the needs of busy parents, which is why the Easy Step Walk Thru Gate was designed to be installed in minutes. Of all the gates we looked at, it's the easiest to set up (and take down).
Pressure or Hardware Mount


Although this gate features easy pressure mounts, it also comes with hardware and wall cups in case you want to mount it permanently. This makes the gate versatile enough to work in a variety of spots throughout your home.

Durable Construction


All-steel construction ensures that this Regalo baby gate will be able to stand up to the wear and tear of your child as they transition from baby to toddler.

Good Value for Price


With a list price that's under $40, the Easy Step Walk Thru Gate delivers top quality without any sticker shock. This is welcome news, especially if you need more than one gate to keep your little one from harm.
Cons
This baby gate delivers on durability and price, but there are a few design flaws we hope are improved in the future.
Narrow Gate


As noted in its name, this gate features a walk-through door, which is convenient. But the gate is fairly narrow, which makes the door a tight (or impossible) squeeze for a large number of users.

Latch That Kids Can Figure Out


The one-touch safety latch is great for parents who've got their hands full. Unfortunately, as kiddos get bigger and brighter, many of them are able to figure out the latch, which means this gate may only work for a year or two.
Pros
Many baby gates tout easy, one-hand operation, but few deliver as well as this Munchkin baby gate. Among parents and caregivers, this gate stands out every time for how easy it is to open. We also like the self-closing feature that ensures the gate always stays locked.
Equipped with Double-Lock Handle


If you're worried about your growing child figuring out how to open the latch, this is the gate for you. It features a childproof dual locking system that's easy for grown-ups to operate but tough for kids to crack.

Safe for Top of Stairs


Protect your baby from a tumble down the steps with this gate that's rated safe for top-of-stairs operation. Just be sure to use the included hardware.

Sturdy Enough for Toddlers


Parents love that this Munchkin gate stays strong from the time your baby starts to crawl all the way through toddlerhood. In addition to a truly childproof latch, the construction stands up to shaking, leaning, and other wily attempts to circumvent this safety barrier.
Cons
The biggest complaint about the Munchkin Easy Close Baby Gate is the width of the gate. Most users needed to buy the optional extenders in order to make the gate fit across an average-sized hallway.
Tough on Drywall


Whether you stick with the pressure mounting that this gate is designed for or opt for the included hardware, be prepared for some damage to your walls. The wall cups suction so tightly that drywall tends to rip away when you take down the gate.

Trip Hazard from Bottom Bar


Because this baby gate includes a bottom bar that stays in place when you open the walk-through door, it can be a tripping hazard for adults passing through. Keep that in mind when selecting this gate, and let everyone in the house know to step carefully.
Pros
At just six pounds, this lightweight baby gate is easy to tote around as you take your little one from place to place. And it's so simple to set up and remove that you may want to buy a spare to keep in the car.
No Bars


Unlike most of the gates on our list, this baby gate uses mesh and other soft materials instead of metal or wooden bars. This kinder, gentler barrier is a safe and secure option that won't leave your crawler or toddler with any unfortunate bumps on the head.

Neutral Color Scheme


Although you won't find any color options to choose from, the neutral design of this gate will complement nearly any décor.

Expandable Design


This Evenflo baby gate works across nearly any opening—it expands from 38 to 60 inches wide. But it is only tension-mounted, so you shouldn't place this retractable gate at the top of stairs.
Cons
We think this is a great baby gate to keep your wee one safe at home and away, but it doesn't have some of the safety features we like in other gates on our list. You have to step over this gate, which can be a tripping hazard for adults and older kids.
No Quick-Release Latch


Because there are no bars and there isn't a walk-through door, this gate can only be removed if you take it down completely. With no quick-release safety latch, the gate could become a barrier that keeps you from quickly reaching your child during an emergency.
Pros
This gate comes with eight 24-inch-wide detachable panels, so you can customize this safety gate to work around a fireplace, across a wide room opening, on the deck, around the Christmas tree, and more.
Perfect for Larger Play Areas


The Regalo Super Wide Gate is big enough to cordon off up to 192 inches. When used as a stand-alone pen, you can give your baby a full nineteen square feet in which to safely play and explore.

Easy to Set Up and Take Down


When we learned this gate came in eight separate pieces, we were afraid the setup would be a pain. Happily, we found that the removable pieces easily click together. Best of all, the whole thing folds up flat for easy storage when you don't need it.

Customizable


You can use this gate as a traditional safety gate, a movable play yard, or a temporary barrier around household hazards. You can use it as a fireplace gate or Christmas tree gate. Whatever your needs, this gate makes it easy to protect your baby in nearly any situation.
Cons
One of the downsides to this innovative baby gate is that there's no way to leave an escape route for any pets that end up within the confined space. If you block off the dining room and Fido was snoozing under the table, he'll be stuck until someone can help him out.
Less Stable


When you're counting on a structure to keep your child safe, you want it to be sturdy. Unfortunately, the very thing that makes this gate so customizable also makes it less stable. Only the very end portions of the gate are secured to the wall, which makes the middle panels a little wobbly.

Flimsy Plastic Joints


The Regalo Super Wide Gate is made of steel, but the joints that hold the individual panels together are made of plastic. Not only does this make the connections somewhat flimsy, but many customers have had the plastic split or break after repeated use.
Pros
Although the Carlson Extra Wide Walk Through Gate was designed with pets in mind, it's a favorite of parents who need to wrangle both babies and pets.
Built-In Pet Door


In addition to the walk-through door that makes it easy for adults to pass through, this gate also features a pet door that's the perfect size for cats and smaller dogs. You can leave the pet door open so your fur-baby can come and go as they please.

Easy-Lock Latch


When you've got your hands full, you don't want to have to wrestle with a tricky latch. This Carlson gate features an easy, one-touch release that makes getting in and out a breeze—even with an armload of groceries or a squirmy two-year-old.
Cons
The primary issue with the Carlson Extra Wide Walk Through Gate is that it is technically a pet gate, which means it isn't JPMA certified.
Smaller Pets Can Get through Gaps


Bars on this gate are wide-set, which means that smaller pets and kittens can make it through even when the pet door is closed.

No Safety Certification


Because this gate wasn't made with little ones (at least ones without fur) in mind, it doesn't have JPMA certification. Although many parents love it, you need to take extra care when using this gate around your baby. Because the pet door is made for animals to access at will, you'll need to lock it down when you're using the gate to corral your baby.
Tips for Baby and Safety Gates
When it comes to choosing the right safety gate and installing it correctly, these are the tips you need to know.
Make It Fit
Nearly every baby gate out there is adjustable or expandable. This should make finding the perfect fit easy, but it can actually make things trickier. You need to consider both the width and height of the baby gate as well as the type of door frame or other opening that you're looking to block. Avoid common pitfalls by measuring your opening before purchase and thoroughly reading the manufacturer's instructions.
If you're using a pressure-mounted baby gate, be aware that many appear to be warped or curved, which makes some parents fear the gate is faulty. This is an intentional design feature, though, and it ensures a proper, solid tension fit. To install retractable baby gates on banisters, hollow walls, or iron railings, purchase a special gate installation kit to ensure a safe, sturdy fit.
Measure the Slats
You don't want little arms and legs (or heads) getting stuck in between the bars of your safety gate. Make sure the slats on your gate are less than three inches apart. This should prohibit most children from sticking their necks (or other body parts) out. You can avoid this concern altogether by purchasing a gate without slats, like our number three pick above.
And don't forget about your four-legged family members. Pets can also get stuck in an opening between slats, so keep their heads and legs in mind when measuring as well. Beware of unusual spaces in decorative baby gates, like those on our number six pick (see comparison table). Users of this gate report rambunctious puppies and kitties getting their heads stuck in the bottom of the gate where the bars stop.
Test It Out
Sometimes there's no way to know how something's going to work out until you give it a try. Before you leave your baby to play near a safety gate, give it a thorough once-over to ensure everything is working properly—especially if you're using it as a fireplace safety gate or Christmas tree gate.
After the gate is installed, test how sturdy it is. You want it to remain firmly in place no matter how much pressure your child places on it. Check all locks and latches to make sure they work correctly. If you have older children in the home, teach them how to properly lock and unlock the gate so that no one accidentally leaves it open. If your gate has a self-locking latch, test it to make sure it securely locks each time.
Watch Which Way It Swings
Many baby gates include walk-through doorways that can swing both ways. This makes it easy for grownups to seamlessly move from room to room, but it can present a hazard for babies and toddlers—especially if the gate is used by stairs. Gates placed at the top of stairs should only swing away from the stairs, toward you as you approach and open the gate. Child stair gates that swing out over the stairs can lead to an accidental spill if your little one somehow gets the gate open.
If you have a baby gate with a walk-through door that swings both ways, make sure you can lock it into the appropriate swinging position before placing it atop the staircase. To be extra safe, only place gates with doors that swing one way at the top of stairs.
Baby Gate Safety Tip
Never let your child watch you step over the baby safety gate. Little ones love to copy us, and this is an open invitation for them to plot an escape. Avoid putting risky ideas into your baby's head by using the walk-through gate or opening the gate every time you pass through under their watchful eyes.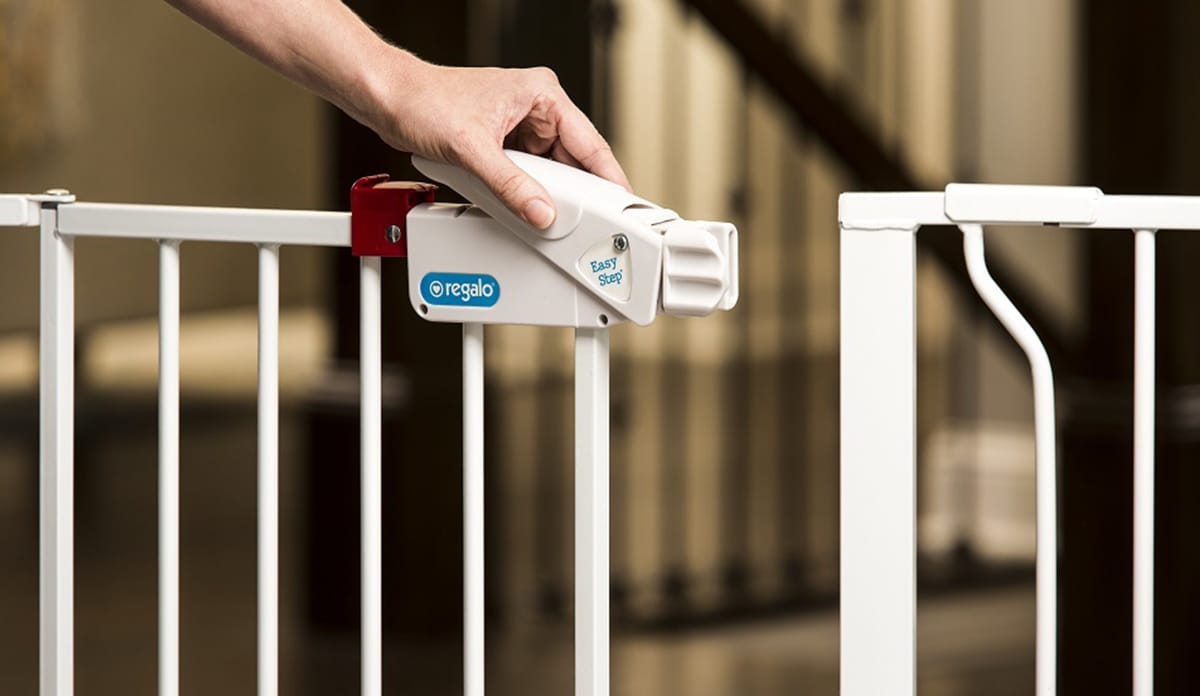 Nothing's more important than keeping your child safe, but it can be difficult to know which products to trust. That's why we dug into the top-selling baby safety gates on the market to find the best ones for your family. We picked our top ten baby and safety gates from more than twenty gates initially considered. To make our list, each gate was evaluated for durability, strength, ease of installation, multi-use functions, and price. We also looked at JPMA safety regulations and certifications as well as expert and parent reviews.
Find Your Perfect Home Security System