Best Wearable Baby Carriers and Wraps Buyers Guide
We reviewed more than a dozen baby carriers and wraps to bring you the best options. Though we narrowed our list down to just eight products, we realize that some carriers and wraps are better suited for specific needs and sizes than others. So we included full reviews with pros and cons for each carrier or wrap, as well as unique features such as the number of carry positions or the level of comfort.

Best Baby Carriers of 2018
Product
What We Love
Downsides
Where to find it
Up to 6 carry positions
Wide weight range (7–45 pounds)
Zipper pockets for storage
Bulkier
More expensive
Some complaints about leg rubbing
Very comfortable
Up to 4 versatile carry positions
Most expensive
No storage
Safe for up to only 33 pounds
Stylish patterns
Wider, taller seat
Easy to adjust for multiple wearers
More expensive
Not as comfortable
Requires insert for infants
Less expensive
Lightweight
Easy to use
Uncomfortable
Low weight limit (25 pounds)
Only 2 carry positions
2-in-1 bib protects clothing
Least expensive
Up to 4 carry positions
Not as comfortable
Noisy fabric
Low weight limit (32 pounds)
Versatile wrap
Womblike
Accommodates breastfeeding
Difficult to learn to use
More expensive
Cumbersome with extra fabric
Discreet breastfeeding
Easy to clean
Easy to use
Less fabric
Inward-facing only
Stretchy, less support
Stylish patterns
Less expensive
Good reviews
Less fabric
Difficult to learn to use
Stretchy fabric
Things to Consider in a Baby Carrier or Wrap
As a new parent, you're already buried in a mountain of must-have baby supplies. Diapers, cribs, strollers, and car seats crowd your baby registry, but you may have decided to put off a carrier. After all, how hard could it be to manage ten pounds of infant? Turns out, it's pretty tough and you're probably going to need a hand.
This is precisely what baby carriers are designed to do. Sturdy fabrics and straps allow you to secure your precious cargo to your body, leaving your hands free to finally get back to work. The benefits of babywearing extend to your little one too, including easier, more discreet breastfeeding; better emotional development through increased human contact; and greater engagement with the surrounding environment.
But not all carriers are created equal. At SafeWise, we inspected the various babywearing devices and determined not only what's stylish but what will provide a safe, secure hold for your baby. Here are a few things to consider before you commit to a carrier.
Type
A myriad of baby carriers crowd the market, but we're focusing on products that are for everyday use and promote babywearing. One of the biggest considerations when choosing a carrier will be the age and weight of your baby. Certain types of carriers and wraps are better suited for infants, while others are geared towards older babies and toddlers.
Structured Carriers
These sturdy babywearing devices have buckles and straps that keep baby secure and parents comfortable. If you have an older baby or toddler, opt for a structured carrier with a wider, taller seat.
Wraps
Womblike and versatile, wraps are long swaths of fabric that can be tied in various ways to secure your infant and allow for discrete breastfeeding. Because wraps usually provide inward-facing or fetal tuck positions they are best for younger babies and infants.
Slings
Slings are a variation on a wrap that usually has a hoop securing the fabric across the shoulder. You won't find any slings on our list because many experts consider them a safety concern. They can be used inappropriately and can position the baby in a way that makes it difficult for your little one to breathe.
Versatility
The more versatile the carrier or wrap, the more use you'll get out of it. Choose a babywearing device that allows for both inward-facing and outward-facing positions to encourage appropriate engagement as your baby matures.
Inward-Facing
Soothing and best for smaller babies, wraps and carriers that provide inward-facing positions let your little one snuggle close. This is a benefit for infants who still prefer to be swaddled and sleep frequently.
Outward-Facing
Older babies who can hold their heads up and engage in the world like to have their hands free. Outward-facing positions allow babies a better range of motion and the ability to see what's going on around them.
Shoulder Carry
Similar to carrying your bundle of joy on your hip, shoulder-carry positions are best for older babies that are already sitting and don't require as much support.
Back Carry
This carry is popular for parents who have older babies or toddlers and want to use carriers to stay active. It's important to note that for safety reasons, you should invest in a real backpack carrier if you'll be hiking or walking frequently. Back-carry positions are best for toddlers who are just too big for a comfortable front-carry position.
Safety
Whether it's a trendy wrap or a structured carrier stuffed with storage, a baby carrier's primary job is to keep your child secure. Here are a few safety concerns you should consider before you purchase.
Quality of Fabric
Inspect the stitching and the quality of fabric to ensure durability. Carriers get messy with spit-up and spills, so you'll want something that's going to hold up after more than a few trips in the washing machine. You also want a fabric that has plenty of breathability for both you and baby, so look for lightweight cotton or mesh fabric to promote air flow.
Position
We've mentioned this a few times, but you want to choose a product that offers a safe carrying position for the age of your baby. Make sure you read the manufacturer's instructions thoroughly, watch a few videos, and practice plenty before you use your carrier the first time.
For infants, it's important to ensure the carrier doesn't tuck little chins too tightly to the chest and block the airway. For older babies and toddlers, you want a frog leg position that won't lead to hip dysplasia. For more information about proper babywearing positions, use Babywearing International's Guide to Using a Baby Carrier.
Ease of Use
Parents are busy people, so carriers should be able to be put on, taken off, and adjusted with one hand. Some carriers like wraps have a steep learning curve, so if you're not willing to watch videos and practice until you get it right, then opt for the structured carriers.
Comfort
You are going to wear this all day in all seasons, so opt for something with good breathability and appropriate support that's comfortable for both parent and baby. Wide shoulder straps, lumbar support, and mesh fabric all ensure maximum comfort for everyone involved.
Cost
You have a new baby and there's lots to invest in. Consider what you absolutely need right now, but also acknowledge that going cheap now means you may need to upgrade later and, ultimately, pay more.
Style
Wearing a baby doesn't have to be frumpy. Choose a carrier that has lots of pattern options, but be sure to consider all the people who might wear it on a regular basis before committing to that trendy color.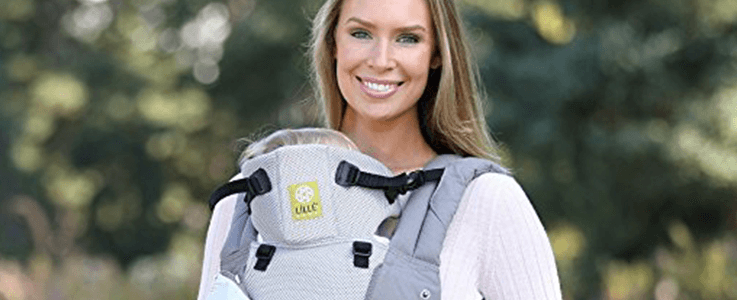 LILLEbaby All Seasons Ergonomic Baby & Child Carrier
If you want it all, this is the baby carrier for you. With the most carrier positions of any product on our list, LILLEbaby offers plenty of comfort, storage, and extras that make the additional cost worthwhile.
Up to 6 Carry Positions Inward, outward, back, or hip—you name it, this carrier does it.
Wide Weight Range LILLEbaby's All Seasons accommodates babies from seven to forty-five pounds, ensuring you'll be able to use this carrier well into toddlerhood.
Zipper Pockets for Storage You're already wearing a baby, so packing along a purse seems foolish. LILLEbaby understands and provides several zippered pockets for your wallet, keys, and more.
Breathable 3D Mesh This carrier incorporates the same kinds of fabrics used by athletic wear companies to keep both parties cool and comfortable.
Sleeping Hood Insulate your little one from noise and the elements with a handy hood.
Wide Waist Belt with Lumbar Support Parents report that the wider belt and built-in support make this carrier one of the most comfortable on the market.
Excellent Reviews Customers agree that LILLEbaby earns top marks for a quality carrier that delivers comfort and convenience.
Bulkier This carrier has all the bells and whistles, but that means it can feel a little cumbersome at times, weighed down by its own ingenuity.
More Expensive You get what you pay for and that's certainly true here. Because LILLEbaby really delivers on extras, there's also a few extra zeros in the price tag.
Some Complaints about Leg Rubbing A few parents have complained that the carrier rubs at the leg opening, causing discomfort for babies. This doesn't appear to be a widespread problem and could be the result of improper adjustment rather than a product flaw.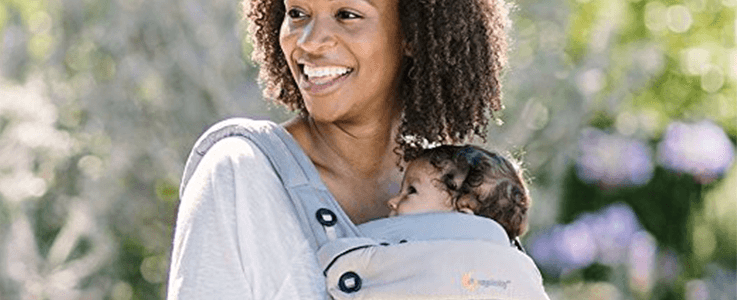 Ergobaby Bundle Baby Carrier with Snug Infant Insert
You'll need an insert to use this carrier with an infant, but it'll be worth it. The carrier is versatile and easy to use, and it's rated highly comfortable by parents.
Very Comfortable This carrier receives top marks for comfort from parents, who said they wore it for hours without any issues.
Up to 4 Versatile Carry Positions You'll get the four most important positions in this versatile carrier—front in, front out, hip, and back carry.
Sleeping Hood Snuggle up your little one for a nap with this retractable hood.
Easy to Use While you may need some help to adjust it for various heights, the Ergobaby is easy to take on and off.
Most Expensive Comfort has a price. Ergobaby is the most expensive carrier on our list.
No Storage No pockets mean no place to tuck additional items, so you'll have to figure out another way to bring along your essentials.
Safe for up to Only 33 Pounds This is the lower end of the weight range and probably won't accommodate a toddler even in a back-carry position.
May Not Fit Shorter Torsos A few reviewers indicated that the Ergobaby carrier didn't adjust down to fit a short torso, so petite parents beware.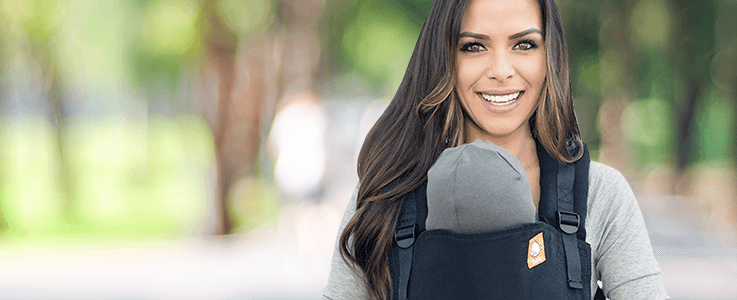 Baby Tula Ergonomic Carrier
The stylish Baby Tula has the widest and tallest seat of any structured carrier on our list, making it a perfect fit for larger babies and toddlers.
Stylish Patterns If you're worried babywearing will make a mockery of your sense of fashion, don't sweat it. Tula has tons of trendy patterns and colors that you won't feel awkward slipping into.
Wider, Taller Seat This carrier has both the widest and tallest measurements so even big babies will sit securely.
Easy to Adjust for Multiple Wearers Parents report that adjusting up and down for different heights or weights is no problem for Tula.
More Expensive This carrier is an investment, so ensure you're fully committed to using it for the long haul.
Not as Comfortable While it has ergonomic in the name, reviews indicate Baby Tula is a bit less comfortable for parents than other structured carriers that made our list.
Requires Insert for Infants Babies who weigh less than fifteen pounds will need an infant insert (sold separately) to fit safely in this carrier.
Limited Versatility Tula places emphasis on the safety of the baby's position in the carrier, so it's limited to just inward- and outward-facing carries.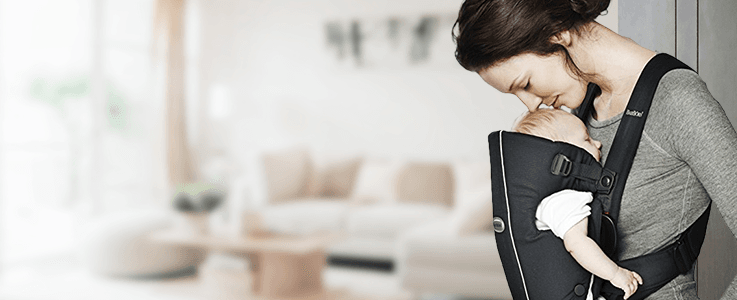 BABYBJORN Baby Carrier Original
BABYBJORN is the classic that started the babywearing trend. While it's not as versatile and is less comfortable than other carriers, it's probably the easiest to use and adjust.
Less Expensive BABYBJORN's original carrier doesn't have many extras, and you'll see that reflected in the price tag.
Lightweight Unlike other structured carriers, BABYBJORN's minimalist approach allows it to stay lightweight and agile.
Easy to Use Parents can easily put this on and take it off one-handed as well as adjust most of the straps without assistance.
Uncomfortable Reviewers indicated that more than a few hours in this carrier causes back and shoulder pain, so it's ideal for shorter-term use.
Low Weight Limit (25 pounds) Due to its small stature, this carrier is best for babies and infants.
Only 2 Carry Positions BABYBJORN has only inward- and outward-facing options for babies.
No Storage Don't count on extra pockets on this no-frills carrier. It's just the basics.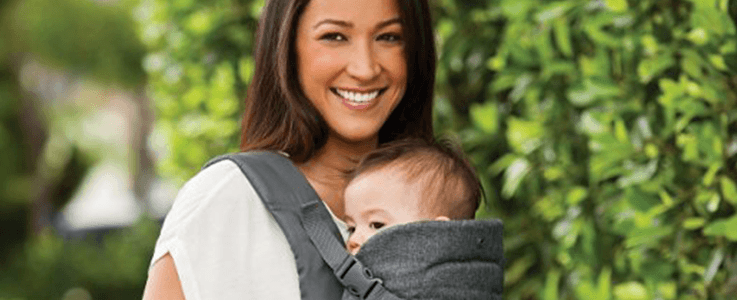 Infantino Flip Advanced 4-in-1 Convertible Carrier
You won't flip your lid when you see the price of this carrier, which offers up to four positions for a fraction of the cost.
2-in-1 Bib Protects Clothing Babies are messy, but Infantino has you covered with a 2-in-1 bib that may just save your wardrobe.
Least Expensive If you want a structured carrier but purchasing all things baby has left you with an empty wallet, don't despair. This carrier is surprisingly inexpensive.
Up to 4 Carry Positions At that price, you might assume you'd get less, but Infantino still delivers up to four ways to carry your baby, including inward, outward, and back positions.
Not as Comfortable Parents report that even with padded shoulder straps, this carrier can get uncomfortable when used for long stretches of time.
Noisy Fabric If you're using the carrier to soothe your baby, you may find the fabric on the Infantino Flip a little too distracting.
Low Weight Limit (32 Pounds) The lower weight range on this carrier means it won't be appropriate for older babies segueing into toddlerhood.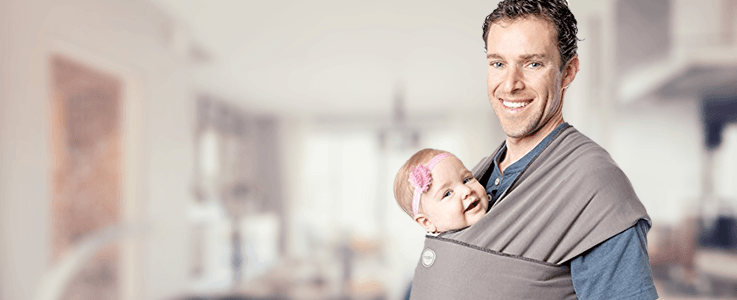 Moby Wrap Baby Carrier for Newborns + Toddlers
The famous wrap that started it all, Moby's womblike hold is perfect for small babies and infants. Mothers rave about the ability to discreetly breastfeed, and this is one of the few carriers that supports twins.
Versatile Wrap Tons of fabric gives you plenty of options for designing different carries with the Moby.
Womblike Parents love the soothing flexibility, especially for younger babies and infants who prefer a fetal tuck.
Accommodates Breastfeeding One of the biggest advantages of wraps is for breastfeeding mamas. Using a wrap can make it easy to nurse babies under cover when needed.
Use with Twins There's plenty of fabric to go around on the Moby, making it one of the only carriers on our list that can do double time for twins.
Easy to Launder It's just fabric so it's easy to toss into the washing machine. Be sure to follow the manufacture's care directions, though, to avoid damage and wear.
Difficult to Learn to Use Wraps are a little tricky to figure out. Practice plenty at home until you get it right. Moby has a great guide for parents getting started with a wrap.
More Expensive The cost of this wrap is a little higher than others on our list, but it's worth it given the quantity and quality of the fabric.
Cumbersome with Extra Fabric Yes, we've touted it as an advantage, but there are some instances when you'll discover all that fabric simply gets in the way.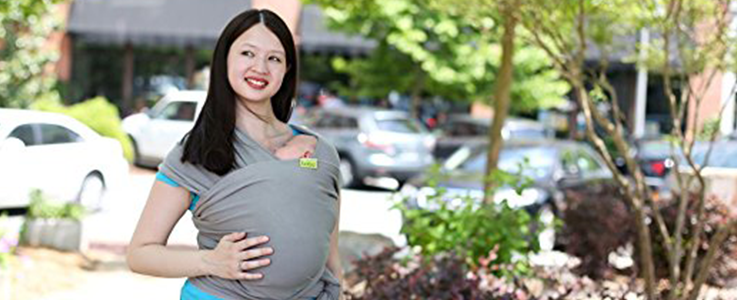 Boba Wrap
Boba offers all the benefits of a traditional wrap, including discreet breastfeeding, at a fraction of the cost.
Discreet Breastfeeding Your baby is already under cover but will also have access to nurse and self-soothe without interference from the outside world.
Easy to Clean This wrap will get messy, so it's vital to be able to toss it in the wash and forget the complicated laundering instructions.
Easy to Use Unlike the Moby, parents report this wrap was easy to figure out.
Less Expensive It's less costly but provides the same basic function of other wraps, making it a clear win for cash-strapped parents.
Less Fabric While it's less expensive, the Boba also has less fabric, and some complain it's too little to cover larger frames.
Inward-Facing Only The Boba's length is too short to accommodate more than front- and inward-facing holds.
Stretchy, Less Support A few parents complained that while the fabric was very soft and comfortable, it was a little stretchy and allowed too much give for a secure hold.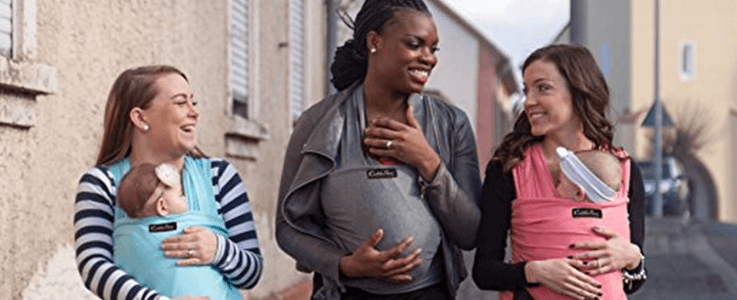 CuddleBug Baby Wrap
This inexpensive wrap has excellent reviews from parents and has plenty of stylish patterns.
Stylish Patterns While the Moby and Boba focus on a few colors, Cuddlebug has trendy dialed in with plenty of fun patterns.
Less Expensive Comparable to the Boba, this wrap costs less but still provides the essentials.
Good reviews The CuddleBug garners plenty of positive reviews on Amazon from pleased parents.
Less Fabric Like the Boba, Cuddlebug offers a smaller price tag by sacrificing some fabric. For younger babies, it's unlikely you'd notice.
Difficult to Learn to Use This wrap recommends carry positions that are a little more difficult to learn, so we recommend viewing Cuddlebug's Instructional Video and practicing plenty before you head out into the world wearing your baby.
Stretchy Fabric Like the Boba, parents had concerns about the give of the fabric and whether their little one was truly secure. Some of this slack may be due to improper use on the part of parents, however.
Find Your Perfect Home Security System