Frontpoint Home Security Review
DIY installation, professional monitoring, and customizable home security.
Frontpoint home security systems merge customizable plans and reliable customer service with DIY installation and professional monitoring service. If it's in your budget, Frontpoint's a good option—but it is more expensive than other DIY home security systems.
Frontpoint
Best Customer Service
Risk-free trial
DIY installation
Professional monitoring
Portable equipment
Frontpoint at a Glance
Frontpoint has outstanding customer service, reliable cellular monitoring, customizable plans, and wireless equipment. Plus, its DIY installation process is the easiest we've seen. If you want control over your equipment and installation, Frontpoint is a top choice. But restrictive contracts, limited smart home integration, and higher monitoring fees can put off homeowners who want more flexibility and lower monthly costs.
Learn More About Our Rating Criteria
Read Customer Reviews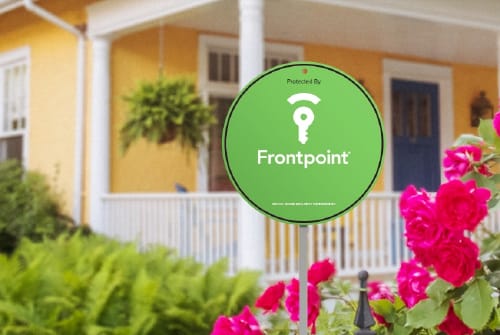 Frontpoint Prices and Packages
Basic Plan

Interactive Plan

Ultimate Plan

Connectivity

Cellular

Cellular

Cellular

Installation Type

DIY

DIY

DIY

Installation Fee

No

No

No

Warranty

3 years

3 years

3 years

Professional Monitoring

Y

Y

Y

Flood, Fire, and CO2 Protection

Y

Y

Y

Wireless Design

Y

Y

Y

Crash and Smash Protection

Y

Y

Y

Included Equipment

Wireless control panel
Panic pendant
Sensors (door, window, flood, garage, glass)

Wireless control panel
Panic pendant
Sensors (door, window, flood, garage, glass, motion)

Wireless control panel
Panic pendant
Sensors (door, window, flood, garage, glass, motion)

Works with Home Automation

N

Y

Y

Alerts

N

Text, Email

Text, Email

Remote Control

N

Y

Y

Door Locks

N

N

Y

Smart Thermostat

N

N

Y

Video Camera

N

N

Y

Live Video Streaming

N

N

Y

Video Recording

N

N

Y
How Frontpoint Security Stacks Up
Price and Contract
Price and contract are not Frontpoint's strong suits. The company's contracts are a bit constraining, and the price is a little high in comparison to competitors'. That said, Frontpoint offers the freedom of customization and includes quality devices.
Pros
Professional Monitoring


One of Frontpoint's best features is its DIY installation—but that doesn't mean you have to do your own monitoring too. Frontpoint plans all include 24/7 professional monitoring.

Well-Rounded Plans


At $44.99 a month, the Interactive Plan has professional monitoring, remote control, smart home capabilities, and a range of high-end products to choose from.

Customizable Options


Frontpoint's home security system is entirely customizable. If you want to tack on a few more motion sensors than what's included in your plan, you can do that.

Crash and Smash Protection


All Frontpoint security systems plans include Crash and Smash protection, which means that if your control panel is destroyed by a break-in or other disaster, a help signal is still sent to the monitoring center.
Cons
Restrictive, Long-Term Contracts


If you don't like commitment, you might be put off by Frontpoint's long contract requirements—especially if you're unsure where you'll be living in one to three years. But the company does let you take your system to a new location if you move.

Costly Fees


Both Frontpoint's monthly contracts and early termination fees cost a pretty penny. And while the early termination fees are offset by Frontpoint's portable design, no one likes being saddled with high cancellation costs—especially if you're unhappy with the service agreement.
Tech and Equipment
One of the best things about Frontpoint's equipment lineup is the inclusion of environmental monitoring devices like smoke and carbon monoxide detectors in every plan. And all equipment comes pre-programmed to make installation a breeze. But not all plans include mobile access, and home automation integration is lacking.
Pros
Cellular Connection


As opposed to a hardwired or Wi-Fi connection, Frontpoint uses a cellular connection for all of its monitoring plans. A cellular connection means there are no wires for burglars to cut and you also won't be vulnerable if your Wi-Fi goes down.

Portable Equipment


Frontpoint includes high-quality equipment in even its most basic packages. And you can take your system with you if you move—something a lot of companies don't allow.

Convenient App


Frontpoint's mobile app lets you unlock the door remotely or talk to the mail carrier through your video doorbell. But remote access and control are available only with the Interactive and Ultimate plans.
Cons
Cellular Connection


I know—we already listed this as a pro, but here's the flipside. As great as cellular connectivity is, it excludes people who live in areas with bad or zero cell service. Make sure your available cellular signal is strong and reliable before committing to a Frontpoint plan.

Limited Smart Home Capability


Even though Frontpoint's Ultimate Plan includes robust home automation, its other plans are lacking. And its new hub serves as the brain for smart home devices, but only for compatible platforms. Frontpoint works well with Amazon Alexa, but its Google Home functions are limited. And all integration runs through the Alarm.com app, which leaves out integration with Apple Homekit and other smart devices you may already own like a Nest thermostat or Ring Video Doorbell.
Home Automation
Some of Frontpoint's plans have home automation devices included with your purchase, and Frontpoint is also compatible with other smart home devices. But Frontpoint's smart home functions work best with its own equipment offerings, which can mean more money and hassle if you already own some smart devices that won't work with Frontpoint's security system.
Pros
Freedom of Choice


Frontpoint's plans are customizable so you can tailor your smart home functions to your needs. Choose devices ranging from smart locks, video doorbells, security cameras, and smart lights.

Convenient Design


All of Frontpoint's smart home devices are easy to install and relocate if you need to move or want to reconfigure your setup. Plus, Frontpoint has its own smart home hub, so you don't have to invest in an extra device if you purchase all of your home automation equipment with your Frontpoint system.
Cons
Plan Limitations


Despite the emphasis on customization and convenience, Frontpoint's plans can be limiting if you're looking for certain features. For example, if you want access to live video streaming, you have only one option—the Ultimate Plan.

Compatibility Exclusions


Because Frontpoint designed its home automation suite with specific equipment and the Alarm.com app, its system doesn't work with all smart home devices. If you already have some smart products like an August Smart Lock or a Nest thermostat, you may have to swap them out for Frontpoint's offerings if you want seamless control over everything from one hub or app.
Customer Service
Frontpoint's customer service team is known for going above and beyond. In the event of an emergency, you can trust associates to respond quickly and kindly.
Pros
Positive Customer Reviews


Frontpoint's customer service reps are genuinely interested in making sure you find the perfect system for your home. Additionally, reviewers stated that Frontpoint's team responded to emergencies quickly and clearly communicated next steps. This level-headed approach ensures that crises are handled correctly and with as little stress as possible.
Cons
Better Contract Communication


Some reviewers reported that Frontpoint's customer service failed to specify the length or binding nature of the 3-year contract.
Installation
Frontpoint is the leader when it comes to simple, streamlined DIY installation. Its equipment arrives ready to go, and setup takes minutes (even for those who struggle with tech). And if you run into any problems, technical help is just a phone call, email, or instant chat away.
Pros
Easy Setup


Frontpoint's DIY installation is so easy it seems almost too good to be true. But all you have to do to get your Frontpoint security system up and running is open the box, set up the app, follow the instructions, and place your sensors. You don't have to program anything or wait for your security devices to connect to each other—it all arrives ready to go.

No Installation Fee


One of the biggest perks of installing your Frontpoint system on your own is there's no extra installation fee.
Cons
No Professional Install Option


Even though Frontpoint makes DIY installation as foolproof as possible, some folks just want to leave it to the professionals. If that's you, then DIY-only might be a turnoff.
Frontpoint FAQs
Does Frontpoint have a money-back guarantee?
Yes. Frontpoint has a 30-day, risk-free trial so you can decide whether or not the system is right for you.
Is the Frontpoint mobile app easy to use?
Yes. Whether you're using the phone app or the desktop portal at MyFrontpoint.com, the platform is easy to navigate and won't give you a headache.
What's the best home automation device?
We love the video doorbell camera—you can keep an eye on the goings-on outside your home without having to actually be at the door.
What is the difference between the keychain remote and the panic pendant?
The keychain remote works like a car key fob—it can unlock, lock, and activate an alarm with the push of a button. The panic pendant is similar, but it sends and sounds a customizable alert. This device is ideal for aging adults or people who want a little extra protection. Additionally, to prevent false alarms, the pendant's button is recessed.
The Bottom Line
Frontpoint works well for both renters and homeowners with customizable packages, portable design, professional monitoring, and multiple options for plans and products. While the plans are on the pricey side, there are no hidden fees, and the DIY installation cuts costs. And the company has a better customer service reputation than most other providers.
Pros
Free trial period
DIY installation
No hidden fees
Customizable plans
Portable, wireless equipment
Great customer service
Cellular connection
Cons
Expensive monthly costs
High termination fees
Frontpoint Customer Reviews
Exceptional Customer Service
I highly recommend Front Point for Home Security. We are new customers, have had an exceptional experience from choosing Front Point, to getting our equipment very fast and the support in setting up our system. I am overjoyed with our overall experience and could not have made a better choice to protect our family and home. Thank you Front Point!
Jennifer L. from Gambrills, MD |
July 16, 2018
Was this review helpful?
No one has rated this review
New Customer
Received my equipment in the time promised. Contacted service once during setup (which is quick and easy) and the CSR was very friendly, helpful and polite. Great experience so far. I would definitely recommend Frontpoint.
Everton B. from Townsend, DE |
June 22, 2018
Was this review helpful?
No one has rated this review
Great Customer Service
The customer service rep, Zahn was great! He was patient and very knowledgeable in this product. He walked me through step by step. O had no delay in my phone call.
Carolina V. from Mesquite, TX |
May 26, 2018
Was this review helpful?
No one has rated this review
Excellent Technical Service
I called Tech services for help with an app and the person I spoke to was extremely helpful and patient. I am very happy with the help I received. I also had to update my account and was helped by Jim in customer service who was also very informed and answered all of my questions. I would recommend Frontpoint to anyone looking for a reliable security system with excellent customer and technical service.
Carol T. from Plainfield, NJ |
March 01, 2018
Was this review helpful?
No one has rated this review
Restrictive Contract
Their equipment is marginal, and their 3 yr contract is very restrictive. The door sensor didn't fit the molding and kept falling off. It's a second home for me and as I approach retirement I'm trying to save on monthly expenses. I tried to return the equipment, but I'd still be responsible for another 2 yrs of monthly charges. When I signed up they told me that if I wasn't satisfied, I could return the equipment and cancel. In the fine print of the contract this appears not to be the case. There are many other companies out there that provide home security that don't require such long term contracts. I would never recommend Front point to anyone.
Daniel J. from Austin, TX |
September 23, 2017
Was this review helpful?
No one has rated this review
Great System
I agonized over which system/company to go with for a home security system. I looked at all the major and some smaller companies and I wanted something with the right balance of tech and price. Frontpoint is on the higher end of price but it's capabilities and the customer service justify the price. I've contacted them a few times and tested the system and I have never had a problem getting in touch. It seems like they are just beginning incorporating other smart devices in but they seem committed to it. Very happy with my decision.
Michael B. from Dallas, TX |
September 04, 2017
Was this review helpful?
No one has rated this review
Super Easy And Effective!
I needed a cellular based system for our little cabin in the woods. Research pointed me to Front Point — and I'm glad. Very easy to understand buying options, easy to install and easy to use. Camera allows me to look on at any time to see if all is good. Flawless reliability. Best of all, Customer Support is readily available and communicates clearly. Would immediately go with Front Point again if I had it to do all over again.
Ron S. from Pine Mountain, GA |
August 23, 2017
Was this review helpful?
No one has rated this review
Good Customer Service
I feel the customer service was very good, with the exception of the door bell cams. I ordered window and door sensors and they were easily installed. FrontPoint even exchanged a sensor so I could put one on my shed which was too far away from the main control. When I attempted to install the door bell cams, they didn't work properly. The advise I received was to hire an electrician. All in all, I am satisfied with the service to this point.
Brian S. from Waupaca, WI |
July 20, 2017
Was this review helpful?
No one has rated this review
Easy
I was skeptical about any security system, but after calling FrontPoint and talking to a representative, I was sold. He answered all my questions and explained all options. After receiving the equipment, I installed it myself, in very little time. I had a few questions afterward, so called the customer service line and was helped out by a very friendly CSR. FrontPoint does not use the homeowner's wifi, making it even safer. If you try it, you will love it. I am a real person and honestly was not solicited to write this review. Thanks FrontPoint!
Christine N. from Mercer, PA |
July 10, 2017
Was this review helpful?
No one has rated this review
Frontpoint Is Well Worth It
I have had frontpoint for 1yr and they are great. They keep you informed on new updates and software as well as call when there is any concerns. In short words, they do what they say and make you feel safe.
Emmanuel M. from Worceater, MA |
April 28, 2017
Was this review helpful?
No one has rated this review
Amazing!
I called in an never felt pressured to buy from them like I did with ADT and other companies. Marcus was an amazing representative and offered me excellent service and benefits. So happy with this company!
Victoria M. from Omaha, NE |
April 20, 2017
Was this review helpful?
No one has rated this review
Self Install Is Not For The Mechanical Inept
Don't use the adhesive tape method of mounting Smoke detectors as they fail. Ours fell in the middle of night, fell apart and set off the alarm sending the fire department. Dropped the control panel once, it opened up and had a heck of time getting all put back together. The user guides are one page and elementary at best, totally useless. We have had a couple minor events, and the system and monitoring worked perfectly. Website is good and the Cell Phone apps are excellent. I feel you should be young and/or have some mechanical aptitude (know how to use a screwdriver and install sensors using screws…. don't use the supplied adhesive tape. Customer support hours not the best for West-coasters.
Mark H. from Everett, WA |
April 01, 2017
Was this review helpful?
No one has rated this review
One Month In And Very Happy
Unlike other reviewers, I found the install to be extremely easy. I appreciate the fact that motion detectors use Command quick release adhesives that will safeguard my walls if I ever decide to move them or repaint the rooms. I have spoken to about four representatives for various inquiries to date and I have found all of them to be very professional and thoroughly trained in all aspects of the product. I can recommend this system highly at this early stage of my contract.
Mark S. from Mohrsville, PA |
September 10, 2016
Was this review helpful?
1/1 people found this review helpful
Frontpoint
Seems to be doing an adequate job. Occasionally when i call I get someone who is rather snippy but most are nice.
Mary R. from Lake Villa, IL |
August 31, 2016
Was this review helpful?
2/2 people found this review helpful
Good Company And Descent Equipment
Had my system for about 12months and like it so far. When I ordered my equipment they sent a wrong sensor but quickly sent me out the right one. Quick response when alarm triggered and for tech support. Can't complain about much other then I wished they offered more automation as far as camera selections and microphones to hear and see what's going on in the house.
Mike D. from Rescue, CA |
August 29, 2016
Was this review helpful?
1/1 people found this review helpful
Reliable And Easy To Use
We had FrontPoint for our small business. The equipment was easy to use and the service was good – quick and courteous calls after an alarm and good follow-up. After we sold the business it was relatively easy to transfer the service to the new owner, with only a few hiccups including them not changing the credit card used for billing. That alarm is LOUD!
Beth S. from Federal Way, WA |
August 26, 2016
Was this review helpful?
No one has rated this review
Home Security
We have been with Frontpoint for 3 years now. Has been a great system overall.have had to replace battery once they sent a new one right away. Like having the app on my phone to control the system when away. Customer Service is great.Have been very helpful when needed. My contract is up (3 year). Will be staying with them. Now it will be on a month to month basis which I like that, so if we decide to stop we can without all the extra charges.
Pam B. from Carlin, NV |
August 17, 2016
Was this review helpful?
1/2 people found this review helpful
Bait And Switch
Just a scam unless every door and window in your home is a cookie cutter, flush surfaces, no recessed doors or windows and no crown molding or molding of any kind. If you are in that home then you can consider Frontpoint. Otherwise be prepared to break out the drills and tape measures and your carpentry skills in order to install. Even some installation would be OK but they have no on home support or technicians other than people who can send you a picture of the tools you will need to actually install the 'simple' system. Not one video or piece of collateral shares the fact that you need to order special recessed sensors likely to preserve the fallacy that it is so so so easy to install. Be honest with your customers Frontpoint. It only works simply for the 1% of houses where everything is square and flush. Just misleading.
William F. from Weston, MA |
July 31, 2016
Was this review helpful?
11/15 people found this review helpful
Big Mistake
This is the worst set up. The pieces kept falling off and I gave up and have not used it in months. I called about it and wanted to cancel service for good, somehow I missed early on when signing and was told that I am stuck for 29 more months of paying $45/month for nothing. Instead of focusing on fixing the issue, my anger rose with them because the lady only reminded me that I am responsible for the remaining months. It's junk. Don't even waste time trying this system out even with the 30 day trial, because it's after that when things fall apart.
Tara P. from Baytown , TX |
July 04, 2016
Was this review helpful?
26/32 people found this review helpful
Frontpoint Is Not The Best
I had them for almost 3 years only because i was stuck into a contract twice. Luckily the second time only for a year and then called a month prior to the contract being up since you have to email them with specific wording to cancel the contract or they will not except it. Their employees lie beyond belief this last employee lied several times then had the nerve to tell me he did not say it when i confronted him with the facts which inturn he asked me to sign up for 3 years more i told them no not after the experience i have had he offered to make it up to me but then failed and said he could not do what was promised. So now i have a system which i have paid 1600 bucks for and no monitoring service since no one else will touch a frontpoint system.
Cindy S. from Yakima, WA |
July 04, 2016
Was this review helpful?
20/21 people found this review helpful
Beware Of Agreement
If you get a Frontpoint system BEWARE: you are signing an agreement for 36 months! If you decide to change company a year into the agreement you have to pay the rest of the contract. A whole pile of money.
Edward T. from Coquitlam, Canada, WA |
March 08, 2016
Was this review helpful?
54/66 people found this review helpful
Great Customer Service.
I have only been with Frontpoint for a couple of months, and I thankfully haven't experienced break in. I hope I never do, to be honest. What I base this review on is the stellar customer service and ease of installation. I love that I can put the unit anywhere or take it with me if I move. There are no wires, no permanent fixtures or cutting into any walls. I've had one 'almost' false alarm when my roommate forgot her access code to disarm it. I was away from home at a work function and Frontpoint called me right away. Everything was cleared up in a matter of seconds. I did not feel rushed or unimportant. I'm overall happy with the service and plan on getting more features. Great job, Frontpoint!
Wendy S. from Phoenix, AZ |
February 26, 2015
Was this review helpful?
45/49 people found this review helpful
Very Pleased!
I've had this system for about 18 months. It was very easy to install. I've been very pleased with the service, and with technical support. I had one bad freeze sensor, but they sent a replacement right away. The alarm works well. It's gone off twice, once when the cat knocked the motion sensor off the mantel (solution, mount it to the wall as instructed – no more problems), and once when my sister-in-law used her key to open the door, but did not know the code (solution – she has her own code now). All in all, the system works exactly as it should. Highly recommended!
Shannon C. from Miami, FL |
February 02, 2015
Was this review helpful?
33/33 people found this review helpful
Absolute Worst Alarm Company Ever!!!
Worst alarm company ever! I got woken up at 5:30am by the alarm system going off. I received a call from the Frontpoint security associate asking if everything was okay. I went to check and everything was fine but the associate seemed to be hurrying me because I guess he had something better to do. So it seems that the sensor was bad (something that happens all the time). I do not live in a good neighborhood and the Frontpoint associate did not know how to disable that one sensor so that I could keep my security system on. So now it is dark and the whole security system is off. I'm being told that someone will be contacting me soon. These people don't care about you or your safety. I have lost so much sleep because of this system that is out of date and unreliable. This is by far the worst alarm company out there. They will get this review removed fast because their whole business is based on good reviews and Yelp seems to be in their pocket but I hope at least a few people read this and are persuaded not to sign up with this horrible company. I absolutely hate this alarm company. It has been nothing but a headache.It has been several hours since the first alarm now, and the kitchen window sensor is going off for no reason. Like I said, this system is so cheap, inadequate, bulky and out of date. Now my fiance has to sit at the house with no alarm system. What is the point of an alarm system if you have to lose sleep and worry about it protecting your home sufficiently. Worst alarm company EVER!!!
Mathew A. from Royal Palm Beach, FL |
December 10, 2014
Was this review helpful?
124/174 people found this review helpful
Reliable Frontpoint Security
I've had FrontPoint home security for about two years now. I love the ease of installation and cost. My favorite feature is the phone app that allows me to control my system remotely. Overall, I enjoy the convenience and sense of security that having FrontPoint provides.
Heather V. from San Antonio, TX |
July 17, 2014
Was this review helpful?
22/25 people found this review helpful
Best Security!
There have been a few break-ins in my area recently and it made my whole family worried, but ever since installing FrontPoint my family has no longer worries about security. Setup was very easy and the phone app is well designed and simple to use. I would recommend FrontPoint to everyone I know.
Alan C. from San Diego, CA |
July 15, 2014
Was this review helpful?
15/18 people found this review helpful
Frontpoint Security
I thankfully have had no attempted break-ins, so I can't comment on how well FrontPoint would handle those situations. However, FrontPoint helps me feel more safe at home. I like the audible alerts when the doors are opened, so I know if someone is entering my home. I also like the phone app, which allows me to control the security system while away from home.
Heather V. from San Antonio, TX |
June 01, 2014
Was this review helpful?
23/25 people found this review helpful
Frontpoint Review
i'VE been using FrontPoint for security now for about 2 years and have had no problems with it. Luckily we haven't had to use it for it's purpose but I have a sense of wellbeing just knowing it's there and armed and ready.
Gretchen L. from N Richland Hills, TX |
February 26, 2014
Was this review helpful?
16/18 people found this review helpful
Quick And Easy
Pleased with the whole process from order to installation.
Gary L. from Orlando, FL |
May 09, 2013
Was this review helpful?
15/20 people found this review helpful
How We Evaluated Frontpoint
To evaluate Frontpoint, we thoroughly researched the company, listened to customer feedback, and tested the products ourselves. Not only that—we put the customer service team through the paces and tried to find the best system for us. To find out more about how we evaluated Frontpoint, check out our methodology.