2019's Best Home Security Systems for Renters
SafeWise reviews the best home security providers on the market to keep your family and home safe.

Whether you rent a condo, an apartment, or a single-family home, we've found the best security system to keep you and your belongings safe. We looked at factors that matter to renters—like DIY installation, monitoring, and if the system can move with you.

Best for reliable monitoring

Top 5 Monitored Security Systems for Renters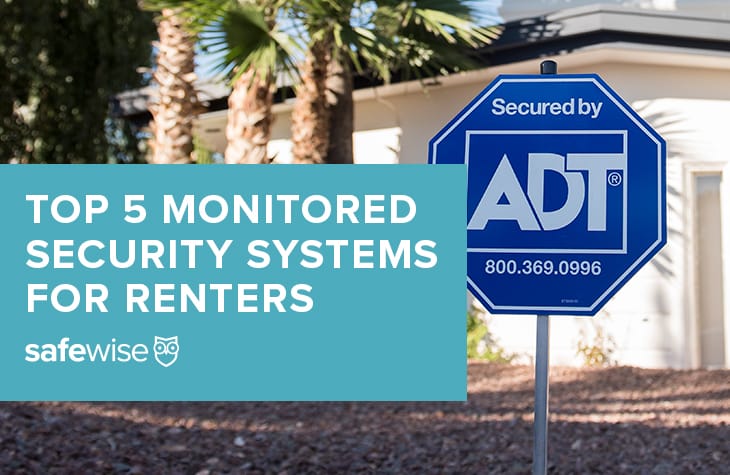 Top 5 Self-Monitored Security Systems for Renters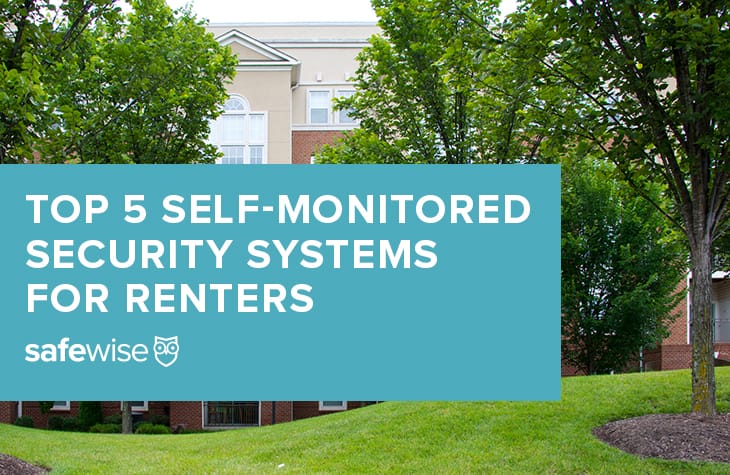 Types of Home Security Options for Renters
A monitored home security system provides the extra assurance of someone keeping an eye out for troublemakers 24/7. That means you can sleep, vacation, or work in peace without having to constantly check for updates from your alarm system. The downside to professional monitoring is the monthly fee that comes with this extra layer of security. Most monitored security systems also require a contract, which can be tricky when you're dealing with leases—it's not unusual to be stuck in a monitoring contract for three years.
On the other hand, self-monitored security systems leave you in charge of watching for suspicious behavior. These systems usually come with an app that you can access on your phone, tablet, or computer. You'll get alerts, notifications, and video updates through the app. While self-monitored security comes without contracts or monthly fees, you lose out on the quick response time and 24/7 diligence of professional monitoring.
As a renter, you need to decide which type of security makes the most sense for your specific needs. Whether you select monitored or unmonitored security, you'll rest easier knowing that your home and belongings have an extra layer of protection.
Compare the Best Monitored Security Systems for Renters
| | | | | | |
| --- | --- | --- | --- | --- | --- |
| | ADT | Frontpoint | Link Interactive | Protect America | LiveWatch |
| Lowest Price | $27.99 | $34.99 | $34.99 | $19.99 | $34.95 |
| Installation | Professional | DIY | DIY | DIY | DIY |
| Warranty | Only with select packages | 3 years | 2 years | Lifetime | 2 years |
| Contract | 3 years | 3 years | 1–3 years, based on equipment financing | 3 years | 1 year |
| Mobile Access and Control | Add-on | Included | Included | Included with some plans | Included |
| Smart Home Integration | Yes | Yes | Yes | Yes | Yes |
| System Can Move with You | No | Yes | Yes | Yes | Yes |
| | | | | | |
Best Monitored Security System Reviews

ADT is probably the best-known name in the home security game. Millions of customers around the world rely on ADT to protect what matters most. But ADT doesn't rest on its laurels—this home security company is constantly evolving to meet the changing needs of the people it protects. Thanks to the addition of wireless technology, you can now have ADT no matter where you live or whether you rent or own.
Pros
For home security you don't have to second-guess, you can't do better than an ADT security system in your apartment, condo, or home. Our favorite thing about ADT is its six redundant monitoring centers. This technology ensures that you'll never be without professional monitoring—even if a monitoring center loses power.
Affordable Package Options


ADT has a variety of package options and prices to choose from. It also does a great job of offering discounts and deals to help ease upfront equipment and installation costs.

Movers Security Guarantee*


As a renter, you don't want to risk losing your security system just because your lease runs out. If you've been a customer for at least two years, ADT lets you move your system—or set up a new one—without incurring new equipment or installation fees.
*Certain terms and restrictions may apply. Guarantees may change at any time, so check with a representative for current details.

Over 140 Years of Security Know-How


You can't stay at the top of your industry for nearly a century-and-a-half without becoming an expert. Because ADT has more experience than any other home security company, this company knows how to deliver security you count on—whether you need to protect your apartment, condo, or single-family dwelling.
Cons
ADT delivers top-of-the-line protection, but ADT packages come with long contracts and penalties for cancelling early. When you're renting, it can be tough to take on a three-year contract.
Warranty Not Included in All Plans


ADT offers great deals on purchasing equipment, but that doesn't mean you always get a warranty if something goes wrong. ADT requires an upgrade to activate an extended equipment warranty.

Home Automation Requires Upgrade


ADT's entry-level packages don't include home automation capabilities. But you can upgrade to the ADT Pulse® package, which features IFTTT (If This Then That) tech that lets you control everything from door locks and lights to the thermostat.

No Trial Period


There's no option that lets you try out an ADT security package before making a full-on commitment. It's hard enough to sign on the dotted line for a year-long apartment lease, so taking on a three-year security contract can feel daunting.

Home security for renters needs to be unobtrusive and low-maintenance. Because you don't own the property, there are limitations when it comes to installing electronic equipment—but Frontpoint security has put those worries to rest. Its simple, wireless DIY installation means setting up your security system is no more difficult than setting up your home Wi-Fi network.
Pros
In addition to simple installation that you control, Frontpoint is also a customer favorite. This home security company consistently receives praise in customer reviews, as evidenced by strong customer loyalty and low cancellation rates.
30-Day, Risk-Free Trial


Renting can be full of surprises, but your apartment security doesn't have to be. Frontpoint lets you try out a system for a full month before locking you into a contract. Whether you try out the Protection Plan (least expensive) or the Interactive (which includes remote access and control), you can cancel and get all of your money back within the first thirty days if you don't like it.

Smoke and CO Protection


Most security systems make you upgrade if you want the extra protection of smoke and carbon monoxide monitoring, but not Frontpoint. This company includes both smoke and CO monitoring in all its plans, so no matter what level of security you choose, you'll get those extra assurances.

100% Wireless and Cellular


Frontpoint fits renter needs because its systems don't require you to drill into the wall or tap into existing wiring. And 100% cellular monitoring means no wires for a burglar to cut. Your system will also remain active and connected to the monitoring center even during a power outage.
Cons
Frontpoint checks a lot of boxes for renters looking to upgrade apartment or condo security, but that quality isn't cheap. We recommend doing your due diligence when selecting a package and taking full advantage of the free trial to make sure your Frontpoint system delivers the protection you need.
Long Contracts


As with many home security companies, Frontpoint requires a 36-month contract, which can be a hefty commitment when you're renting. On the positive side, their equipment is easy to install and move—and there's no fee or penalty to move the system from one residence to another.

Termination Fees


Along with long contracts, Frontpoint also imposes early termination fees if you cancel after the thirty-day trial period. You'll owe 80% of your remaining contract if you back out, so be sure to take that into consideration.

Because most rental leases are for one year, it can be difficult to sign a security contract that is longer. Link Interactive eliminates that concern with short-term contracts that are perfectly suited to a renter's needs. You can get a twelve-month contract with Link Interactive security for your apartment or condo, which is about two years shorter than most home security contracts.
Pros
Link Interactive receives top marks for customer service. The company scored 4.5 or higher (out of 5) from Yelp, Angie's List, and Consumer Affairs. Customers rave about this security company's friendly attitude, quick responses, and unending patience.
Free Shipping, Setup, and Service


Because you can install Link Interactive's security system on your own, the components are shipped directly to your home, apartment, or condo. We like that there are no extra hidden fees for shipping, installation help, or ongoing customer service.

Easy Installation


Link Interactive's DIY installation is so simple that most customers can get everything up and running in under one hour. But if you do run into any trouble, customer service is ready and willing to help guide customers every step of the way.

Extensive Equipment Options


This security company provides comprehensive equipment options in every package. Not only can you get smoke and CO monitoring, but Link Interactive also offers up to forty-eight sensors in its most basic packages.
Cons
There's a lot to like about Link Interactive, but one thing we'd like to see is a few more prepared package options. This company prides itself on customizable home security, but the number of options can be intimidating for security newbies.
Upgrade for Video Monitoring


Because video monitoring (whether you do it yourself or use a monitoring center) is one of the most popular forms of home security, we're a little bummed that you need to select an upgrade to get this feature from Link Interactive.

Early Termination Fees


Even though Link Interactive offers short-term contracts, the company requires you to pay 100% of the balance remaining on your contract if you back out early. When you're renting, things can happen that are out of your control; at least Link Interactive lets you take your apartment security system with you if you do need to move in the middle of your contract.

Protect America offers the lowest entry-level price for professional monitoring of all the security companies on our list . On top of making security affordable on a monthly basis, Protect America eliminates concerns about replacing or repairing equipment with a lifetime equipment warranty. You can also lock in your monthly rate for as long as you remain a customer.
Pros
Protect America really seems to understand the security needs of renters. We like that this company makes protecting your apartment or condo easy and affordable.
No Rate Increases


This is the only security company on our list that lets you freeze your rate for the duration of your contract. As long as you don't cancel your service, your monthly monitoring rate will never increase.

Lifetime Equipment Warranty


It's not easy to invest in things like a security system when you're renting. But you don't need to worry about losing that investment with Protect America's lifetime equipment warranty. This means you can take your equipment with you (and upgrade as needed) for as long as you remain a customer—and it won't cost you one extra penny.

Lots of Options


Protect America has one of the most robust lineups of package offerings. The company lets you choose from five packages ranging in price from $19.99 per month to $42.99. The biggest difference in price is the type of monitoring you select: landline, broadband, or cellular.
Cons
While we like Protect America for its multiple plan offerings and affordable entry-level prices, the equipment included is fairly basic and doesn't support complete smart home integration.
Basic Plans Require a Landline


There's a reason that Protect America can keep their basic package prices so low—those packages only offer landline monitoring. This means you need to have a landline in your apartment or condo, and you run the risk of relying on wires that can be tampered with.

Limited Home Automation Capabilities


Because Protect America's equipment is so basic, there aren't a lot of home automation functions available. If you want home security that also gives you smart home capabilities in your apartment, this may not be the company for you.

When you're renting, you can be at the mercy of a landlord or lease. You can't always guarantee where you'll live for the next three years. With LiveWatch home security, you don't have to worry about risking early termination fees or losing equipment because you have to move. This is the only monitored security company on our list that doesn't require a lengthy contract.
Pros
LiveWatch has tons of policies that work for renters. The company even lets you take an entire year to decide how you like the system with a twelve-month money-back guarantee.
Cancel Anytime without Penalty


This is probably the best policy out there for renters who also want home security. If something goes sideways with your landlord, or if you have to move for work or another reason, LiveWatch lets you cancel without any repercussions. This is the only monitored home security company that lets you walk away with no strings attached.

ASAPer Feature


One reason people choose monitored home security is the instant link to the police and other emergency responders. LiveWatch goes even further with the ASAPer (As Soon As Possible Emergency Response) function. This feature alerts a preprogrammed list of emergency contacts as soon as trouble is detected. This ensures that you (or a trusted designee) are always aware of what's going on at home.
Cons
One thing we're disappointed about is the LiveWatch equipment warranty. All equipment automatically comes with a two-year warranty—but if you ask, you can get a lifetime warranty. We'd like to see the company offer customers this option upfront.
Limited Access in Rural Areas


Unfortunately, if you live in a rural area with limited cellular access, it might be difficult to use LiveWatch home security. Most rental properties are usually closer to city centers, though, which could make this concern less applicable.

Security Cameras Require an Upgrade


This is another security company that doesn't include security cameras in its basic package. We don't like that the only way to get this highly desired form of security is to pay more (around $10) each month.
Compare the Best Self-Monitored Security Systems for Renters
| | | | | | |
| --- | --- | --- | --- | --- | --- |
| | SimpliSafe | Wink Lookout | Samsung SmartThings | Nest Secure | Canary |
| Starter Kit List Price | $299 | $199 | $249 | $499 | $169 |
| Installation | DIY | DIY | DIY | DIY | DIY |
| Warranty | 3 years | 1 year | None | 2 years | 1 year |
| Mobile Access and Control | Yes | Yes | Yes | Yes | Yes |
| Smart Home Integration | Yes | Yes | Yes | Yes | No |
| System Can Move With You | Yes | Yes | Yes | Yes | Yes |
| | | | | | |
Best Self-Monitored Security Systems Reviews

SimpliSafe does DIY home security the right way. The company offers a lot in their most basic plans, plus you have the option of adding professional monitoring. This is a system that delivers all the perks and limited hassle of a self-monitored system with the extra options and features that usually come only with professional monitoring.
Pros
From the beginning, SimpliSafe has worked to be a different kind of security company—one without high-pressure sales, long-term contracts, or exorbitant cancellation fees. For a renter, this flexibility is a must-have.
No Sales People


Simplisafe doesn't employ a sales staff, so you don't have to worry about being pressured into buying more apartment security than you need.

60-Day Money-Back Guarantee


When you don't own the property where you live, it can be tricky to add extra services like a security system. With SimpliSafe's 60-day money-back guarantee, you can make sure the system you select works for your apartment or condo before making the full commitment.

No Contract


No matter how long you have left in your lease, you can take advantage of SimpliSafe security without being tied into a contract for years. Plus, you can change your services from month to month to make sure your home security always fits your needs.
Cons
The only real miss for SimpliSafe is its smart home capability. Although there are some home automation features available, they are very limited, and we hope the company adds more smart control in the future.
Higher Upfront Costs


We love that you're not tied into a monthly contract with SimpliSafe, but the upfront costs for equipment run on the higher end. So while you'll save in the long run, it will take a bit more out of pocket to get started.

Monthly Fee Required for Remote Access


The only way to get mobile control and access of your SimpliSafe system is to sign up for monthly monitoring. Because remote access is vital to effective self-monitoring, this is a big drawback.

Wink is an affordable, simple security system that's been gaining steam since its debut last fall. This no-frills security option is perfect for renters. You can get started with motion sensors, door and window sensors, a siren, a hub, and the mobile app for right around $200, which is a sweet deal for home security—especially when you're not investing in a property that you own.
Pros
Price and simplicity are what make Wink Lookout stand out. The system delivers the components you need to keep an eye on your home, apartment, or condo from anywhere. Wink doesn't clutter the system up with expensive extras that you don't really need.
Affordable Starter Kit


The basic starter kit comes with the Wink hub, door and window sensors, a motion sensor, and a siren. For right around $200, this provides everything you need in order to know what's happening in and around your apartment when you're not home.

Easy Setup


Wink has designed Lookout components to come pre-paired to your account, so all you'll have to do is turn them on and set them up around your home. There's no tricky timing or pairing proximity required to get everything working.

No Monthly Fees


There are no fees to use your Wink Lookout system. You can receive unlimited alerts and add multiple users to your account without incurring any extra charges.
Cons
The biggest thing missing from Wink Lookout is a security camera. That is one security device you'll have to buy separately, which adds another expense to your apartment security system.
Relatively New


Wink Lookout was introduced on October 31, 2017, so it's a relative newcomer to the DIY security scene. While early reviews are positive, we'll be paying attention to any bugs that rear their head as the system gets more use.

Motion Alerts Overly Sensitive


One bug that customers are already noticing is high sensitivity on the sensors. Even when you adjust the alert settings, it's common to get multiple alerts for the same event. Keep this in mind when you decide where to place the motion sensor, and avoid high-traffic areas for pets and other household members.
Pros
The SmartThings control panel is also a smart home hub, which means turning your condo or apartment into a smart home is a no-brainer. Because the equipment is from Samsung, you can count on top-of-the-line technology and innovation to protect your home and make your life easier.
Partnered with ADT


One of the smartest things that SmartThings has done is partnering with ADT for its home security starter kit. This puts together cutting edge smart home technology with more than 140 years of home security experience. We don't think you can do much better than that when it comes to keeping your apartment and belongings safe.

Professional Monitoring Available


Even though this is one of our top self-monitored picks, you can add professional monitoring. We like that you have both options available, depending on your specific needs. This gives renters the ultimate flexibility and control over the security they use to protect their home.

Great Customer Service


SmartThings shines when it comes to treating customers right. Whether you contact them by phone or email, their response time is impressive. SmartThings knows your apartment's security is important, so they won't leave you waiting hours to get the help you need.
Cons
For a system that's so tech-friendly, we're disappointed that the app is the only way to access and control your system. There is no interface for a PC or Mac, which limits the way you can interact with the system.
No Equipment Warranty


SmartThings comes with quality equipment and can be combined with nearly any other smart device on the market, but there is no warranty available. We were surprised to find out that a company like Samsung isn't standing behind their product.

Difficult Setup


Customers find the SmartThings security system tricky to set up. We recommend fully reading the instructions prior to setting up your system and putting customer service on speed dial in case you need to ask the experts for assistance.

This is Nest's latest addition to its suite of smart home products. This time, the tech innovator is looking to simplify and streamline home security. The good news is that this small, stylish system is perfect for even the tightest quarters. The bad news is you'll definitely pay for all that style and smarts.
Pros
If you want to integrate your apartment's alarm system with things like smart thermostat control, Nest is one of the best options out there. This company is a real leader in the smart tech industry, and Nest Secure is a great place to start.
Super Smart


This DIY security system is one of the smartest out there. Nest Secure features multipurpose sensors that alert you to motion and let you know whether windows and doors are open or closed. It also includes a built-in siren to scare off intruders.

Sleek and Stylish


One thing you can always count on from Nest is elegant, chic design that complements home décor and doesn't announce itself as home security. This adds another level of security without detracting from your home's style, which matters even more if you're renting a small place where bulky security equipment would be an eyesore.
Cons
For such a smart tech company, we're disappointed that Nest Secure doesn't have any Z-Wave or IFTTT compatibility. While Nest Secure works with other Nest products and a handful of other smart components, the options are limited, and there's no voice control integration yet.
Expensive


Nest delivers high-end tech and great style, but those come at a price. Nest Secure has the most expensive starter kit on our list, coming in at around $500, which is nearly double the cost of most other DIY security kits on the market.

Security Camera Not Included


Even at $500, Nest Secure doesn't come with any security cameras. If you want video monitoring as part of your security plan, you'll have to pony up a few hundred dollars extra to add one of Nest's indoor or outdoor security cams.

Canary is an all-in-one security solution that can help you protect your space with just one piece of high-tech equipment. It's the ideal security option if you live with roommates or in a dorm because you can monitor your private space without intruding on common areas or the privacy of others.
Pros
Canary provides simple, cost-effective security that's perfect for renters. The small device (it stands just six inches tall and is three inches around) is unobtrusive and doesn't require complicated setup with multiple components.
Ideal for Roommate Situations


Because Canary includes video and sound recording—plus a ninety-decibel siren—in one compact package, it's easy to look after your belongings if you live with roommates. You can monitor your room and possessions, even if the whole house doesn't want to pitch in on a security system.

Learning Tech


Canary also offers additional features like temperature and air quality monitoring. Best of all, the Canary device learns your habits and will automatically adjust monitoring settings based on your comings and goings, which cuts down on false alarms.

Affordable


You can get everything that Canary offers for under $200, which makes it one of the most affordable DIY security solutions on our list. This means that if you are in a dorm or roommate situation, the cost of security won't keep you from adding the protection you want.
Cons
The only real drawback to security from Canary is that if you want to cover multiple rooms or entryways, you'll need to buy more than one device.
Limited Range and Function


Canary has a 147° field of view, which is pretty good, but it only covers the room or area in which it is placed. Also, there are no additional motion sensors that feed into the device, so you can only detect action that is in range of Canary. This can leave some doors and windows vulnerable to intrusion without detection.

Trouble Pairing with Phone


Users have reported some problems getting the Canary device to pair with their phone for mobile access and control. Because mobile alerts are how Canary lets you know about possible security breaches, this is a pretty vital function that we hope the company improves soon.
Things to Consider If You're a Renter Buying a Security System
Do I need to have permission to install an apartment or condo security system?
Because all the security systems we recommend are 100% wireless, you won't have to worry about drilling holes in walls or integrating with the electrical system. However, if you live in an apartment complex and want to install a security camera that will have a view of common areas where other tenants come and go, you should check your lease and verify that it's okay with property management.
What types of components should I consider if I rent an apartment or shared building rather than a home?
All of the security systems on our list work for apartments or condos that are not stand-alone buildings. As long as you select a wireless system, you can add all the security components you want to meet your security needs. At a minimum, you want a control panel or hub and motion sensors for doors and windows. If you want to add a security camera, be sure you know the privacy rules and regulations about cameras in common areas where other tenants can get caught on tape.
If I move, can I take my system with me?
With a wireless security system, you can always take your security with you if you move. Because nothing is drilled into the wall or wired into the electrical system, it's easy to pack up and move your security system when you change your address.
Will having a home security system lower my cost for renters insurance?
There's a good chance that a security system can help you get a discount on your renters insurance policy. Insurance agencies have different policies, so be sure to talk to your agent to find out the specific requirements to get a discount—they might require professional monitoring or a certificate from the security company.
Features Renters Need in Apartment Security Systems
A security system can help make your apartment safer while protecting your valuable items and irreplaceable mementos. Our home security system finder offers a quick and easy way to compare options. As you do, keep these key features in mind: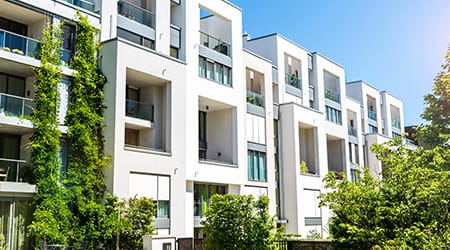 Equipment Ownership
It's important to find out whether you or the company will own the security equipment. To make sure that you can take your system with you if you move, we recommend that renters own their apartment security system equipment instead of leasing.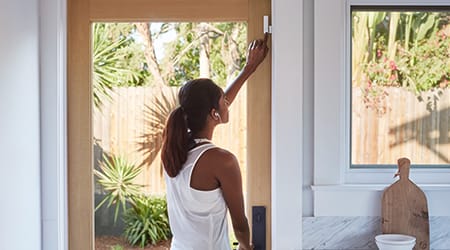 DIY Installation
DIY installation means avoiding installation fees and enjoying the convenience of setting up your system according to your schedule. All the systems on our list offer DIY installation, which is ideal for renters as you don't have to get approval from your landlord or property manager.
Smaller Systems
Apartments usually have small footprints, only one entry door, and just a few windows. If this sounds like your apartment, you probably don't need an extensive security system—a basic one may suit your needs just fine.
Security Tips for Renters
It might seem a little more challenging to protect a property that's not your own, but securing your rental home is entirely possible—and worth it. Check out our top security tips for renters to protect your home and valuables.
Try a Doorbell Camera
The Ring Video Doorbell turns your doorbell into a security camera that you can access from your smartphone anywhere, at any time. Then you can see who's at your door—which is beneficial because potential burglars almost always ring before entering a home—and speak through the camera to make it seem as if you're home.
Rent a Safe Deposit Box
No matter how you try to combat theft, there's still a chance your home may be burgled. Instead of storing your jewelry in a drawer and your cash in a dresser, invest in a safe deposit box at a nearby bank to keep your valuables safe off-site. This way, even if you are robbed, your valuables won't be stolen.
Cover windows and doors
Install blinds and curtains that block anyone from seeing inside your apartment. If your rental's windows are large, consider adding a tinted window film as well. This will make it less likely that potential burglars can see inside your home, which means it will be difficult for them to verify if you're home and scope out any potential items they may want to steal.
Get a Dog
There's nothing scarier to a burglar than a dog—especially one they can only hear, not see, which means louder is better. Just make sure it's okay with your apartment complex or landlord that you have a pet, and check to see if there are any pet restrictions or required pet deposits.
Invest in Renters Insurance
Renters insurance can give you the comfort of knowing that no matter what happens to your rental, your belongings and finances will be safe from harm. It can cover damage caused by natural disasters, fires, and break-ins—and it can even reimburse any costs you incur if someone is hurt on your property.