The Best Home Security Systems of 2018
When it comes to protecting your family and home, nothing but the best will do. To help you confidently protect what matters most, we've researched, reviewed, and ranked the best home security systems available. Check out SafeWise's list of the top home security systems of 2018.
How We Picked the Best Home Security Systems of 2018
As a professional review and comparison website, SafeWise pays experienced writers to do in-depth research and provide objective reviews of products and services. To keep our services free for you, we provide phone numbers and links to purchase the products we review. When you click on these links, we may receive compensation. Learn more at our Ranking, Reviews, and Methodology page.
Top 10 Home Security Systems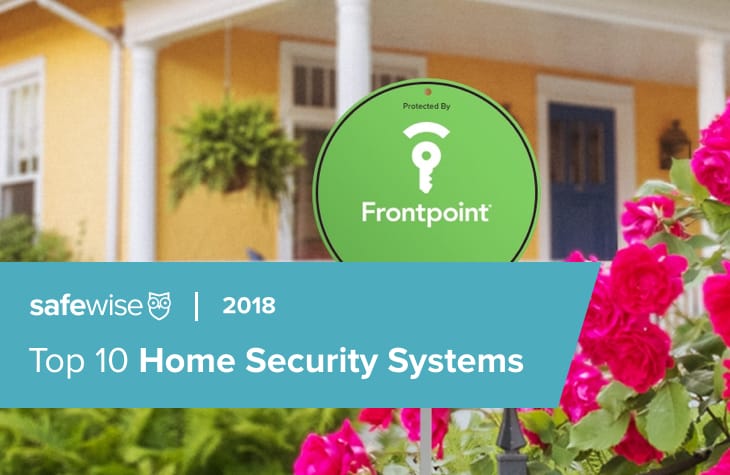 Compare the Best Home Security Systems
| | | | | | |
| --- | --- | --- | --- | --- | --- |
| | Frontpoint | ADT | Vivint | Protect America | Link Interactive |
| Lowest Price | $34.99 | $27.99 | $39.99 | $19.99 | $30.99 |
| Installation | DIY | Professional | Professional | DIY | DIY |
| Warranty | 3-year | Only with select packages | Lifetime | Lifetime | 3-year |
| Contract | 3 years | 3 years | None, based on equipment financing | 3 years | 1–3 years, based on equipment financing |
| Mobile Access and Control | Included | Add-on | Included | Included with some plans | Included |
| Video Doorbell | Yes | Yes | Yes | No | Yes |
| Smart Home Integration | Yes | Yes | Yes | Yes | Yes |
| Smart Locks, Lights, Thermostat, Appliances | Yes | Yes | Yes | No thermostat | Yes |
| | | | | | |
Best Home Security System Reviews
#6 LiveWatch
Best Money-Back Guarantee
This is the only residential security company we've found that gives you a full year to decide whether or not you like your system. This twelve-month money-back guarantee makes it easy to give LiveWatch a try.
Pros
1-year money-back guarantee




No termination fees



Cons
DIY installation only




Limited rural availability



Price and Contract
Tech and Equipment
Home Automation
Customer Service
Consumer Interest
---
#7 SimpliSafe
Best for Avoiding High-Pressure Sales
SimpliSafe has set out to change the home security industry. They don't employ any salespeople and let you choose the equipment and monitoring level you want.
Pros
Lifetime warranty




60-day money back guarantee



Cons
No home automation




Higher upfront costs



Price and Contract
Tech and Equipment
Home Automation
Customer Service
Consumer Interest
---
#8 Nest Secure
Best DIY Self-Monitoring
Nest Secure provides innovative home security that is self-monitored. You can add other Nest products like a camera or thermostat to make your home both smart and secure-but it will cost you. The starter pack is around $500, and that doesn't include any security cameras.
Pros
Easy DIY setup




Responsive Detect sensors



Cons
No professional monitoring option




Higher upfront costs



Price and Contract
Tech and Equipment
Home Automation
Customer Service
Consumer Interest
---
#9 Scout
Best for Staying Out of a Long Contract
Scout is a flexible, entry-level home security system. You build your own system, which gives you control over how much protection you have; however, options are limited and vital equipment (like security cameras) isn't available.
Pros
No contract




Low monitoring fees



Cons
Limited equipment options




No home automation package



Price and Contract
Tech and Equipment
Home Automation
Customer Service
Consumer Interest
---
#10 LifeShield
Best Smoke and CO Monitoring
LifeShield is one of the only security companies to provide smoke and CO monitoring in every package. They're also known for high-quality equipment that they manufacture in-house.
Pros
Smoke/fire/CO alarms in every package




Apartment-friendly options



Cons
No home automation




Weak warranties



Price and Contract
Tech and Equipment
Home Automation
Customer Service
Consumer Interest
---
What to Consider When Choosing a Home Security System
What are the differences between landline, broadband, and cellular monitoring?
There are three ways that home security companies monitor alarm systems—via landline, broadband, and cellular monitoring. The biggest difference between these methods is that some are more prone to tampering than others. More technologically advanced monitoring methods can also cost a little more.
Landline monitoring uses a home phone line to connect your security systems to the monitoring center. Broadband monitoring uses a broadband internet connection to communicate between the monitoring center and your alarm control panel. Cellular monitoring uses a cellular uplink to communicate with your home security system.
Cellular monitoring is the most advanced and provides the greatest security. Because it doesn't rely on a landline or internet connection, there are no wires to cut, which makes your system less vulnerable to tampering. But if you live in a remote area with limited cellular connection, you may not be able to take advantage of cellular monitoring.
Find out more about security system monitoring:
Can I afford a home security system?
A home security system is an investment, but it's one that can be worth it. The average loss to burglary victims was $2,361 in 2016.1 In our research, most residential security systems cost less than that for the whole term of the contract, which is typically 36 months.
Among the systems on our list, the cost of initial equipment, installation, and monthly monitoring ranged from around $575 to about $2,300 for three years of protection. Monthly monitoring fees came in between $9.99 and $39.99 forent, installation, and monthly monitoring ranged from around $575 to about $2,300 for three years of protection. Monthly monitoring fees came in between $9.99 and $39.99 for basic packages. The average price for entry-level monitoring was $27.99 among our top ten security systems.
Keep in mind that the more features and extras you add to your system, the bigger the price tag—some top-tier packages come in around $60 per month. Taking the time to figure out exactly what you want from a home security system to make sure you don't end up paying for extra bells and whistles that you don't need.
Find more information about how to afford home security:
How much does a security system cost?
What's the initial cost for a home security system?
Are home security systems and alarm monitoring worth it?
What is the difference between professional monitoring and self-monitoring?
The biggest difference between professional monitoring and self-monitoring is that a professionally monitored system has trained professionals keeping an eye on your home 24/7. That means that while you're asleep, when you're at work, or if you're away on vacation, someone is always watching and ready to respond if an emergency comes up.
With a self-monitored system, you and other authorized household members are the ones checking in to make sure everything's okay at home. The biggest benefit to self-monitoring is that you can save money by avoiding monthly monitoring fees. However, it can leave your home more vulnerable because you won't have experts watching your home around the clock
Learn more about monitored and unmonitored security systems:
What is the difference between monitored and unmonitored security systems?
Why should I choose a company with professional monitoring services?
What are the differences between wired and wireless home security systems?
A wired home security system is one that is hardwired into your home's electrical system. Wired alarm systems have been around the longest and usually use a landline to connect to the monitoring center. Wired systems are considered the most reliable because they don't depend on internet or cellular connections.
Wireless security systems use wireless technology (Wi-Fi, Bluetooth) for monitoring and to connect the components of the system. Wireless home security is becoming more popular because it offers more flexibility, and there are no wires that could be cut by a burglar. Because you don't have to connect to the electrical system, a wireless system is easier to install and may be able to move with you if you get a new house.
Learn more about the differences between wired and wireless home security:
What are the pros and cons of wired and wireless security systems?
Does a home security system give me a discount on homeowners insurance?
One benefit of installing a home alarm system is that it may qualify you for a discount on your homeowners insurance policy. Because security systems reduce your risk of being burglarized, insurance companies are less likely to have to pay out a claim for stolen property.
Depending on your insurance company, you may qualify for as much as 15% off your premium.2
Insurance companies usually request a certificate as evidence that you have installed a security system. All of our best security systems of 2018 provide certificates to help you take advantage of discounts offered by your homeowners insurance company.
Get more details about saving on homeowners insurance:
Can purchasing a home security system decrease my homeowners insurance?
Can I install a home security system if I rent?
It used to be difficult for renters to take advantage of the protection provided by residential home security—whether you rented a house or an apartment. Thanks to advances in wireless home security and all-in-one security systems like Piper and Canary, renting is no longer an obstacle to home security.
Many of our best security systems of 2018 have special packages available to meet renters' security needs. This is good news, especially when you consider that rental properties are at higher risk for burglary than occupant-owned residences.3
Learn more about home security for renters:
I rent an apartment. Should I still consider a home security system?
Will I be stuck in a long contract?
Nearly all professionally monitored home security systems require a contract. Most contracts require a 36-month commitment. It is possible to find systems that offer shorter contracts, but three years is the most common contract length. If you enter into a contract, make sure you understand the penalties and fees incurred for early termination. Most home security companies will charge you around 75% of the remaining term of the contract, but some require 80% or even 100% of the contract to be fulfilled.
Self-monitored systems are less likely to require a long-term contract. However, some systems—like Nest Secure—require a monthly subscription to access certain features such as cloud storage, live video streaming, or two-way talk.
What's the Difference Between Home Security and Home Automation
We can't talk about the best home security systems without getting into home automation. Today, you can get so much more than peace of mind from your security system. But what are the benefits of home automation, and how does it interact with your home security system? Read on to learn why home automation and home security are a perfect match.
Home security summed up
Home security is the application of tools and technology to help keep you, your family, and your property safe. Home security is made up of many tools and resources including burglar alarms, security cameras, window and door sensors, reinforced locks, and more.
Home automation overview
Home automation uses technology to automate everyday activities like locking the doors, turning up the thermostat, or starting the coffee pot. Home automation is what makes smart products (like a smart thermostat) smart.
How they work together
It really is a match made in heaven. Home automation makes home security more accessible and it gives your security system an IQ boost. Instead of having to turn the car around to make sure you locked the door, you can use your phone to double-check. Best of all—if you did forget—the only thing you need to do is swipe the screen and your smart security system will lock everything up tight.
Why you want both
It's easy to dismiss home automation as something meant for super-geeks or a luxury item for people who are willing to pay for convenience. But there's a lot more to it than that. These are our favorite reasons to combine home automation and home security:
Increased energy efficiency
Remote control of your home and systems from anywhere
The ability to check on kids, pets, or anyone else who has to be on their own when you're away from home

What makes a home security system smart?
The difference between a traditional home security system and a smart one is that different components within the system can communicate with one another. Not only does smart technology give you the ability to control and monitor your home alarm system from anywhere—it also makes your system able to respond to your habits and routines. These are the most common elements of a smart security system:
Control panel or hub
This is the brain of your smart system. The hub is where all the parts come together for control and communication.
Remote access
A security system with home automation makes it possible for you to arm and disarm your alarm system from anywhere—using your phone, tablet, or computer. If your smart security system is connected to a smart thermostat or light control, you can also control temperature and lighting no matter where you are.
Remote monitoring
Most smart home security systems provide options for you to livestream video and receive alerts when a door is opened or a motion detector is activated. Some even let you talk to people at your house through your smartphone.
Environmental controls
Other common home automation features help you monitor the overall health of your home. Environmental sensors include smart smoke and carbon monoxide detectors. You can also add sensors that let you know about air quality or the presence of water in a basement.
Smart accessories
Not all components of a smart security system come as part of home protection. What you want to look for is the ability to integrate your security system with home automation products like smart lights, locks, thermostats, appliances, and garage door controls.
Voice control
The latest development in home security and home automation is the ability to control your system and accessories with the sound of your voice. Voice assistants like Amazon Alexa let you turn up the heat, lock the door, or close the garage without moving a finger.
What Is DIY Home Security?
It's an HGTV world, and more people are doing home repair and upgrades on their own instead of outsourcing to a pro. If you like to sling a sledgehammer, then you'll love that DIY home security is on the rise. There are home security systems available that are 100% DIY, which means you pick the security products, set them up, and monitor them—all on your own.
Even better, you can go hybrid—opt for full-on professional monitoring with DIY installation. This can save you money and give you the satisfaction of upgrading your home's security with your own two hands.
Not every company gives you that option, but three of our best home security systems of 2018 do: Frontpoint Home Security, Link Interactive, and Protect America. If you want to go this route, this is what you need to know about DIY installation.
DIY home security systems give you more control
You won't have to miss half a day of work waiting for an alarm company installer to arrive. In addition, you have full control over how and where you install your security system, sensors, control panel, cameras, and more.
A DIY home security system can take longer to install
Because you're doing this for the first time, it might take you a bit longer than a pro to get everything set up. But it can be worth it when you save a couple hundred dollars by skipping a professional install.
DIY means you might have to ask questions
If you weren't born with a sixth sense about where to place wireless sensors, the control panel, and other components of your home security system, you can turn to your security company for help. Companies usually offer two support options: electronic prompts or verbal walk-throughs. One guides you step-by-step via online support, and the other is a simple phone call where an expert can walk you through the tricky parts.
DIY can impact guarantees and warranties
When an alarm system professional installs your home security system, their work is usually guaranteed if the system malfunctions due to improper setup. When you install the alarm system yourself, there are no guarantees and you'll probably be on the hook for any issues related to how the system was installed.
When Should I Go with a Professional Installation?
Professional installation of alarm systems and sensors for your home can make things simple. You'll have an expert by your side who understands the best setup for your home security system. Alarm systems that require wiring and sensor placement benefit from professional installation companies—especially if an incorrectly placed motion sensor, door sensor, or security camera could lead to false alarms, or worse, an intruder.
Professional installers assess the layout of your home to determine where to place sensors, cameras, and devices for optimal performance. They can also resolve any issues with the alarm system along the way. And because the installer is certified and likely has years of experience on the job, you have added reassurance that the installation was done right.
The primary downsides to professional installation are the up-front cost and lack of flexibility.
Up-front costs
You'll probably have to pay for professional installation, but that extra cost should come with a guarantee. This can protect your investment if equipment is damaged during installation and guard against any glitches due to faulty installation. Damage due to DIY installation may void the warranties on equipment.
Lack of flexibility
You'll have to schedule an appointment to have your security system professionally installed, and you'll also need to remain at home throughout the installation. In addition to the time commitment, many professionally installed security systems have restrictions that may prohibit you from taking equipment with you if you move.
Home security technology, equipment, and pricing changes often, and you can count on us to update these ratings and rankings throughout the year. Be sure to check back for updates and consult our in-depth reviews of our best home security companies.
Date effective January 20, 2018. Pricing and packages are current as of writing. Pricing and packages are subject to change.
FBI, Uniform Crime Reporting, "Burglary"
Allstate, "Home Insurance Discounts"
Bureau of Justice Statistics, "Victimization During Household Burglary"