Best Fire and Smoke Alarms: Buyers Guide
Smoke alarms save lives. Protect what matters most with the top fire and smoke alarms on the market. It's easy to take smoke alarms for granted, but they can save your life—and your home. Below, you'll find the best smoke detectors on the market, plus other fire safety information that can keep your family protected.
Best Smoke Alarms
Detector
Pros
Cons
Where to Find It
Split-Spectrum smoke detection
Syncing
Voice alarm
Smart
Self-sufficient
Interconnectable
Only compatible with Apple devices
Affordable
Easy to install
Loud
Dual sensor
One-touch silence button
Affordable
Interconnectable
Equipped with false alarm control
Not compatible with older models
Things to Consider in a Smoke Alarm
All smoke detectors are not created equal. These are the factors you should keep in mind when selecting a smoke alarm to protect your home and family.
Battery-Operated or Hardwired
Most smoke alarms run on batteries, but you can get smoke alarms that are hardwired. Hardwired detectors are usually installed during construction, and can be part of an interconnected smoke detector system. Hardwired smoke alarms run on your house's electrical system and typically come with battery backup. It is possible to install a hardwired smoke alarm after construction.
The main issue with battery-powered smoke alarms is that it's up to you to make sure the batteries are fresh and ready for action. Even though all battery-operated smoke alarms signal you when the batteries are low, many people still neglect to make sure their smoke alarms are working. The same goes for the battery backup on hardwired detectors. If you opt for battery-operated smoke detectors, set up a reminder so you don't overlook testing and changing out batteries.
Connected or Stand-Alone
Interconnected smoke alarms guarantee that if fire is detected in one area of the house, every smoke alarm will go off. This means that you'll hear the alarm even if the fire is in the basement and you're upstairs. Stand-alone detectors only alert you to danger in the immediate area where they are installed.
Another feature of connected smoke alarms is low-battery warnings. If one detector has a low battery, they will all beep to let you know. While this is good for keeping you on top of battery replacement, it can be frustrating while you try to find the one smoke detector that needs new batteries.
Smoke Alarm Features
Today you can get a smoke alarm that does more than alert you to the presence of smoke. Check out some of the extra bells and whistles:
Remote Control and Alerts
Monitor your home's safety from anywhere with a smoke alarm that sends alerts to your phone if smoke is detected or batteries are running low.
Voice Hush
Say goodbye to annoying nuisance alarms. Detectors with voice hush let you tell the smoke alarm to stand down, so you don't have to choose between taking care of a smoking pot on the stove and physically silencing the alarm.
Silence Buttons
Silence buttons provide a safe way to quiet unnecessary alarms without disabling the smoke detector. Most buttons will silence the alarm for up to fifteen minutes, which gives you enough time to clear out steam or smoke from daily activities.
Connection to a Central Monitoring Station
Smoke alarms that are part of a monitored home security system give you the added reassurance of 24/7 monitoring.
Carbon Monoxide (CO) Detection
Many smoke alarms now monitor both smoke and carbon monoxide. Smoke and carbon monoxide detectors that provide two-in-one protection can save you worry and money.
Smart Detection That Identifies the Location of Fire or Smoke
Know where the danger is as soon as you get an alert. Some smart smoke alarms can pinpoint the exact location of the fire, which makes evacuation and fire response more effective.
Compare Smoke Detectors and Fire Alarms
Nest Protect

First Alert Onelink

Kidde KN-COSM-BA

First Alert BRK 3120B

Kidde i4618 Firex

Warranty

2-year limited

10-year limited

10-year limited

10-year limited

5-year limited

Sensor

Split-spectrum featuring photoelectric and LED

Photoelectric

Ionization

Photoelectric and ionization

Ionization

Power

Battery

Hardwired

Battery

Hardwired

Battery

Battery

Hardwired

Battery

Hardwired

Carbon Monoxide (CO) Detection

✔

✔

✔

×

×

Home Automation

Nest

Amazon Alexa

Google Home

Wink

Nexia

Vera

Apple Homekit

None

None

None

Alerts

Alarm

Voice

Mobile

Alarm

Voice

Mobile

Alarm

Voice

Alarm

Alarm
Pros
Nest Protect is the smartest smoke detector on the market. Its app sends alerts to your phone so you can silence false alarms or call for help no matter where you are.
Split-Spectrum Smoke Detection


Nest created its own sensor, a photoelectric and LED hybrid, to eliminate radioactive material (found in ionization sensors) and enhance smoke detection.

Syncing


If you have multiple alarms, they'll talk to each other. When one alarm sounds, they'll all be triggered to tell you exactly where the danger is coming from.

Voice Alarm


Instead of a loud beep, you'll hear a human voice if smoke is detected.
Cons
You get advanced protection and a bunch of extra features with Nest Protect, but they come with a higher price tag than most other smoke detectors.
Higher Price


You'll pay more than $100 for a single Nest Protect smoke alarm, which can make installing multiple devices cost prohibitive.
Pros
This smoke detector aims to eliminate the problem of dead batteries. Thanks to the included long-life battery, you don't have to worry about late-night chirping or the added cost of changing out batteries.
Smart


You can use Apple's HomeKit technology with the Onelink alarm. You'll get mobile alerts if the smoke alarm sounds, and you can control it from your phone.

Self-Sufficient


This device does 400 safety checks per day to ensure it's working properly.

Interconnectable


Because it's compatible with most existing hardwired alarms on the market, you can make your whole smoke alarm system smart with just one First Alert Onelink device. And you don't have to rewire, thanks to the included adapter plugs.
Cons
The battery is sealed within the device, so you'll have to replace your entire smoke alarm when the battery dies.
Only Compatible with Apple Devices


First Alert Onelink only works with Apple devices, so if you want smart capabilities and have an Android, you're out of luck.
Pros
The Kidde KN-COSM-BA smoke detector receives high praise from customers. We read review after review from people who credit this smoke alarm with saving their lives and homes.
Affordable


You can protect your home and family with this highly rated device that's priced to work for most budgets.

Easy to Install


There is no wiring required, so it's easy to install. All you need to do is open the box and this reliable detector is ready to go (batteries included!).

Loud


A smoke alarm doesn't do you much good if you can't hear it. Many customers report how loud the beeps and voice alerts are—even for those with hearing loss.
Cons
In a world of smart devices, this smoke detector is fairly basic. Although it does offer voice alarm, there are no home automation or remote monitoring capabilities.
Battery-Operated Only


This Kidde smoke alarm can't be hardwired, so there's no option to connect it with other alarms throughout your home.
Pros
Say goodbye to shrieking beeps while you're cooking or after a hot shower. The First Alert BRK 3120B comes with a photoelectric sensor that's sensitive enough to tell the difference between everyday activities and real threats like a smoldering fire.
Dual Sensor


First Alert's smoke alarm comes with both ionization and photoelectric sensors to detect fast- and slow-burning fires.

One-Touch Silence Button


It's easy to silence false alarms on the First Alert BRK 3120B. One touch of your finger is all that's required to hush an alarm or test the unit.
Cons
Although this smoke detector has two smoke sensors, it doesn't come with carbon monoxide detection.
Basic Design


This no-frills smoke alarm doesn't come with smart capabilities, remote monitoring, or voice alert.
Pros
Changing batteries has never been easier. It's simple to keep this smoke detector ready for action with the slide-load battery door on the front.
Affordable


You can protect your home for less than $15 with the Kidde i4618 Firex smoke alarm. The price makes it easy to add multiple detectors to protect every level of your home.

Interconnectable


The Firex can connect with up to twenty-four devices, including heat, CO, and smoke detectors. Best of all, it works with devices from different brands.

Equipped with False Alarm Control


Safely silence annoying alarms caused by non-emergency events like a steamy shower or burned dinner. When you press the hush button, you desensitize the alarm for a maximum of eight minutes, after which it will resume normal operation.
Cons
The Firex has only an ionization sensor. While this provides early detection for fire particles, which is useful in a flaming blaze, it doesn't provide accurate detection for smoldering fires.
Not Compatible with Older Models


Users report issues connecting the Kidde i4618 Firex with older smoke detectors. If you're not looking to replace all of your smoke alarms, this could be an issue.
Types of Smoke Detectors
Fires happen every day. In 2016, a house fire was reported every ninety seconds.1 If you have smoke detectors in your home, you'll have a better chance of getting everyone out safely. While any smoke detector is better than none, there are a number of models to choose from with varying pros and cons.
Multifunctional
Some smoke detectors do more than detect fire. Many include carbon monoxide alarms too, giving you double protection in one device. Multifunctional alarms can be battery-operated, hardwired, or smart—so prices vary depending on the functions included.
Smart
Smart smoke detectors are the cutting edge in fire safety. They communicate through apps and deliver alerts to your phone or other mobile device if an alarm sounds. Smart alarms can talk to each other too, so you'll know exactly where the fire is when an alarm is triggered. The only downside is that smart devices are more expensive, but you get a lot of safety for your buck.
Hardwired
Hardwired smoke detectors come with wires that hook into your home's electrical system. Most come with a backup battery to prevent your device from becoming inactive due to a power outage. Hardwired smoke detectors are an extremely reliable option because the odds of losing power are low. One downside is that they can be trickier to install.
Smoke Detector Sensors
Smoke alarms typically have three types of sensors: ionization, photoelectric, and dual. Here are the main differences between the three.
Photoelectric Sensors
Photoelectric smoke alarms use sensors that are better at detecting smoldering fires that generate lots of smoke. These sensors use a light to detect smoke and sound an alarm.
Ionization Sensors
Ionization smoke alarms use sensors that are able to detect faster-burning fires with large flames. This is important because flaming fires produce small amounts of smoke that can be harder to detect. They're equipped with two metal plates and a small amount of radioactive material to ionize air. When smoke passes through the device, it interrupts the ionization, which triggers the alarm.
Dual Sensors
Dual sensors include both photoelectric and ionization sensors. These are considered the safest smoke and fire detection devices. Because they detect both flaming fires and smaller, smoldering fires, it's unlikely that any fire-related danger will get past these double-duty sensors.
Smoke Alarm Tips
Smoke alarms can save a life, but they have to be properly installed and maintained. Don't risk your family's safety—use these tips to keep your smoke detectors in tip-top shape.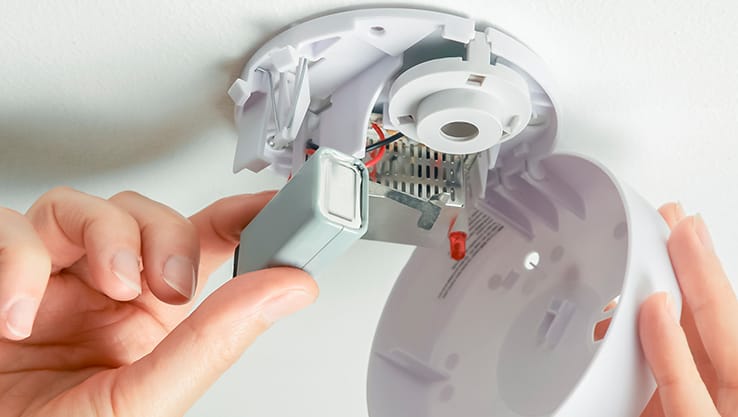 Check Batteries
Between 2009 and 2013, dead batteries caused 31% of smoke alarm failures in home fires where a battery-powered smoke alarm was present.2 Nest reports that nine out of ten people don't check batteries. This is dangerous! A smoke detector won't do you any good if it isn't working, so make sure to check your batteries every month and use the "test" button intermittently to ensure proper function.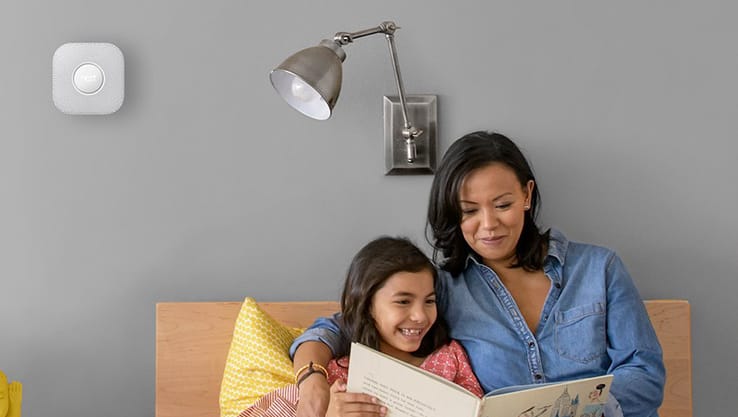 Arm Every Level
The National Fire Protection Association (NFPA) recommends putting a smoke detector on every level of your home: in every bedroom, outside every sleeping area, and in your basement. On floors without bedrooms, install alarms in the living area or near stairways. If you have a large home, consider adding even more to cover the whole footprint.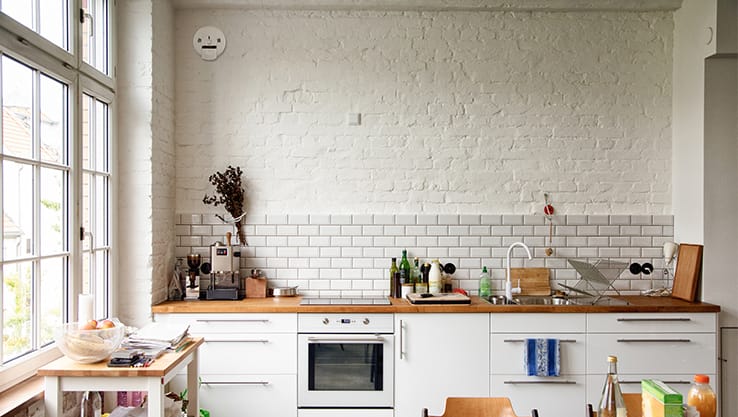 Mount High
Smoke rises. It's important to put your smoke detectors within a foot of your ceilings and ten feet from cooking areas. For vaulted ceilings, avoid putting smoke detectors in the "pitch" of the roofline. Instead, mount fire alarms three feet below the ceiling so they can accurately read smoke.
Never Run Out of Batteries
Set up recurring delivery for smoke alarm batteries on Amazon. That way, you'll always be ready to replace a dead battery in your smoke alarm. Time the delivery schedule to match regular smoke alarm maintenance so you'll never overlook changing out old batteries.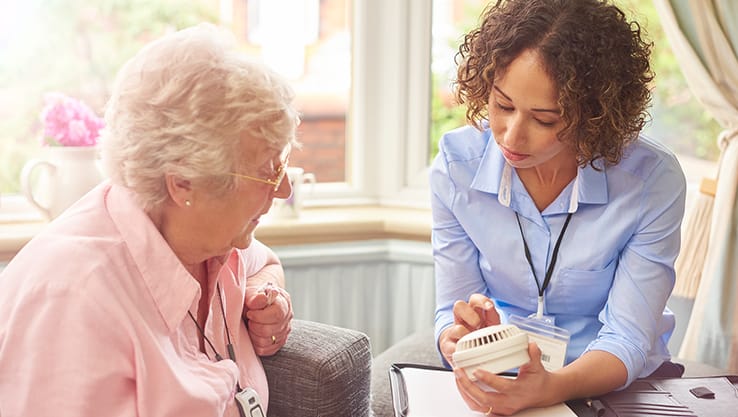 Keep It Clean
Dirt and debris interfere with the sensors on your smoke alarm. Dusty buildup can lead to false alarms or delayed detection during an emergency. Whether you have a photoelectric alarm or an ionization detector, regular cleaning will keep your smoke alarm in working order.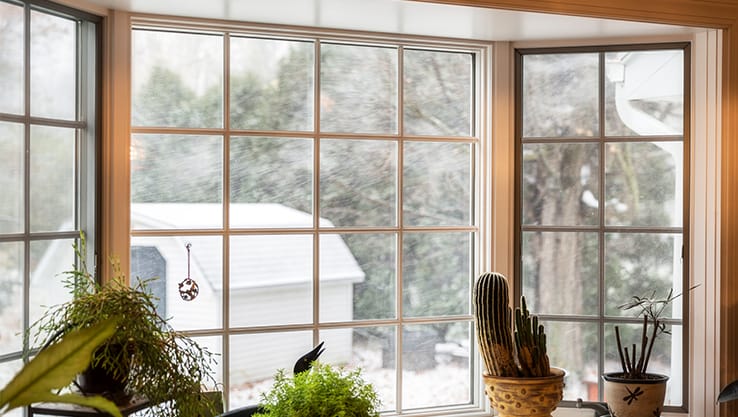 Dodge Drafts
Keep smoke alarms away from windows, doors, and air ducts. Drafts can disrupt the operation of smoke detectors and increase the occurrence of nuisance alarms.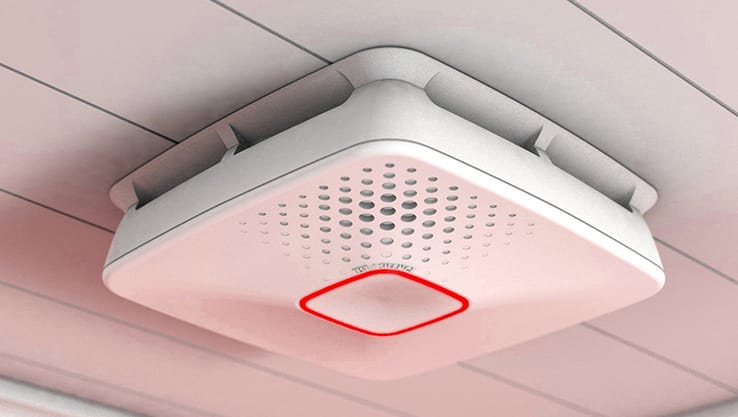 Get Connected
The United States Consumer Product Safety Commission found that interconnected smoke alarms do a better job of detecting fires and alerting all occupants to danger.3 When it comes to safety, taking the extra step to install and connect hardwired smoke detectors is definitely worth it.
Make Your Smoke Detector Smarter
If you want a smart upgrade but still have lots of life left in your existing smoke detectors, try one of these products. They use Wi-Fi to monitor your alarms and send notifications to your smartphone when danger is detected.
Product
Pros
Cons
Where to Find It

Leeo Smart Alert
Sends mobile alerts if a smoke or CO alarm is detected
Plugs into any outlet; no smart home hub required
Can also alert your emergency contact list or fire department
Can't detect smoke, fire, or gas on its own
Doesn't come with battery backup
Smoke Alarm Terminology
Photoelectric
A type of smoke alarm sensor that uses light to detect smoke. When smoke particles are suspended in the air (as with a smoldering fire) the particles scatter the beam of light in the sensory chamber, which sets off the alarm.
Ionization
This type of smoke alarm sensor uses radiation and an ionization chamber to detect smoke. The ionizing radiation helps detect small amounts of smoke in the air, as with a flaming fire. When smoke enters the sensor chamber, the current of the ionizing radiation is disrupted, which triggers the alarm.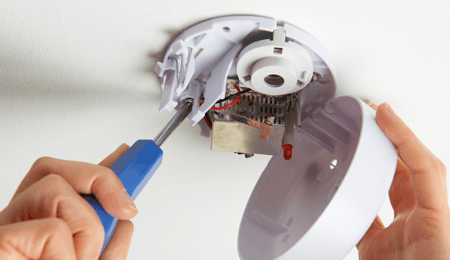 To determine the best smoke alarms of 2018, we scoured industry research and evaluated product features, performance, and specs. We consulted the National Fire Protection Association and US Consumer Product Safety Commission for guidance, and pored over expert ratings and real customer reviews. Our top five smoke alarms were selected from twelve different devices that were compared for reliability, effectiveness, price, and customer satisfaction.
Find Your Perfect Home Security System