Carbon Monoxide (CO) Detector Buyers Guide
Top Carbon Monoxide Detectors – 2018
Carbon monoxide (CO) has been called the "silent and invisible killer" because it doesn't have a smell, color, or taste. It's one of the most prevalent causes of death due to poisoning in America. Any time you burn something—like gasoline, natural gas, wood, oil, propane, or charcoal—carbon monoxide is released into the air. In outdoor spaces, this usually isn't a health hazard because there is enough area for the CO to dissipate, so particles never amount to a toxic level. The danger comes when carbon monoxide is released in a contained area like your home, RV, or garage.

Carbon Monoxide Detectors
After much research, we've found the best carbon monoxide detectors available. From basic battery operated to smart devices, you can find the top options here.
Smart, digital, home automation, dual-sensor with smoke detection, hardwire, battery operated
Carbon monoxide + smoke detection
App and home automation
Advanced technology
More expensive than others
Smart, digital, home automation, dual-sensor with smoke detection, 10-year battery, Apple compatible
Carbon monoxide + smoke detection
App and home automation
Advanced technology
Electrochemical carbon monoxide sensor
Digital display, hardwire
Text/email alerts
Multi-functional with smoke, freezing, and other monitors
Advanced technology
More expensive
Listening sensor, no actual gas detection included
Need multiple devices to perform full function
Electrochemical carbon monoxide sensor
Digital display, hardwire
Hardwires into electrical
Backup battery
Digital display
No home automation
Not a dual smoke detector
Dual power, Peak Level feature, Battery backup, digital display
Versatile
Advanced Technologically
Digital
Electrochemical carbon monoxide sensor
Battery operated, digital display
Digital Display
Battery Operated
#3 alarm on Amazon
No hardwire option
Not a dual smoke detector
Electrochemical carbon monoxide sensor
Battery operated, digital display
Popular Seller
Digital Display
Voice Warning
Cheap
Battery operated only
No home automation
Not a dual smoke detector
Hardwire, includes propane gas detection
Mounts flush to the wall
Specific for mobile homes, but works anywhere
Dual alarm with propane gas detection
Expensive
No digital display
No backup battery
Electrochemical carbon monoxide sensor
Battery-operated, digital display
Affordable
5-Year battery life
Digital Display
No Home Automation
No hardwire option
Carbon monoxide and smoke detector syncing, home automation
Compatible with carbon monoxide detectors made after 1996
Simple home monitoring
Can call for help
This is not a carbon monoxide alarm
Can only detect and alert you of problems
Things to Consider When Buying A Carbon Monoxide Detector
Before you buy, it's good to break down exactly what to look for in a carbon monoxide detector. We'll highlight several key factors that were part of our decision-making process to help you become a more informed consumer, but if you'd like to skip to the details on our recommended models, you can do that here.
What Are the Symptoms of Carbon Monoxide Poisoning?
Carbon Monoxide doesn't have a smell or taste, so you might not know right away that you're being poisoned, but your body will. If you have carbon monoxide poisoning, you may feel dizzy, become nauseous, throw up, develop a headache, get confused, or pass out. It's often been said that the signs of CO poisoning might resemble the flu.
Every year, 400 Americans die from accidental carbon monoxide poisoning (from fuel burning, not fires), and 20,000 are admitted to the emergency room.1 If you become unconscious while carbon monoxide is filling your home, it can be life threatening. That's where carbon monoxide detectors come into play. Once installed, they can alert you about high levels of carbon monoxide in your home, which will give you more time to get to safety.
Who Is Most Susceptible to CO Poisoning?
Everyone is susceptible to carbon monoxide poisoning. But, according to the Centers for Disease Control and Prevention (CDC), children, older adults, people who are physically ill, and pets are more likely to be affected by CO.2 The Mayo Clinic adds that unborn babies' blood cells take in more CO than adult blood cells, which makes them more susceptible to poisoning.3 Older adults who experience high levels of CO could be more likely to incur brain damage.
When it comes down to it, a CO detector can help save your life and the lives of the people you love. If you want to find out more information about CO detectors, check out our frequently asked questions page.
What to Do If You Suspect High Levels of Carbon Monoxide
If you or your family members experience carbon monoxide poisoning symptoms, quickly walk outside for fresh air and call 911. Even if you start to feel better, you can still have toxic levels of CO in your system and might require medical help. In this situation, it's a good idea to have your whole family checked for poisoning, including your pets. Signs of carbon monoxide poisoning don't always happen right away—it can happen over the period of days and possibly even weeks, depending on the levels of CO in your home.
What Is a Carbon Monoxide Detector?
Carbon monoxide detectors are a lot like smoke detectors, but instead of looking for signs of fire, they detect levels of carbon monoxide. Depending on the brand, detectors operate in one of three ways: with a biomimetic sensor, metal oxide semiconductor, or electrochemical sensor.
Biomimetic detectors use gels that change color after absorbing a certain amount of carbon monoxide—and then a sensor sounds an alarm. Metal oxide semiconductors have silica chips that detect CO and send electrical signals to trigger an alarm. Electrochemical sensors are considered to be the best in the industry. They use electrodes in chemical solutions that sense changes in electrical currents when carbon monoxide is present, and they sound an alarm.
If you have a professionally monitored security system installed, it should come with a CO detector. Check out the top five security providers, all of which provide CO detectors with their monitoring plans.
Where to Install Carbon Monoxide Detectors
The Consumer Product Safety Commission recommends putting a carbon monoxide detector outside every separate sleeping area in your home.4 You might also want to add a carbon monoxide detector in your kitchen and basement for added safety. Also, make sure you install detectors close to bedrooms so alarms will wake you up if you're sleeping.
If you have an attached garage, you'll want to place a CO detector by the entranceway. A vehicle that's been left running in a closed space is a common cause for CO poisoning. In the grand scheme of things, it's better to be overly cautious by placing CO detectors in every room, floor, and hallway than suffering CO poisoning.
How to Maintain a Carbon Monoxide Detector
Most carbon monoxide detectors last an average of five years. Although the product's lifetime will vary depending on your make and model, you can still get the most out of your detector by wiping it down weekly to keep it clean from dust and debris.
It's also a good idea to test your CO detector monthly. Start by pressing the "test" button to ensure the siren works. If your detector is older, you can purchase a carbon monoxide test kit to ensure that it's fully functional. If the detector doesn't go off when you test it, it's probably time to buy a new one.
Types of Carbon Monoxide Detectors
There are several types of carbon monoxide detectors available for purchase. While they all have varying levels of sophistication, all models will alert you if dangerous levels of carbon monoxide accumulate. Some include multiple functions. Here are the different types out there:
Dual-function
Some carbon monoxide detectors also have smoke detectors or other gas sensors built-in.
Digital
These devices have a digital screen to show you levels of carbon monoxide in your home.
Smart
Smart carbon monoxide alarms are the most advanced option available. They do their own diagnostics to make sure they're working properly and sync with home automation apps so you can monitor your home from afar.
Hardwired
Instead of using batteries, these carbon monoxide detectors are wired into your home's electrical grid. Unless the power goes out, you won't have to worry about devices losing battery and failing to work.
Battery-operated
This type is as basic as they come. Battery-operated carbon monoxide detectors may or may not have a digital screen. You'll need to check your batteries once every three months to ensure your detectors are working properly.

Nest Protect
Nest Protect is leading the way with home automation and safety products. This particular model combines smoke and carbon monoxide detection and works with an app. When you download it, you can get alerts to your phone and even silence alarms if necessary. With state-of-the-art sensors for both fire and carbon monoxide, this alarm is one of the best for homeowners or renters.
Home Automation Nest protect works with an app and all other devices in your house, so if there's a leak, you'll know about it immediately—wherever you are. Then, you'll be able to quiet the alarm from your phone.
Doubles As Smoke Detector. Your device will also alert you if it detects smoke in your home, so you get two-in-one. Plus, it'll be able to tell where the fire is coming from.
Comes With Battery or Hard-Wire Capabilities. You can choose whether you'd like traditional battery operated devices or Nest Protect's with wires you can connect to your electrical system.
Voice Notification. When Nest protect detects smoke or carbon monoxide, a human voice will notify you of the danger.
Compatible Products. You can order Nest's camera to keep an eye on your home and see what's going on during an emergency.
Price You get what you pay for with Nest. While it's more expensive than basic carbon monoxide detectors, $99 is still a pretty reasonable price tag.

First Alert Onelink
This smart smoke and carbon monoxide detector can do a lot. Using your home's wifi, the alarms can talk to one another and synchronize to alert you if there is a gas leak or fire. They're also controllable from your Apple device through an app, so you can silence them or get notifications on your phone.
10-Year Battery. You won't have to change batteries or hardwire this alarm. It comes with a 10-year battery that won't annoy you with chirps.
App. This is the first smart alarm to work with Apple's HomeKit technology. If you have an apple device, you can get notifications from your First Alert alarms and control them from wherever you are.
Voice Alarm. Expect to hear a human voice when this alarm goes off.
Syncing System. If one alarm goes off, all alarms in your home will sound.
Doubles As Smoke Alarm. You'll have double the life-saving power in one alarm.
When the battery dies, you'll need a new alarm. Since you can't change the batteries yourself or hardwire this unit, you'll need to replace the whole thing once it expires. Its life expectancy of 10 years is still a good value.
Only Compatible With Apple Devices. You can monitor and control this device through an app, but it must be on an Apple device.

Home Alert
This system from Home Alert comes with three parts: the dual carbon monoxide and smoke alarm, the Gateway (main operating system), and flood and freeze monitor. Through an app, you can monitor your home for carbon monoxide dangers and more and get mobile and email alerts if something goes wrong. Unlike most carbon monoxide detectors that have an actual sensor to detect gas, Home Alert's model listens for your home's carbon monoxide and smoke detectors and reports alarms to you.
Smart Device. With an app, you can monitor your home's safety and get text/email alerts if the system detects something amiss.
App. Download the free app and you'll be instantly connected to your home.
Wireless. This works through your home's wifi, so aside from wiring the devices into your home's electrical, you won't need to do much else.
Professional Monitoring. This system comes with professional monitoring for added security.
Multi-Functional System. You'll have carbon monoxide, fire, flood, and freeze detectors with one system. Most only include one function: carbon monoxide.
You still need carbon monoxide alarms. This alarm listens for the beeps of your carbon monoxide and smoke detectors, then it alerts you of a problem.
More Expensive. By the time you buy the whole set and additional fire and smoke alarms, you'll spend more than other models.

Kidde KN-COPP-3
This company has been making fire safety products for over 90 years. As the world's largest fire safety product manufacturer, it also produces high quality carbon monoxide detectors. With a digital display, you can read your home's carbon monoxide levels easily. Plus, the device refreshes its data every 15 second so you'll know if something isn't right. If your device sounds, you'll definitely hear it. This carbon monoxide alarm lets out an 85 db beep that's as loud as a blender.
Affordable. You can bring one of these devices home for about $30.
Digital Display. Some alarms only tell you if your carbon monoxide levels have reached critical mass. This one will tell you if any particles are in your home, so you'll know if there's a leak that's getting worse and get to safety faster.
#1 Best Seller on Amazon. Customers love this device and it's the most popular carbon monoxide detector on Amazon.
Backup Battery. This is a hardwired carbon monoxide detector, but it has a backup battery in case you lose power.
No Home Automation. This isn't as advanced as Nest Protect. You won't get phone alerts or the ability to see where in your home the carbon monoxide is being detected.
Must Hard-Wire. You have to wire this device into your electrical system for it to work—even though it has a backup battery.
Single Sensor. This is only a carbon monoxide alarm. You'll have to buy smoke alarms separately.

First Alert CO615
The First Alert CO615 offers a ton of great features at a low cost. The detector's plug-in capability makes it incredibly versatile. You can easily place it in any room with an outlet, and because the detector comes with a long cable, it gives you a lot of flexible placement options.
Another feature customers seem to enjoy is the digital display that shows the level of carbon monoxide. This is especially useful if you want to compare different areas in your home to see where most of the CO accumulates. And the First Alert CO615 uses electrochemical sensors that make the detector extremely accurate when it comes to sensing dangerous levels of CO.
The one thing that's lacking with the CO615 is design. Many customers have complained that the battery compartment is not practical and doesn't function well. It's hard to get the batteries into place and difficult to close with the batteries inside. However, having batteries as a backup in the event of a power outage is still a great plus in our book.
Versatile. You can place it in practically any room where there's an outlet.
Advanced Technologically. It has electrochemical sensors that make it incredibly accurate.
Digital. It's easy to see what the CO levels are in your house, and specifically from room to room.
Design. The battery compartment design doesn't work well, so you might have some trouble closing the door with the batteries inside.

Kidde KN-COPP-B-LPM
This digital carbon monoxide alarm is a popular choice on Amazon—number three out of all CO detectors. It's equipped with the best sensor in the industry, an electrochemical sensor, to help detect carbon monoxide in your home. The digital display allows you to monitor levels of carbon monoxide in your home. If poisonous levels accumulate without your knowledge, the alarm will sound at 85 decibels to let you know.
Digital Display. You'll know exactly how much carbon monoxide is in the air with this digital display.
Updates Every 15 Seconds. The device will recalculate levels of carbon monoxide every 15 seconds and post them on the digital display for you to read.
Easy Installation. No wires come with this alarm, so you'll only need to put batteries in and mount it on the wall.
Affordable. This alarm only costs about $20 on Amazon.
Popular. This is the number three best selling carbon monoxide alarm on Amazon.
Battery Powered. While this is convenient, your device could cease to function if batteries die—putting you in danger.
No Home Automation. These alarms don't have smart capabilities, so you can't control them from your phone.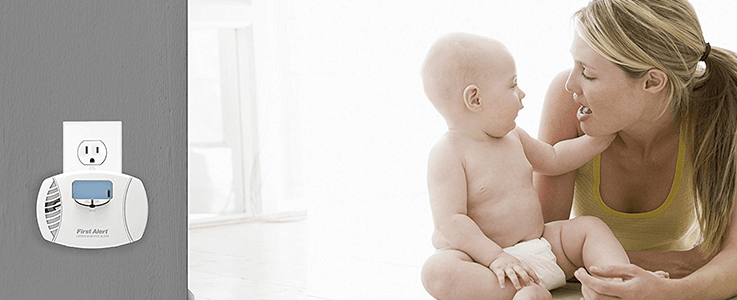 Yondwin Carbon Monoxide Detector
Equipped with an electrochemical sensor, this is one of the best carbon monoxide alarms available for purchase. It doesn't come with fancy home automation or smart technology, but it does have a digital display to report levels of carbon monoxide gas in your home. It's one of the most popular devices on Amazon and an affordable choice for your home.
Digital Display. Monitor levels of CO gas in your home.
Voice Warning. Instead of only hearing a beep, you'll hear a voice telling you what's wrong.
Top Seller. This is the ninth top selling carbon monoxide detector on Amazon.
Affordable. You can buy this alarm for about $10 on Amazon.
Easy Installation. Insert a battery and mount this to the wall. No hardwiring necessary.
Battery Operated. Since this doesn't come with wires, you'll have to rely on batteries to keep this device running. However, there is a flashing light that blinks every 30 seconds to indicate working batteries.
No Home Automation. There is a digital display, but no advanced technology.

Safe-T-Alert Flush Mount
This carbon monoxide and propane gas detector is meant for RVs, campers, and mobile homes. It hardwires directly into a 12-volt source to alert you if either gas is infiltrating your space. It's pretty basic—without a digital display or smart technology—but it has good reviews and is a top 20 carbon monoxide alarm on Amazon.
Hardwired. You won't lose power due to dead batteries. This device wires into a 12-volt electrical source.
RV Specific. This is made for RVs to protect against odorless gas poisoning.
Dual Function. Safe-T-Alert monitors for carbon monoxide and propane gas leaks.
Expensive. It's cheaper on Amazon, but you can spend $80-$125 on this device depending on where you buy it.
No Backup Battery. You won't have a backup source of power if your RV loses power.
No Digital Display. This is basic and only has lights to indicate that it's running or that a certain gas has been detected.

X-Sense CO05S
This easy-to-install digital carbon monoxide detector can help keep you safe. Simply place a 9 volt battery into this alarm and it'll last you up to five years. If you want to check carbon monoxide levels, you can glance at the digital screen. Plus, you can make sure this device is working properly by looking for the blinking light that flashes every 50 seconds to ensure quality function.
Affordable. You can get this carbon monoxide alarm for about $30 on Amazon.
Digital Display. Check carbon monoxide levels with an easy-to-read digital display.
Long Battery Life. This comes with a 9-volt battery that can last up to five years.
Good Rankings. Amazon customers ranked this alarm 12th in its category.
No Home Automation. This comes with a digital screen, but no other advanced technology.
No Hardwire Capability If you don't want to rely on batteries, you'll have to with this device. It doesn't come with wires to hook into your electrical system.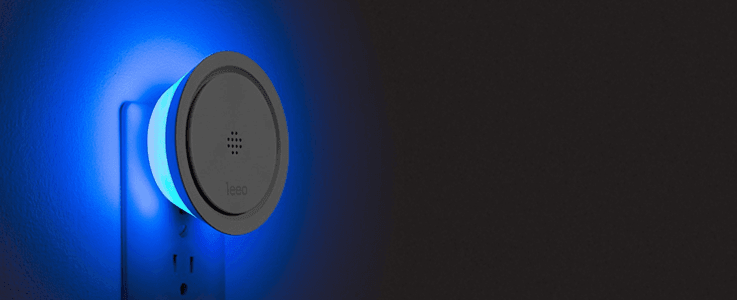 Leeo Smart Alert
This is not a carbon monoxide detector, but it's pretty awesome. This device plugs into an outlet and can sense if a smoke or carbon monoxide alarm goes off in your home. Then, it can call you to address the emergency. You can dismiss the alert or tap the prompt to dial your local 911. If you don't respond, it can call those on your contact list. You won't need to install it or worry about batteries dying since it only needs to be plugged in like a nightlight.
Compatibility. This works with mostly all carbon monoxide and smoke detectors by listening to the sounds their alarms produce.
Affordable. You only need one of these devices to keep tabs on your home and it's less than some carbon monoxide alarms.
Peace of Mind. If an alarm sounds in your home, Leeo Smart Alert will contact you, your contact list, or 911 immediately.
Home Automation. You can use an app to communicate with this device.
Good Reviews. This has 4 out of 5 stars on Amazon.
Not a Carbon Monoxide Detector. While this device monitors your home for alarm sounds, it doesn't detect carbon monoxide gas itself. You'll need actual detectors for that.
Know What To Do And What Not To Do
Lighting a fire in your fireplace is okay because it's properly ventilated. However, if you do the following, you could cause dangerous levels of carbon monoxide to build in your home.
DO
Always vent gas appliances properly
Get your chimney checked annually to ensure proper ventilation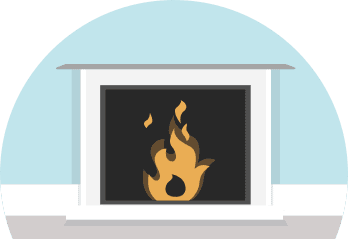 DON'T
Never burn gas grills inside your home
Don't use your gas stove/oven for heating
Don't leave the car running with the garage door closed
Don't patch or seal vent pipes with tape or unapproved products or carbon monoxide could leak into your home
Don't ever burn charcoal inside
Never run a generator in your home or within 20 feet of your home's doors, windows, and garage
Don't turn on your car if the tailpipe is blocked (by snow or anything else)
---
Remember What Can Make Carbon Monoxide Gas
Anything that burns will create carbon monoxide. It's not just your stove, fireplace, or grill either. Here are some of the things that can create carbon monoxide when turned on:


Appliances



Gas grills



Gas stoves



Gas or oil-burning furnaces



Fuel-burning water heaters



Non-electric space heaters



Tools



Snowblowers



Lawnmowers



Chain saws



Pressure washers



Generators



Non-electric cars, trucks, and boats
Electricity Doesn't Produce Carbon Monoxide
Carbon monoxide gas is a product of combustion. Unless something is burned, carbon monoxide won't be produced. Electric cars (100%), electric toasters, vacuum cleaners, and water heaters don't give off carbon monoxide. Only fuels can produce carbon monoxide and create health risks. That's not to say that carbon monoxide can only be produced by humans. Volcanoes, forest fires, and lightning can produce carbon monoxide too.
Who Carbon Monoxide Affects Most
Some diseases impact the young and elderly more than healthy, middle aged people. Carbon monoxide doesn't discriminate. If you inhale too much of it, any person at any age can become sick or die from exposure.
Safe Levels of Carbon Monoxide
Breathing small amounts of carbon monoxide won't do you serious harm. The World Health Organization has set safe carbon monoxide levels at less than nine parts per million (ppm) for an eight-hour period and below 25 ppm for a one-hour period. If you have a digital carbon monoxide detector, it'll tell you the parts per million in your home so you can monitor and maintain safe levels. The non-digital models will beep once this threshold is crossed.
Find Your Perfect Home Security System