The Best DIY Home Security Systems of 2019
Read our reviews and recommendations for the top do-it-yourself home alarm systems.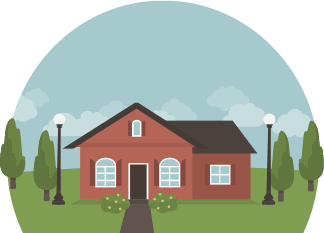 We've done the research, and the results are in. Here are the do-it-yourself home security systems that top SafeWise's list for easy installation, customization, and superior service.
While all our recommended systems have do-it-yourself installation, we've separated our list into systems that require monitoring and systems that don't. Choosing the DIY wireless home security system that fits the bill for your household has never been easier.
Best Professionally Monitored DIY Home Security Systems
What We Love
Great Customer Service
Easy Installation
3-Year Equipment Warranty
Affordable Starter Kits
What We Love
Z-Wave Integration for Home Automation
Superior Mobile App Experience
Affordable Video Monitoring
What We Love
Inexpensive Basic Monitoring
No Contracts
Home Automation Device Integration
Modern Design
Best Self-Monitored DIY Home Security Systems
DIY Home Security System Reviews
Top 5 DIY Wireless Home Security Systems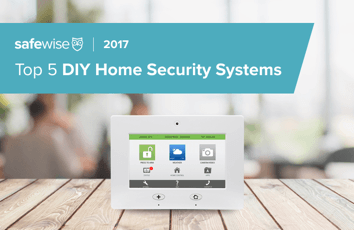 Professionally Monitored System Reviews
Pros
 Great Customer Service
 Easy Installation
 3-Year Equipment Warranty
 Affordable Starter Kit Packages
Cons
 Expensive Professional Monitoring Required
 1-Year Contract
 Limited Home Automation Integration
Reputation for Superior Customer Service
Frontpoint sets the standard for customer service in wireless home security, earning stellar ratings from the Better Business Bureau (BBB) and kudos from industry experts. Its approach puts customers front and center, with service agents who take the time to consult rather than push product.
Frontpoint also gets top marks for transparent pricing that avoids hidden fees and ensures customers get exactly what they're paying for.
Easy, Wireless DIY Installation
Stick it and forget it with Frontpoint sensor and security components that are wireless and a breeze to install. Plug in your control panel, place the sensors within 100 feet of the panel using stick-and-peel tape, and activate the system. Customers report the entire process takes less than an hour and involves zero wiring or drilling, a bonus for renters.
Extended 3-Year Equipment Warranty
As with most things, you get what you pay for. While Frontpoint does require the additional cost of monitoring, you'll reap the benefits from worry-free professional service accompanied by an extended three-year equipment warranty. It's one of the key advantages of choosing a home security brand name with a great reputation for standing behind its products.
Affordable Starter Kits
Frontpoint absorbs a bit of the cost of professional monitoring by offering extremely affordable equipment. A starter kit comes in under $100, one of the least expensive options available on our list. While Frontpoint does require the commitment of a twelve-month contract, customers won't have to invest heavily in up-front equipment costs to get a basic system in place.
Bottom Line
Customers who want the comfort of professional monitoring combined with affordable equipment should consider investing in Frontpoint. An easy installation process and convenient wireless components are two of many advantages that make this industry leader SafeWise's top recommendation in home security.
View Frontpoint packages
We Recommend: The Interactive Plan
While Frontpoint monitoring is pricier than some other systems on this list, you'll get what you pay for with fantastic service and the comfort of around-the-clock monitoring. The starter kit is a terrific value and especially attractive for new homeowners or apartment dwellers who might be strapped for cash up front.
Services
24/7 Professional Monitoring
Remote Access and Control
Crash & Smash Protection
Equipment
Wireless Keypad
4 Door/Window Sensors
1 Motion Sensor
Pros
 Z-Wave Integration for Home Automation
 Superior Mobile App Experience
 Affordable Video Monitoring
Cons
 3-Year Contract
 Required Professional Monitoring
Options for Home Automation Integration
Link Interactive's security system plays nice with a variety of Z-Wave home automation devices, so you can expand into smart lighting and thermostats without worrying about compatibility. Partnerships with 2GIG, SkyBell, and more allow customers to choose from a variety of home automation bells and whistles without sacrificing on security.
Superior Mobile App Experience
The mobile app Link Interactive utilizes is from Alarm.com, which is the same mobile interface Frontpoint has. It earns top marks for user-friendly features and seamless home automation integration that allows you to remotely disarm and arm the system, control lights, open doors, and more.
Affordable Video Monitoring
Link Interactive has one of the most affordable professional video monitoring plans. Access the live feed via the mobile app or let a professional handle it for just five dollars more a month. Cameras come equipped with options for night vision and HD to ensure you'll get a clear picture of what's happening in your home.
Positive Customer Service Reviews
Both security and home automation devices from 2GIG, Link Interactive's equipment partner, earn some pretty solid reviews on Amazon and from industry experts. Because Link Interactive devices focus on compatibility, customers get more flexibility for their buck and, despite up-front costs, greater long-term satisfaction with their system.
Bottom Line
If you're searching for a DIY security system that provides all the bells and whistles, look no further than Link Interactive. In addition to a robust, highly rated equipment package, you'll get the most economical video monitoring in the industry.
View Link Interactive packages
We Recommend: The Elite Plan
Link Interactive's Elite plan not only gets you video monitoring but also comes with a full menu of security devices and cameras. With cameras, door locks, light controls, and a whopping forty-three sensors, you'll be able to outfit every inch of your home.
Services
24/7 Professional Monitoring
100%-Cellular Service
2-Way Voice Communication
Central Station Monitoring
Home Automation Capabilities
Text and Email Alerts
False Alarm Alerts
Crash & Smash Protection
Video Monitoring
Live Video Streaming
Video Recording
Equipment
Intrusion Alarm
Fire/Smoke Alarm
Carbon Monoxide Alarm
Extreme Temperature Sensor
48 Sensors Maximum
Free Apps for Phone and Tablet
Night Vision HD Cameras
Motion-Activated Cameras
Pros
 Inexpensive Basic Monitoring
 No Contracts
 Superior Home Automation Integration
 Modern Design
Cons
 More Expensive Equipment
 Limited Video Monitoring
 Shorter Equipment Warranty
Modern, Highly Customizable Design
Scout's modern, sleek equipment is the backbone of a versatile security system that you can build out on your own. Pick a hub and add on however many panels and sensors your home requires. While the individual pieces of equipment might be more expensive than some of the budget options on our list, you'll get the benefit of buying what you'll actually use and the ability to add on components later.
Home Automation Integration
If you're looking for a security system that'll integrate seamlessly with your home automation gadgets, Scout should top your list. While its equipment line isn't currently compatible with Z-Wave, you can use Scout to control your Samsung SmartThings, including lights, smart outlets, voice assistants, and more. Scout doesn't have security cameras, thermostats, or smoke detectors just yet, but it is compatible with ecobee and NETGEAR products.
Inexpensive Monitoring Options
While a monitoring package is required when you purchase equipment from Scout, you can go with a basic monthly package that'll give you access to the mobile app and allow you to personally respond to notifications from the system. We do recommend eventually getting 24/7 professional monitoring, but you can start with the basics to ensure you like the system before you invest in more.
No Contracts or Commitments
You can go month to month with Scout and not worry about long-term contract or commitments. While you do need to pay a monthly ten-dollar fee for continued mobile app access and notification management, you won't be locked in to a long-term contract. Renters will find this particularly attractive alongside the ease of Scout's wireless installation.
Bottom Line
Scout is the customizable security system you've been hunting for that includes home automation integration without the commitment of a contract.
View Scout packages
We Recommend: The Scout Starter Kit
In addition to this starter kit that includes the Scout hub, a door panel, and some sensors, SafeWise recommends you opt for professional monitoring. You'll get access to notifications and the mobile app for $9.99 per month, and it's worth the extra ten dollars to get the comfort of around-the-clock responsiveness.
Services
Email Notifications
Push Notifications for iOS and Android Devices
Scout Mobile App
3G Cellular and Battery Backup
SMS Alerts
24/7 Professional Monitoring Service
Emergency Dispatch on Your Behalf
Equipment
Scout Hub
Door Panel
Motion Sensor
Two Window Sensors
Two Key Fobs
Self-Monitored System Reviews
Pros
 Affordable Optional Monitoring Packages
 Great Customer Satisfaction Ratings
 90-Day Money-Back Guarantee
Cons
 Limited Home Automation Integration
 Very Basic Mobile App
Optional, Affordable Monitoring Packages
While self-monitoring may seem like a great way to get away cheap, you might end up regretting it when you go on vacation or get busy at work. Iris by Lowe's allows you to add on one of the cheapest professional monitoring packages in the industry when you (and your wallet) are ready for more convenience.
Great Customer Satisfaction Ratings
Lowe's has a stellar rating with the Better Business Bureau and earns top marks for customer service and responsiveness. Its A+ rating indicates customers have had an overwhelmingly positive response when lodging a complaint with the company.
90-Day Money-Back Guarantee
The extended guarantee on Iris equipment is significantly longer than other DIY wireless home security systems, so while the limited home automation and clunky app give pause, there's plenty of indication Lowe's will ensure you're a satisfied customer who doesn't get stuck with a subpar system.
Bottom Line
Iris by Lowe's is an easy, affordable way to try out a DIY home security system with minimal risk. We also love that you have the flexibility to add on professional monitoring options as needed. Because of those features, it tops our list of recommended DIY self-monitoring home security systems.
View Iris packages
We Recommend: The Iris Safe and Secure Kit
Lowe's Safe and Secure kit provides a basic wireless security system for a low price and it lets customers add on home automation or other components later. Enjoy options for self-monitoring with free video streaming or add on a professional monitoring package.
Services
Notifications When Alarms or Alerts Get Triggered
Mobile App That Manages Devices Remotely and Streams Video
Equipment
Iris Hub
Motion Sensor
Keypad
2 Door/Window/Cabinet Sensors
Iris Window Decal
Pros
 Great Customer Reviews
 Inexpensive Monitoring Available That Includes Video
 3-Year Equipment Warranty
Cons
 More Expensive Equipment
 Dated Design and Style
 Mediocre Mobile App
Very Positive Customer Reviews on Amazon
SimpliSafe's starter kits earn glowing reviews on Amazon, where customers report being highly satisfied with the quality of the equipment, ease of installation, and willingness of the company to step up and make it right when things go wrong. In fact, the company earns the highest Amazon customer ratings of any DIY security system on our list.
Inexpensive Professional Monitoring Available
While it's not required, you'll want to opt for the professional monitoring package that not only allows access to cellular backup and 24/7 professional response but also controls home automation remotely for a small additional monthly fee.
3-Year Equipment Warranty
This is the longest equipment warranty of any of the DIY systems without a contract, and it signals that SimpliSafe is more than willing to place trust in the quality of its equipment if you'll do the same. Just be aware that the dated style of the white, plastic components may not blend seamlessly with your modern industrial décor.
Month-to-Month Options
Unlike other do-it-yourself security systems with extended equipment warranties, SimpliSafe does not require contracts. So if you decide to opt for a professional monitoring package, you can reconsider that commitment each month.
Bottom Line
For customers who'd like the security of a brand name system without the commitment of a contract, SimpliSafe offers an exceptional value and has some of the highest-rated equipment in the industry.
View SimpliSafe packages
We Recommend: The SimpliSafe Standard Package
While professional monitoring is not required with SimpliSafe, we do recommend opting for the standard package with 24/7 monitoring service and cellular backup that ensures your wireless security system will remain on guard when the power goes down.
Services
24/7 Monitoring Service
Free Built-In Cellular Connection
Equipment
Base Station
Wireless Keypad
Motion Sensor
Entry Sensors
Free Keychain Remote
Pros
 Home Automation Integration
 Affordable Equipment
 Positive Mobile App Experience
Cons
 No Professional Monitoring Available
 Limited Warranty
Adept Home Automation Integration
While iSmartAlarm doesn't have a fully fleshed out home automation equipment line of its own, it's compatible with ecobee, Nest, and many Amazon products like Alexa that you can integrate and manage through the mobile app.
Most Affordable DIY Equipment
The low cost of starter packages like the one we recommended make iSmartAlarm one of the true bargains on our list, but beware that add-ons can get pricey, so it's best to opt for a larger system now if you think you'll eventually need more components.
Good Mobile App Reviews
While it doesn't earn dazzling reviews, the iSmartAlarm app turned in a solid performance on mobile for both iOS and Android devices. This is a problematic area for many home security companies, but it's especially important for DIY users who might exclusively self-monitor using the mobile app.
Bottom Line
For the true DIY customer who just wants the basics, iSmartAlarm delivers with an affordable bare-bones starter kit and a superior mobile app experience.
View iSmartAlarm packages
We Recommend: The iSmartAlarm Preferred
Our advice is to begin with iSmartAlarm's preferred package, which contains some additional sensors for just a few dollars more than the starter kit.
Services
Free Mobile App That Allows for Remote System Arm/Disarm
Push Notifications for System Status and Sensors
Options to Add On Video and Home Automation
Equipment
1 CubeOne Hub
2 Window/Door Sensors
1 Motion Sensor
2 Remote Key Fobs
2 Window or Yard Stickers
Pros
 Affordable Equipment
 Superior Home Automation Compatibility
 Free Video Monitoring
Cons
 No Professional Monitoring Available
 Limited Options for Security System Expansion
Affordable, Easy-to-Install Equipment
Piper is the ultimate in easy installation because it's essentially an indoor security camera with some extra sensors. Simply plug it in, download the mobile app, and sync.
Super Home Automation Integration
This advanced camera interface works with all Z-Wave home automation devices, so it's easy to tack on additional components and utilize Piper as a hub to manage a more complex security system. It's one of the few systems on our list to work with both Alexa and Google Home.
Free Video Monitoring
Because Piper focuses on indoor video monitoring as a method of security and surveillance, it makes sense that it offers additional storage. Most brand-name home security systems that have video monitoring usually charge a little extra for Cloud storage, but Piper gives it for free.
Sleek, Modern Design
While some other systems may have a plethora of sensors and a sprawling interface that utilizes a clunky, old-school keypad, Piper keeps it simple with a streamlined camera with a modern design that will blend in with your living room décor.
Bottom Line
If you're mostly interested in having a home security camera, but you'd like to invest in something that can expand to control home automation, Piper is your best bet.
View Piper packages
We Recommend: The Piper classic All-in-One Security System with Video Monitoring Camera
This camera is a great, inexpensive option for those looking for basic video monitoring indoors and sensor alerts.
View Both Live and Recorded Video Via Mobile App
Receive Push Notifications for Alerts and Events
Store Up to 100 Videos Free with Piper Cloud Storage
Built-in Siren, Motion, Sound, and Other Environmental Sensors
180-degree HD Indoor Security Camera with Speakers
Pros
 Modern Design
 Professional Monitoring Available
 Best Mobile App
Cons
 Only Kickstarter Availability
 Expensive Equipment
Modern Design
Out of all the wireless home security systems on our list, abode is probably the only one with a design that will make you giddy with appreciation. Streamlined and minimalistic, it's going to fit right in to your modern home even if your wallet has a few objections.
Professional Monitoring Available
The abode starter kit is one of the few do-it-yourself home security systems that offers professional monitoring for short periods of time without contracts. While you can go month to month, customers can also choose three- or seven-day packages for smaller fees so you can step away from your home and your mobile device worry-free.
Best Mobile App
The seamless integration and focus on compatibility are highly visible in abode's mobile and desktop app, which earn the highest ratings from both Apple and Android users of all the DIY security systems on our list.
Highly Customizable Home Automation Integration
While abode does have a special relationship with Nest devices, it's versatile enough to work with both Z-Wave and ZigBee protocols as well as IP-connected home automation. Partnered with a user-friendly, superior mobile app, abode wins rave reviews from customers who have a complex web of IoT devices to manage.
Bottom Line
The abode home security starter kit speaks tech in ways few security systems do, providing versatile, stylish equipment with plenty of options for adding home automation, professional monitoring, and additional security sensors.
View Abode packages
We Recommend: The abode starter kit
Begin with a few basics, and then build out your system as you go. Note we also recommend purchasing abode's optional professional monitoring.
Services
Free Mobile Phone App
3 Days of Timeline and Media Storage
Ability to Connect Up to 155 Devices
Unlimited User Accounts
Up to 100 Automations
Channel Access
Customer Support via Email and Support Site
Equipment
abode Gateway
2 Door/Window Sensors
Indoor Motion Sensor with Camera
Remote Key Fob
Pros
 Highly Customizable
 Adept at Home Automation Integration
 Reviewed Well by Customers
Cons
 No Professional Monitoring Available
 More Expensive Equipment
 Poor Mobile App Ratings
Highly Customizable, Open-Ended System
While the equipment costs might be a little more initially, you're paying for unparalleled flexibility. The list of manufacturers that provide devices for the Samsung hub is long and distinguished. This is also one of just two systems on our recommended list that works with Amazon Echo, Alexa, and Google Home products.
Adept at Home Automation Integration
Samsung SmartThings is a line that encompasses every manner of home automation, including smart appliances like fridges, washing machines, and more. Control lighting, thermostats, sprinklers, and door locks alongside your security system with plenty of flexibility for future innovation.
Reviewed Well by Customers
A bevy of positive reviews on Amazon indicate Samsung's system scores for compatibility and additional software available that easily expands the system to control other devices. The only complaints we could find appear to involve range and connectivity concerns.
Bottom Line
While the initial starter kit lacks some of the basic equipment you'll probably want for a comprehensive security system, the open-ended capabilities of Samsung's SmartThings outweigh the drawbacks.
View Samsung Smart Things packages
We Recommend: The Samsung SmartThings Home Monitoring Kit
Get your home automation goals off to a great start with a Samsung SmartThings kit that focuses on security and provides a plethora of compatible devices.
Services
Use the Mobile App to Control and Automate Devices from Anywhere
Connect Additional Devices from Amazon, Honeywell, Bose, First Alert, and More
Receive Alerts and Notifications on a Smartphone
Equipment
Samsung SmartThings Hub
Two Multipurpose Sensors
One Motion Sensor
One Smart Outlet
How We Picked the Best DIY Home Security Systems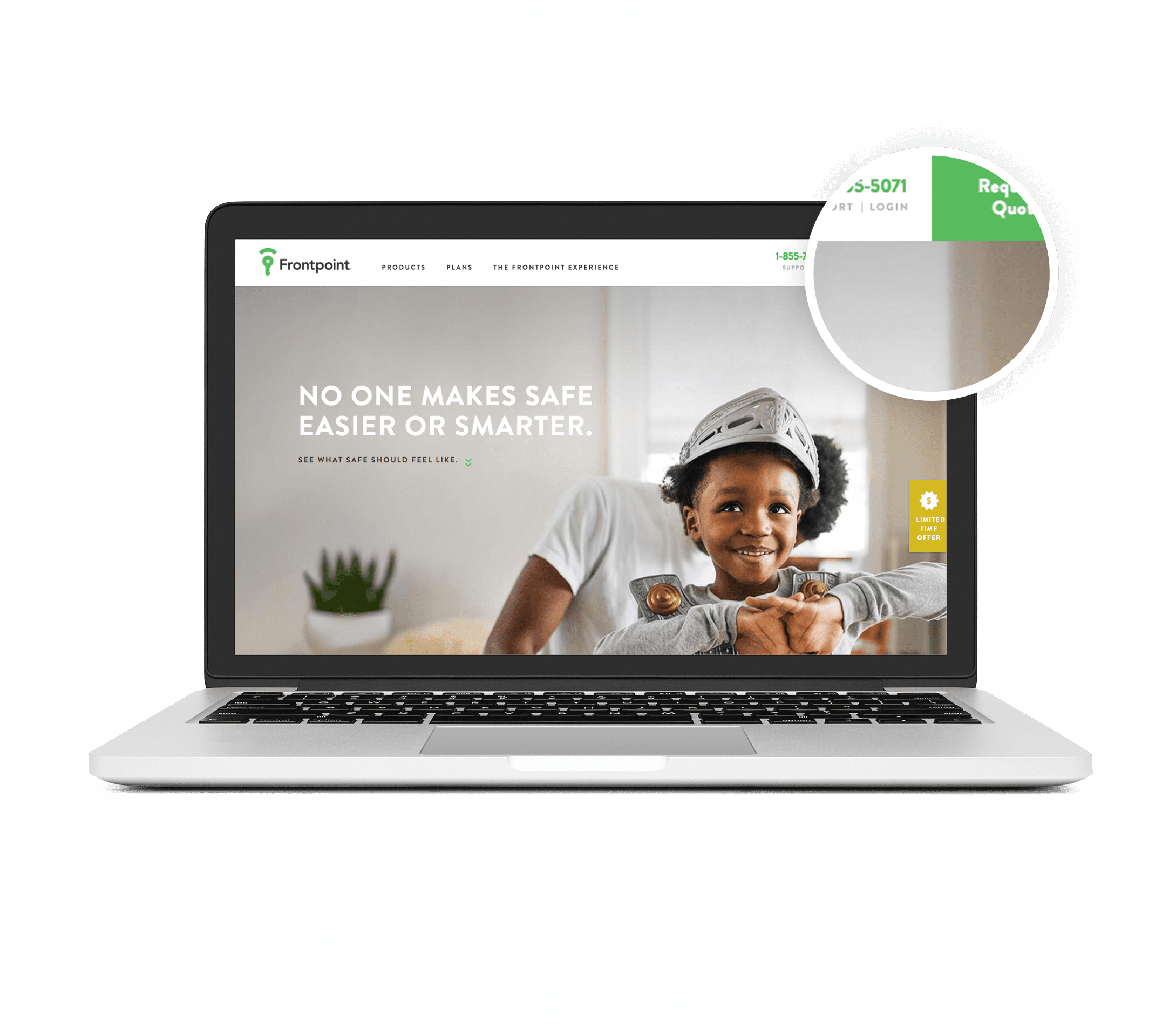 You have enough to worry about, which is why we focus on doing the research so you don't have to. The SafeWise team digs through hundreds of customer and expert reviews, tests various products, and chats with sales reps and security companies to bring you the most informed recommendations available. Our customer service ratings are based on an average of Amazon reviews, industry expert ratings, and Better Business Bureau grades earned by the company.
To pick the best DIY home security systems, we carefully considered various factors that are important to customers building and monitoring their own security systems, including ease of installation, affordable equipment, and professional monitoring options. We've carefully detailed both advantages and disadvantages of each system so you can make an informed choice for your household's home security needs.
What to Consider When Choosing a DIY Security System
To serve you up recommendations for a do-it-yourself home security system, we weighed the following considerations.

Monitoring Options
While you may start out self-monitoring to save money, you could regret it as time goes on and your system grows increasingly complex. Opting for a company that offers some version of professional monitoring without commitment gives you the ability to add on services when you're ready.

Home Automation Integration
One of the hallmarks of a true DIY system is its ability to communicate with and manage your other home automation devices. Without a flexible system, you'll be locked in to what the manufacturer provides rather than the home automation you might prefer to install.

Equipment Cost
Professionally monitored brands offer affordable equipment because they focus on recovering costs through long-term contracts and monthly monitoring plans. Once you choose DIY self-monitoring, you'll need to keep a closer eye on higher equipment costs that could balloon past your budget.

Commitments and Contracts
Renters and new homeowners might be reluctant to spring for a complicated home security system that they'll just have to dismantle in a year, so many of our DIY choices have attractive alternatives with month-to-month monitoring that can be tailored to meet your needs.
How to Monitor Your DIY Home Security System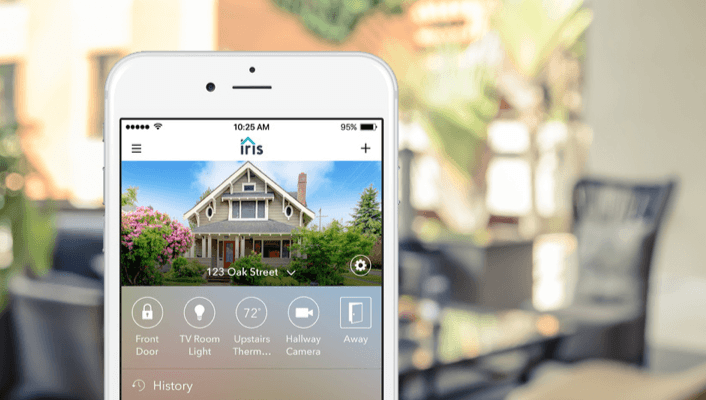 Iris by Lowe's App
Option 1: Do It Yourself
The brands on our unmonitored list do not require a professional monitoring package, although some do offer it for an additional cost. If you'd like, you can rely upon notifications from your mobile app or desktop for events triggered on your security system that require a response. This places the responsibility for notifying authorities squarely on your shoulders, however, and you may eventually find it's too great a burden to bear.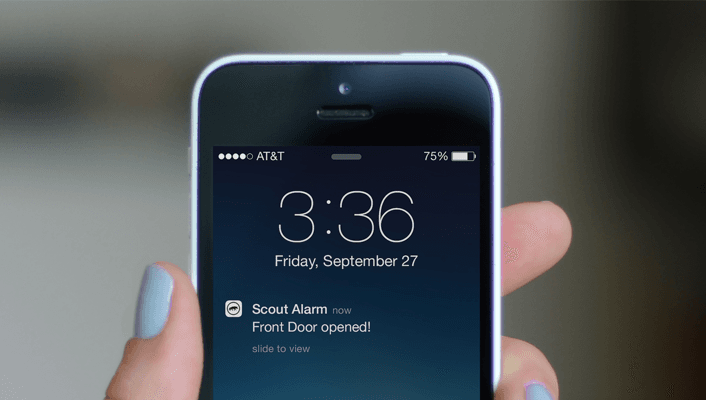 Scout App Push Notification
Option 2: Go Basic
Some home security brands have a middle approach that either allows for month-to-month or intermittent professional monitoring. This approach gives you the convenience of worry-free monitoring for a brief window of time while you are away from home or traveling with the option to self-monitor when you return.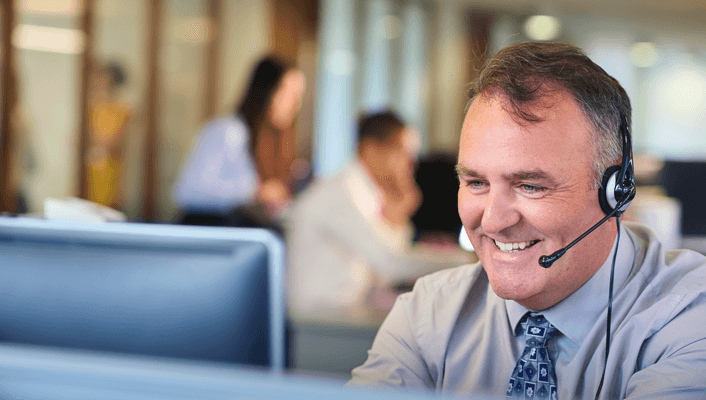 Option 3: Choose Professional Monitoring
At SafeWise, we always recommend professional monitoring as a best practice. It ensures that you won't miss an important notification, and it allows authorities to be notified quickly during an incident, minimizing property loss and damage. That's why, despite the hassle of a contract, our top three DIY home security systems include some version of professional monitoring.
Different Types of Home Security Services
Half the fun of a DIY approach to home security is building out a customized system that works for you. These are just a few of the components that can offer you increased security and safety.

Link Interactive Alarm Panel
Hubs and Control Panels
A hub, or control panel, is the brain of your system, allowing you to control various sensors, cameras, and more. The hub then alerts your mobile app, issuing notifications for tripped sensors, alarms, and other customizable events.

Scout Door Panel
Door Panels and Window Sensors
These sensors alert homeowners to disturbances in major entryways like doors, windows, and more. Our recommended DIY systems allow homeowners to place these devices as unobtrusively as possible, usually with basic two-sided tape.

Scout Motion Sensor
Motion Sensors
A motion sensor does exactly what you think it would: it alerts the hub to suspicious movement within your home. Many offer specific configurations you can set to prevent false alarms from pets and other routine disturbances.

Link Interactive V521IR Wireless Fixed Camera
Security Cameras
Many systems have both indoor and outdoor security cameras that allow for surveillance of the property. Most basic home security starter kits don't include advanced cameras, however, so these devices are typically add-on components.

SimpliSafe App
Mobile Apps
Mobile apps allow homeowners to take control of security on the go, forwarding notifications for system alarms. More advanced mobile apps also allow for control of home automation devices.

ADT Monitoring Key Fob
Key Fobs
Many systems provide these convenient little remotes, otherwise known as key fobs, that provide easy entry, identify users, and disarm your wireless home security system when within range.
DIY vs. Professional Installation
While our recommendations feature do-it-yourself home security systems, there are some clear advantages and disadvantages of calling in the professionals.

DIY Installation
Pros
Inexpensive
Less Restricting
More Customizable
Cons
Susceptible to Improper Installation
More Prone to Compatibility Issues
Necessary to Have Basic Technical Skills

Professional Installation
Pros
Worry-Free
Guaranteed Proper Installation
Cons
More Expensive
More Likely to Require a Contract
DIY Security Mobile Apps
A secure, comfortable home at your fingertips. Mobile apps give homeowners not only control over the security of their homes but also the ability to self-monitor at a distance.
A user-friendly, well-functioning mobile app that maintains good connectivity with your wireless security system is a must-have for DIY installers who want to self-monitor. Optimally, you want to select a brand with a mobile app that provides not only home security monitoring but also a live video feed and additional home automation control. A flexible, easy-to-use app will offer homeowners the ability to add compatible devices as the Internet of Things becomes more advanced.
iSmartAlarm App
SimpliSafe App
Frontpoint App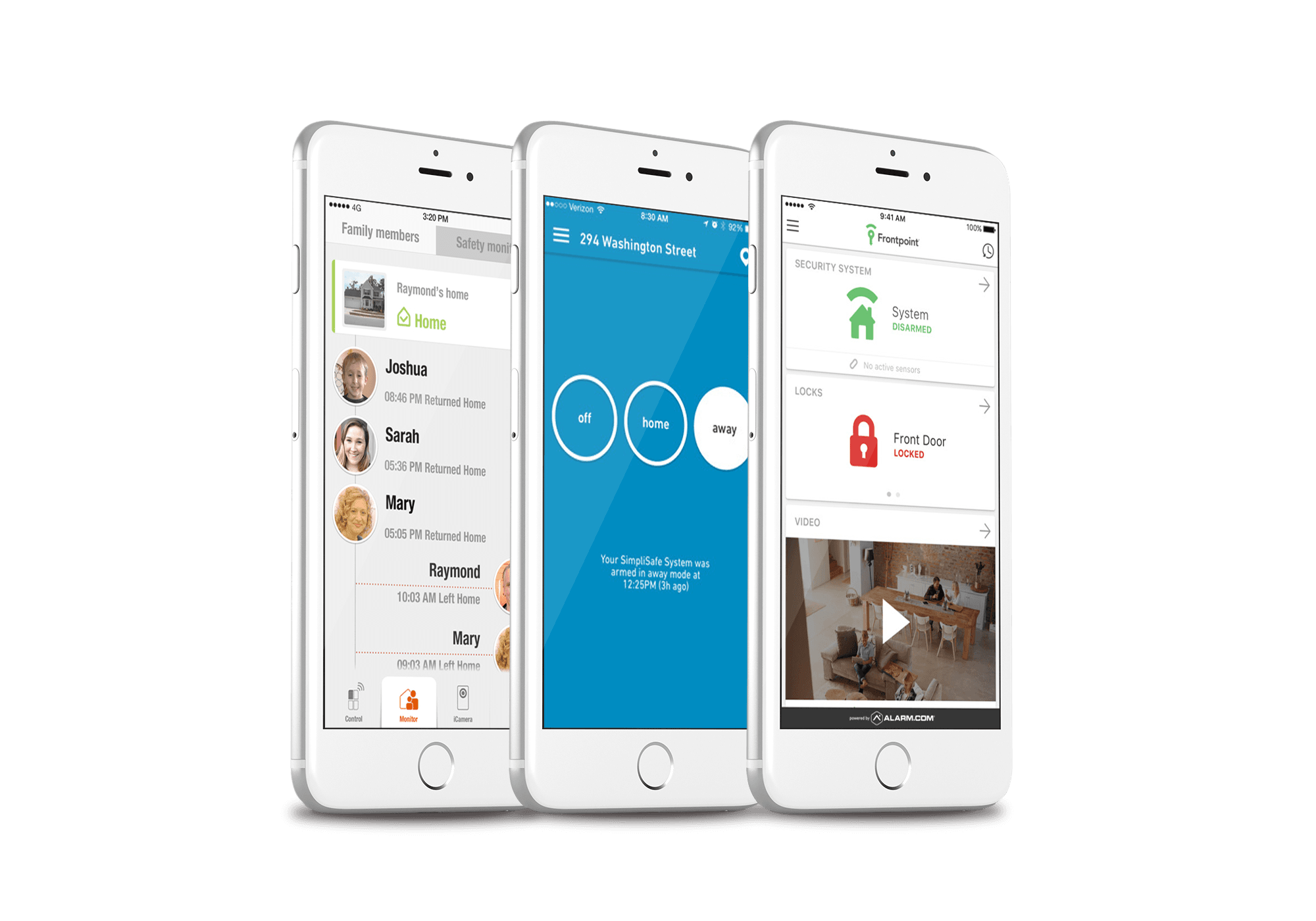 Do-It-Yourself Security Cameras
Keep an eye on things while you're away.
When an alarm or sensor has been tripped, it's vital to have eyes on the ground to determine the seriousness of the disturbance, especially if you are opting to self-monitor your security system. Indoor and outdoor security cameras can be invaluable tools in that effort, allowing homeowners to discern false alarms triggered by pets, verify the entryway hasn't been breached, or get a good visual on an intruder.
Some HD security cameras also have lots of extra features like 360-degree swivel, night vision, and more that can make these devices the backbone of a robust security system. Plus, it'd also be nice to know that package you've been waiting for arrived on the doorstep safe and sound, right?
Check out our recommendations for the best home security cameras for 2018.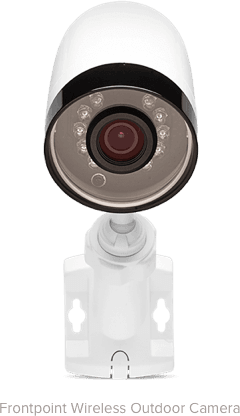 SafeWise has conducted impartial research to recommend products. This is not a guarantee. Each individual's unique needs should be considered when deciding on chosen products.
Find the DIY Home Security System That Fits Your Needs