Dash Cam Buyers Guide
6 Best Car Dash Cams – 2018
If another driver backs into your car, they're not at fault—you are. Or at least, that's the opinion of most every police force and insurance agency in the country.
If only you had a dash cam.
"Dash cams," or dashboard cameras, are gaining popularity as a way to provide proof of what really happened during a collision with another driver.
A dash cam can protect your finances, your time, and your personal property in a number of ways:
It can scare off dishonest people who try to take advantage of you;
it can provide evidence that's far more reliable than eyewitness testimony;
it can accelerate the reporting and processing of an accident;
it can prevent the need to submit an appeal;
it can save you money in damages;
it can help mitigate potential spikes in your insurance rate.
A dash cam can even help you save good memories or increase your YouTube hits. But whatever side benefits you get from a dash cam, the core benefit is that it provides a rock‐solid, nearly indisputable alibi.
You have to buy one first, of course. But if it saves you from even one wrongful citation, a dash cam could essentially pay for itself.
Product
Pros
Cons
Where to find it
Affordable
Crystal clear HD
#1 Best Seller on Amazon
Some customer complaints
No touch screen
Uses adhesive pads for mounting to free windshield space
Touch screen
Larger and easier to use
Affordable
Long backup battery life
Volume settings
Velcro mount option
Complaints of malfunction in extreme temperatures
No touch screen
Temperature resistant up to 170 degrees
Quality HD recording
Premium wide angle lens
Expensive
Suction mount is large
Affordable
Longer power cord
Long Warranty
Bigger memory card
Suction mount
No temperature durability data
WiFi compatible
Compact
Super HD video recording
Expensive
No temperature durability data
Complaints about WiFi connectivity
How It Works: Standard Features of a Dash Cam
These days it may feel odd, outdated, or even extravagant to buy a camera with a single function. Next to a smartphone, a camera can seem so inefficient.
But dash cams are sophisticated devices doing a job that other cameras, even professional photographers' cameras, just can't do. They're designed to meet the needs that arise while driving a car—to keep your field of vision clear, to protect yourself from loose items, to be able to monitor the road instead of the camera, and so on.
The features below make a dash cam what it is. You'll find them on most, if not all, dashboard cameras on the market today:
Auto-On and Auto-Off
Dash cams are designed to turn on and off with your car, that is if you leave the camera plugged into the cigarette lighter outlet between drives. If you disconnect the camera between drives, just plug it in to power up.
30 or 60 FPS
For most dash cams, the number of frames captured per second (fps) is 30, but some cameras take 60fps to better capture fast action.
Auto-Record
Many dash cams start recording the moment they turn on, while others activate the record function by sensing when the car is in motion.
Wide-Angle Lens
Wide‐angle lenses help dash cams see and record more of the areas surrounding a car.
Audio Footage
Dash cams come with a built‐in microphone to capture audio along with video footage.
Image Correction
Many dash cams have some ability to manipulate light within an image while recording so that night shots, high-contrast imagery, and low‐light footage are clearer when you play back the recording.
LCD Screen and Instant Playback
Most dash cams have an LCD screen and the ability to play back video on the spot. Instant playback is one of the most valuable features of a dash cam: it can exonerate you on the spot instead of in the courtroom.
Suction Mount
Most dash cams attach to your windshield with a suction cup.
Loop Recording
To keep you from having to manually erase hours of non‐collision footage, dash cams are designed to record over existing footage (starting with the oldest) when the memory is full.
32GB Storage Capacity
Most dash cams take microSD cards with up to 32GB capacity (about five hours of HD footage). Some dash cams are fussy about the class of the card, so read the reviews to see what's worked for other customers.
G-Sensor
Most dash cams have a sensor that detects sharp turns, rapid braking, and other signs of collision and then saves that footage automatically or with the touch of a button.
Transferrable Files
Download footage anytime using an SD adapter or USB cable. Some dash cams come with companion software, but not many‐it's usually your job to find a compatible media player for your camera's file type.
HD Resolution
Almost all dash cams record in HD (1080 x 720 pixels or more) to help you see license plates and other details clearly.
Six Dash Cam Recommendations from Safewise
When you start shopping for a dash cam, don't be afraid to take it slow. Dash cams have so many features in common that it can be hard to parse out what makes each one unique. To give you a head start, I've researched a number of cameras available on Amazon and chosen six winners to share.
1. Best Budget Cam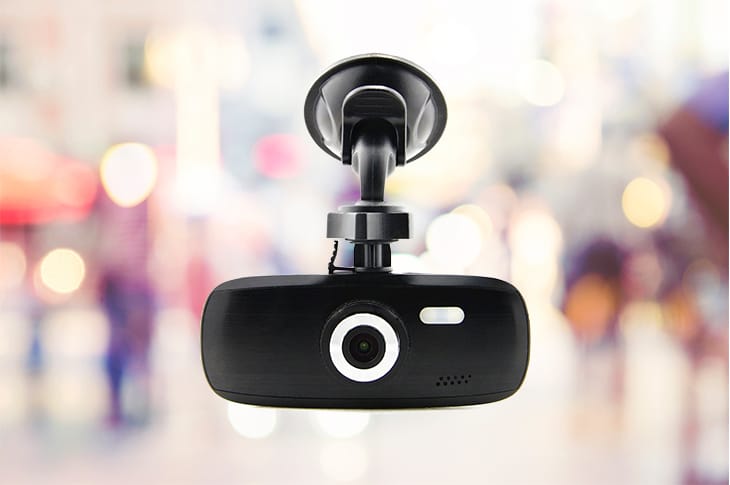 The Black Box G1W Original Dashboard Dash Cam
Buy it on Amazon With Prime Shipping
Standard Features

The Black Box G1W Original comes with all the standard features of a dash cam, including an Aptina AR0330 lens with a 140‐degree view, LED night vision, and a specialized chipset for smoother image processing.

Bonus Features

The G1W Original has a super HD setting (1296 x 1080 pixels) for an even clearer picture than standard HD.
This dash cam has a 4x zoom so you can see close-ups of any key collision footage.
This camera comes with multi‐language support, giving more drivers a user‐friendly experience.
The G1W Original comes with a backup battery that lasts up to 10 minutes before needing to recharge.
With a price point under $60, the G1W Original is more affordable than most dash cams.

Drawbacks

The low price suggests the manufacturer used inexpensive parts for this camera—otherwise, they wouldn't make any profit. That said, low prices don't always mean poor quality, and high prices don't always mean good quality.

Summary

The Black Box G1W Original has all the standard features, plus a few extras, for far less than other dash cameras cost, and most customers seem pleased with the quality‐especially as compared to other low‐end cameras. If you're on a strict budget or want to try your luck with an inexpensive camera, this is the dash cam for you.
2. Most Vigilant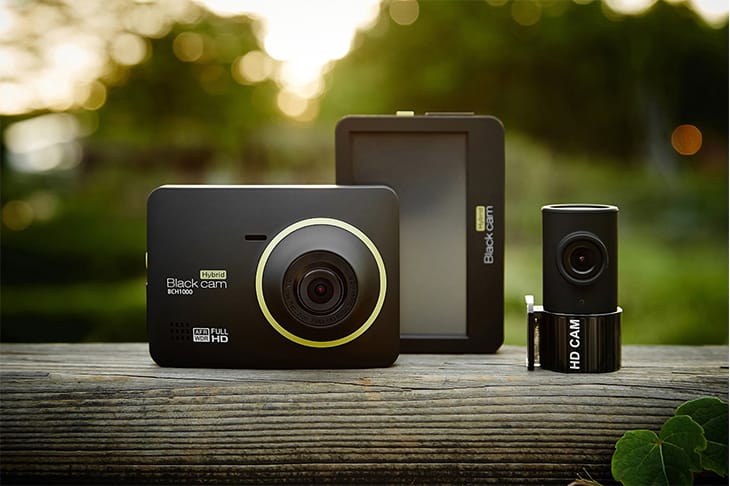 The Blackcam BCH‐1000 Hybrid
Buy it on Amazon with Prime Shipping
Standard Features

Blackcam's BCH-1000 Hybrid has all the standard features of a dash cam, including a 126‐degree wide‐angle lens, dual WDR for light correction, and more.

Bonus Features

The BCH‐1000 is controlled by a touch screen, which eliminates the need for buttons and allows the screen to span 3.5 inches‐a large size for a dash cam.
The BCH‐1000 is mounted using 3M adhesive pads instead of suction. With suction cups being so temperamental, the adhesives are a smart pick and have the added benefit of reducing bulk in your windshield.
The BCH‐1000 uses more than just WDR to correct images: it also comes with a Panasonic CMOS sensor, a defog mechanism, and 2D/3D "noise" reduction. That's a sophisticated set of tools.
The BCH‐1000 has been shown to withstand temperatures over 120 degrees F, meaning you can feel confident leaving it in the car between drives.
This dash cam comes with a 32GB memory card but can accommodate up to 128GB‐four times the standard capacity.
The BCH‐1000 is called a "hybrid" for a reason: it comes with a separate rear camera, giving you an even more comprehensive look at your car and the surrounding traffic.
The Hybrid comes with a second rare feature: parking mode. When your car is parked, the cameras are able to detect motion around your car and record automatically using the backup battery. Parking mode captures what used to be difficult if not impossible to capture‐footage from incidents no one saw.
The Hybrid also comes with advanced features like GPS, lane departure warning system, auto file recovery, and PC software for easy uploads.

Drawbacks

To state the obvious: this camera is expensive. But at about $180 each, the Hybrid cams are still more affordable per unit than other high-end models, and with all the bonus features, you get a lot for your money.

Summary

The BCH‐1000 Hybrid is a highly sophisticated dash cam. With front and rear coverage, plus parking mode to protect you between drives, the BCH‐1000 captures double the footage of most other dash cams and does so with precision and style.
3. Most Compact & Versatile
3. Most Compact and Most Versatile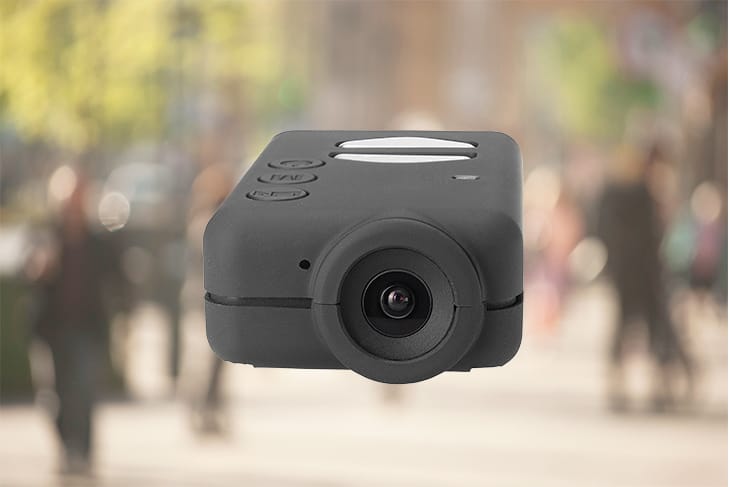 The Black Box Mobius Pro Mini Action Camera
Buy it on Amazon with Prime Shipping
Standard Features

The Mobius Pro has all but three standard features of a dash cam: (1) LCD screen, (2) G-sensor, and (3) suction mount. But read on before you skip this option. The Mobius Pro is compact and versatile precisely because it's missing these features.

On size: The Mobius Pro fits into the palm of your hand, which it couldn't do if it also had a screen and a G‐sensor. And with Velcro, the camera takes up far less space than a suction mount and reduces bulk in your windshield.
On versatility: The Mobius Pro was designed primarily as a mini action camera: basically, a competitor of the GoPro. The Velcro makes the Mobius easily removable so you can put it on your helmet, handlebars, or mini‐tripod (mounts included!). And because the Mobius fits into a backpack, purse, or pocket, changing activities is a hassle‐free experience.

Bonus Features

The Mobius Pro has three volume settings, a rare feature for a dash cam. All three settings are at full CD quality (512Kbps).
You can opt for time‐lapsed stills instead of loop recording, with intervals ranging from .25s to 30s.

Drawbacks

Some customers say the Mobius Pro doesn't work in too‐high temperatures. But this problem isn't unique to the Mobius—most dash cams haven't been tested for temperature durability. If you do have to remove the Mobius between drives to prevent malfunction, take comfort in the fact that it will be easier to remove and carry around than any other dash cam out there.

Summary

The Mobius Pro takes up almost no space in your windshield yet manages to achieve the HD picture quality, wide field of vision, and 32GB storage capacity of much bigger cameras. Plus, it's easily removable and instantly usable for a variety of activities. Most importantly, despite not having instant playback, the Mobius still provides exactly what you need from a dash cam: proof of what happened in an accident.
4. Most Durable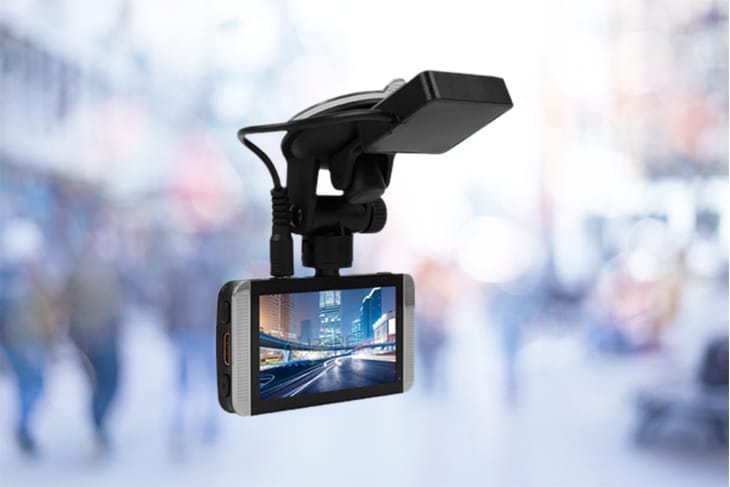 The KDLINKS® X1
Buy it on Amazon
Standard Features

The KDLINKS X1 dash cam has all standard features, including an emergency lock button for collision footage and a premium, f1.6 Six‐Glass Lens that captures a 165‐degree angle.

Bonus Features

The X1 is highly weather‐resistant and has the paperwork to prove it: according to an official MSDS report and PONY Lab Certificate, the X1 is fully functional for over six hours in temperatures ranging from ‐40 F to 170 F. That means it can sit even longer in temperatures that are still extreme but more common (e.g., 140 F in a parked car in June).
The X1 has a super HD setting (1920 x 1080 pixels) that captures 30fps, and at standard HD resolution, it captures 60fps. That means precise action shots in full HD.
This dash cam has a built‐in GPS with Google Maps integration: The GPS records your speed and your location throughout your drive. When you review the footage, you'll see the corresponding GPS and speed data.
An 8GB microSD card is included with this dash cam. Eight GB isn't much, but it's more than zero.
KDLINKS promises a 24‐hour turnaround for customer service emails and says that 80 percent of those emails will be answered in just one to four hours.

Drawbacks

The X1's suction equipment is not subtle, so you may not feel comfortable leaving the camera mounted and plugged‐in between drives. Still, the X1 is so durable that you know it will be safe stowed away in your car; you don't have to tote it around, as you might with a more temperature‐sensitive camera.

Summary

With all the standard features and a wide range of bonus features, the KDLINKS X1 dash cam is an excellent overall choice. The HD resolution is incredible, and the GPS and speed recordings give you that much more data to present in your defense. Most impressive, however, is the X1's durability in extreme temperatures. Few dash cameras can even approach, let alone promise, a tolerance of up to 170 degrees.
5. Best Bet
Standard Features

The FalconZero F170HD+ has all the standard features of a dash cam, including auto-save after a collision and an f/2.0 Six‐Glass Lens that captures a 170‐degree angle.

Bonus Features

FalconZero got the length of the power cord right. On most dash cams, the cord is short and hangs from the windshield during your drive. The F170, on the other hand, comes with an 11‐foot cord and small clips that hold it out of your way.
Like the KDLINKS X1, the F170 dash cam records in super HD and still captures 30fps.
The F170 doubles as a still camera, which means you can take close‐up shots of damage or other evidence and store it along with your video.
The F170 comes with optional GPS and speed detection, and you can pull both from the software that comes with the dash cam. Do note that the GPS isn't built in‐it's a second device that also has to be mounted to the windshield.
The F170 comes with a 32GB microSD card, which provides plenty of storage for collision footage. Plus, you'll spend less time and money shopping around and avoid the trial‐and‐error that many drivers face while looking for compatible drives.
The F170 can record incidents that happen between drives (e.g., a hit‐and‐run) thanks to its parking mode. In parking mode, the camera detects motion and records it automatically using the backup battery.
The F170HD+ comes with a Hassle‐Free 5‐Year Warranty, whereas most dash cams are covered for one year only. FalconZero also promises excellent customer service.

Drawbacks

There's no data on the F170's performance in extreme temperatures. If it turns out not to be heat‐resistant, parking mode will be fairly useless. Read through the reviews, recognize that you're taking a chance, and maybe relax‐remember, FalconZero will replace a device that gives out within five years.

Summary

The FalconZero F170HD+ dash cam is a quality device with a generous set of bonus features. This dash cam gets Best Bet because of the peace of mind offered by its two top features: the parking mode and five‐year warranty. Parking mode gives you evidence when it's usually hardest to come by; and a five‐year warranty means that the manufacturer is confident that this dash cam will last a long time.
6. Most Modern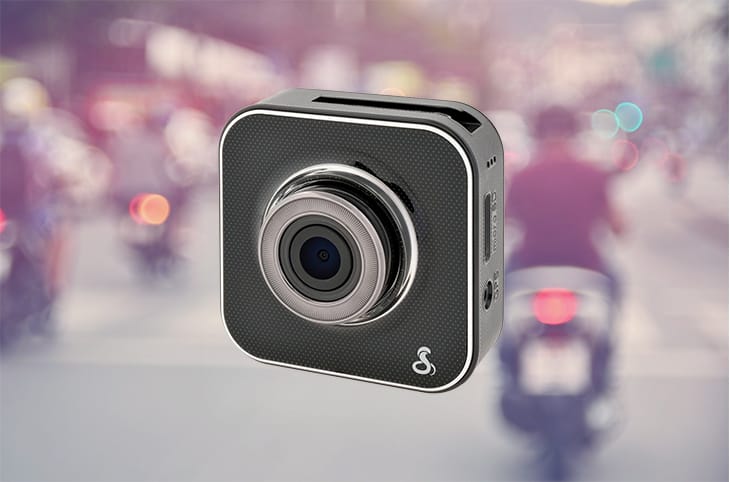 Standard Features

The Cobra CDR 900 has all the standard features of a dash cam, including a 160‐degree view and an Ambarella A7LA chipset for better night vision.

Bonus Features

The CDR 900 can record in super HD as well as standard HD.
The CDR 900 is a nice, compact size, which reduces visual clutter and may help lower the chances of theft. Also, despite its size, it has a decent LCD screen for instant playback.
An 8GB microSD card is included with the CDR 900 so you can start using it right out of the box.
The CDR 900 has two features that very few dash cams can offer: Wi‐Fi capabilities and a companion app with remote control. The app, which is compatible with iOS and Android devices, makes it possible to view, save, and share videos without needing to hook up to a computer. It also lets you change settings, turn recording off and on, and view the camera's footage in real time.

Drawbacks

Reviews are divided on how well the Wi‐Fi actually functions. That's unfortunate for a dash cam that is otherwise pretty average, but there are enough positive reviews that it's possible the debate stems from a confusing user manual and not from dysfunctional software. Read the reviews before you buy‐they'll give you a better idea of what problems you could face and may even include troubleshooting tips.

Also, as with most other dash cams, there is no data on the CDR 900's performance in extreme temperatures. Leave in your vehicle at your own risk.

Summary

With so many wireless devices cropping up these days, mobile control seems to be the way of the future. If you can get the CDR 900's mobile features to work, this dash cam will give you not only excellent footage but also the flexibility and control that we've come to expect from modern technologies.
Now Start Shopping
If one of the above cameras is for you, congratulations and enjoy your new dash cam! If not, it's time to head over to Amazon and do some shopping of your own. You can search using the same method I used: First, keep the list of standard dash cam features handy and tick them off as you find them. Then, note the bonus features and potential drawbacks.
Keep in mind that there's no one dash cam that's objectively perfect—everyone has different priorities. As long as your dash cam honors yours, you've found a winner.
Find Your Perfect Home Security System