2019 Best Blood Pressure Monitors Buyers Guide
No need to stress—for those with high blood pressure, monitoring your stats at home can help you and your doctors keep track of what treatments are working and what might need to be adjusted to improve your health. We've done the research and created this guide to help you identify the best blood pressure monitor for you.

Our Top Recommendations for Blood Pressure Monitors
Product
What We Love
Downsides
Where to find it
Two-user mode
Advanced average
Irregular heartbeat detector
Limited cuff size for smaller arms
TruRead technology
ComFit cuff
Up to 200 stored readings
Smartphone connectivity
Multi-user capability
Great customer service
Large display
Versatile cuff
High accuracy
Compact design
Smartphone connectivity
Multi-user capability
Ease of use
Good memory storage
Slim design
Extra-large cuff
Incredible accuracy
Irregular heartbeat detector
Types of Blood Pressure Monitors
There are different ways to measure blood pressure, which means there are several different types of blood pressure monitors on the market. You want to pick the type that is best suited to your needs and meets your doctor's recommendations.
Arm Monitors
This is the only method for measuring your blood pressure that's recommended by the American Heart Association because it's the most accurate.1 The cuff wraps around the upper part of your arm and tightens to measure your blood pressure.
Wrist Monitors
This monitor wraps around your wrist to measure your blood pressure. It's not considered as accurate as upper arm monitors, unless you have your arm and wrist positioned exactly at heart level. You'll have to follow the manual very closely because there's a lot of room for error.Wrist monitors are easy to travel with and can be more comfortable than upper arm monitors.
Finger Monitors
The finger monitor is very similar to the wrist monitor. It's small, easy to travel with, and more comfortable than an upper arm monitor. Again, the main shortcoming is that it's not the most accurate.
Things to Consider in a Blood Pressure Monitor
There's no prescription required to buy a home blood pressure monitor, so you're left on your own to choose the right one. Here are the factors to keep in mind when selecting a blood pressure monitor.
Simple Interface
A user-friendly interface with large numbers and big buttons makes it easier to navigate the blood pressure monitor and understand the results.
Multiple Accounts
A multiple accounts feature lets you track more than one person's blood pressure, so you can share the monitor with family members and skip the hassle of buying multiple devices.
Accurate Results
Accuracy is one of the most important things to look for in a blood pressure monitor. To check how accurate your monitor is, you can take it to your doctor's office and see how it compares with their results.
Memory Storage
With high memory storage, you can log entries of your blood pressure over a long period of time to give your doctor a better picture of your health.
---
Best Blood Pressure Monitors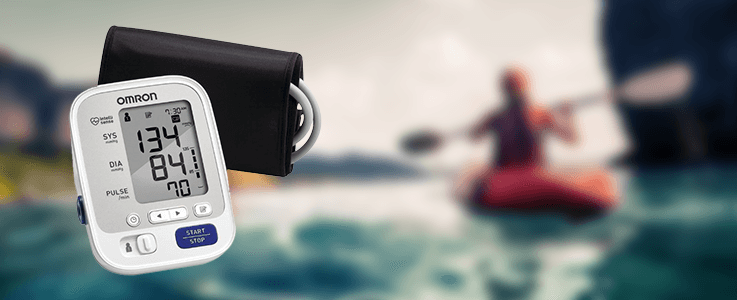 Omron 5 Series Upper Arm Blood Pressure Monitor
The Omron 5 Series is one of the most highly rated blood pressure monitors on the market. It has a 4.4 average star rating on Amazon, with more than 4,500 reviews. If you have loved ones who also need to monitor their blood pressure, then you'll like this monitor because it has a two-user mode that stores up to 100 readings with date and time stamps.
Two-User Mode This feature lets you have multiple user accounts, so your partner or other family member can use it as well.
Advanced Average The 5 Series gives an average result of three consecutive readings for increased accuracy.
Irregular Heartbeat Detector If your heartbeat is irregular, this monitor will warn you while you're measuring your blood pressure.
Limited Cuff Size for Smaller Arms The cuff tends to be on the bigger side, so if you have small arms, the blood pressure reading might not be as accurate.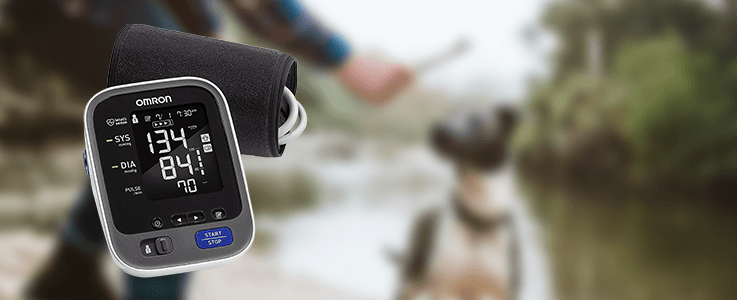 Omron 10 Series Upper Arm Blood Pressure Monitor
The Omron 10 Series packs accuracy, comfort, and storage into one powerful device. This blood pressure monitor comes with TruRead technology for precise results, and its ComFit cuff design ensures that the cuff is comfortable to wear.
TruRead Technology This blood pressure cuff uses advanced technology for incredibly accurate results that you can always trust.
ComFit Cuff You don't have to worry about discomfort with this extra-comfy cuff that inflates around your entire arm for the best results every time.
Up to 200 Stored Readings You can track your history longer thanks to high memory storage, which helps your doctor know how things are going and if your medication is working properly.
Bulky Design Customers complain that this blood pressure cuff isn't as compact as other monitors, which makes it harder to take along on road trips and vacations.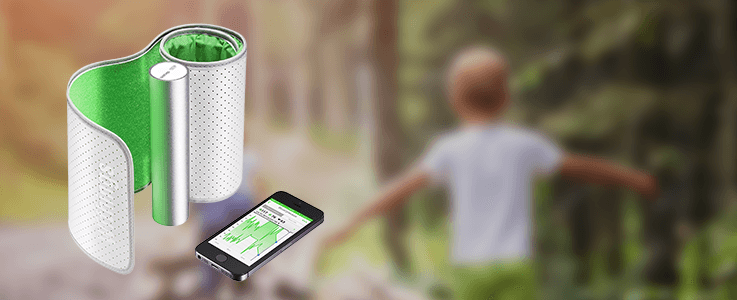 Withings Wireless Blood Pressure Monitor
The Withings Blood Pressure Monitor is one of the few BP monitors with a smartphone app. This is a convenient feature that streamlines the way you track your blood pressure and makes it easy to share your results with your doctor.
Smartphone Connectivity You can track your readings on your phone and easily send the information to your doctor.
Multi-User Capability This monitor lets you set up individual users, so your family members can also use the monitor if they need to measure their blood pressure.
Great Customer Service Customers rave about how exceptional Withings's customer service reps are—they eagerly answer all customer questions with practically zero wait time.
Confusing App Interface The app is not very intuitive, which makes it hard to navigate at first.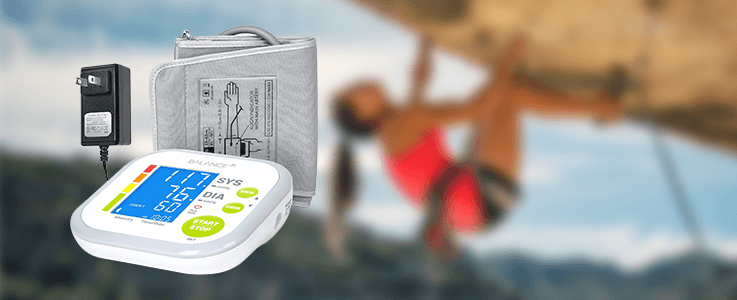 Balance Blood Pressure Monitor
The Balance blood pressure monitor is accurate, versatile, and easy to use. The only real downside is low memory storage compared to other monitors on the market, but if that doesn't bother you, this blood pressure cuff is a great value.
Large Display The large display makes this home blood pressure monitor incredibly user friendly. The numbers and buttons are big, so you won't need to put glasses on to see your results.
Versatile Cuff Whether your arm is big or small, this cuff is made to fit most arm sizes.
High Accuracy Most online customers rave about the accuracy of this monitor. You can trust that these results will be just about as accurate as going to the doctor.
Low Memory Storage There's not a lot of memory storage, so you won't be able to keep an in-depth log. The Balance blood pressure monitor will store no more than sixty records each for two users.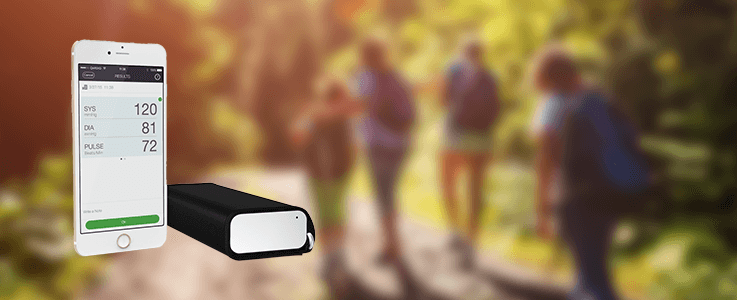 QardioArm Wireless Blood Pressure Monitor
The QardioArm is smart and sleek. Not only does this blood pressure monitor wirelessly connect to your phone, it also sports a slim and compact design, making it easy to carry around just about anywhere.
Compact Design If you travel a lot and need to keep an eye on your blood pressure, the QardioArm is a no-brainer. This device has better portability than any other monitor on our list.
Smartphone Connectivity This blood pressure monitor's app makes it easy to track and access your readings at any time using your smartphone.
Multi-User Capability It's easy to create multiple accounts so other loved ones can also use the monitor.
Small Cuff The most common complaint is that the cuff is too tight and doesn't fit comfortably around the arm. If you have a bigger arm, you might want to consider that before purchasing this product.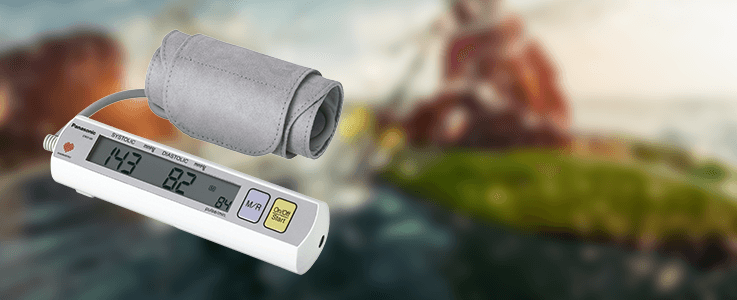 Panasonic Portable Blood Pressure Monitor
This portable home blood pressure monitor crams a lot of storage into a very slim design. It can hold up to ninety readings, which is great for a single person. Unfortunately, this monitor doesn't allow for multiple users, which might be a deal-breaker for some.
Ease of Use This monitor has a simple design with big buttons and numbers that are easy to read. Another convenient feature is the one-touch automatic inflate that inflates the cuff with the touch of a button.
Good Memory Storage It has a good amount of memory storage, so you can save your readings over a long period of time.
Slim Design This portable monitor is pretty small and fits well in small bags and luggage, so you can take it with you when you're traveling.
One User Mode If anyone else in your family needs to measure their blood pressure, they'll have to purchase a separate monitor. But if this isn't a big deal for you, keep this one on the list.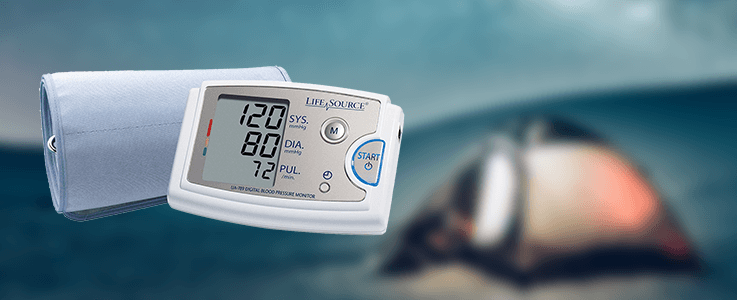 LifeSource Pro Blood Pressure Monitor
The LifeSource Pro is great for a lot of reasons, but mainly because of its extra-large cuff. Finding the right cuff can make a big difference in the accuracy of your blood pressure results. Another nice feature is that it alerts you if your heartbeat is irregular, so you can contact your doctor or seek medical attention if it becomes a problem.
Extra-Large Cuff If you have a big arm and are tired of squeezing yourself into tiny little cuffs, you'll appreciate the size of this cuff.
Incredible Accuracy Countless online reviews praise its accuracy—the LifeSource Pro is one of the most accurate blood pressure cuffs on the market.
Irregular Heartbeat Detector You'll get a warning if your heartbeat is irregular while you're measuring your blood pressure.
Low Memory Storage One big miss on this blood pressure monitor is the memory storage. It stores only up to 60 readings, which is very low compared to almost every other monitor on the market.
How to Read and Use a Digital Blood Pressure Monitor
There are four levels of blood pressure:
Normal
Prehypertension
Stage 1 hypertension
Stage 2 hypertension
On your blood pressure monitor, you'll notice two different numbers: the systolic and the diastolic numbers. The CDC states that the first number (systolic) measures the pressure in your vessels when your heart beats. The second number (diastolic) measures the blood pressure in your vessels in between heartbeats.Most blood pressure monitors are pretty straightforward. They measure the systolic and diastolic blood pressure numbers along with your pulse and give you an average reading of your results. Some will even track your irregular heartbeat to check for any underlying issues.
Steps to Use a Digital Blood Pressure Monitor
Take an accurate in-home blood pressure reading by following the steps below:
Get ready. Make sure you're comfortable and relaxed. Your bladder should be empty, as a full one can impact the reading. Avoid smoking, exercise, and caffeine prior to taking your blood pressure.
Get positioned. Comfortably seated is the best position for you to take a blood pressure reading. Remove any clothing that is tight or bulky around the upper arm, or roll up your sleeve. Place both feet on the floor (no crossed legs!) and rest your forearm comfortably on a table at heart level. Place your arm with the palm of your hand facing up.
Find your pulse. Locate the brachial artery by finding your pulse in the center of your elbow. Press your index and middle fingers lightly against the inside of your elbow. If you can't find it by feeling, use the arm cuff to locate your pulse.
Use the right cuff. For an accurate reading, you need a blood pressure cuff that fits correctly. The length of the cuff should equal at least 80% of the circumference of your upper arm.
Apply the blood pressure cuff. Wrap the cuff around your upper arm (it might help to have someone assist you). The lower edge of the cuff should be about one inch above the pit of your elbow. The cuff should feel snug, but not tight.
Power up the monitor. Hold the bulb in the hand opposite the arm in the cuff, and press the power button on your monitor. You should see all the display symbols flash on the screen, followed by a zero. The zero means that the monitor is ready for action.
Inflate the cuff. Squeeze the bulb or press the start button if your digital monitor has automatic cuff inflation. Keep inflating until the gauge reads about 30 points above your expected systolic blood pressure.
Get your readings. Watch the monitor for the pressure readings. They will be displayed on either the left or right side of the screen. You'll hear a long beep, which means the blood pressure measurement is complete. Take note of the pressures on the display. Systolic pressure should be on the left and the diastolic pressure should be on the right. The monitor may also display your pulse rate. Finally, let the cuff completely deflate.
What to Do If Your Reading Is Inaccurate
Sometimes you'll get a reading that just doesn't make sense. This is fairly common, especially when you're first learning how to use your blood pressure monitor. If you didn't get an accurate reading, don't immediately re-inflate the blood pressure cuff. Remove the cuff and give yourself at least one minute before reapplying the cuff and repeating the steps to measure your blood pressure.The American Heart Association recommends taking your new home blood pressure monitor with you to your next doctor's appointment.1 You can ask questions, and your doctor can make sure you're using the monitor correctly. You can also verify that your home monitor gets the same results as the equipment in your doctor's office. It's good practice to bring in your home monitor at least once a year to make sure readings are still accurate.
Consistent Blood Pressure Monitoring Is Key
Staying on top of your blood pressure is important, but it doesn't have to be difficult. With the right home blood pressure monitor, it's easy to keep your health in check. By partnering with your doctor to keep an ongoing record of your blood pressure between appointments, you're more likely to get the right recommendations and medications.Using a blood pressure monitor is just one way to improve your health so you can live a safer, more active life. Find more ways to look after your wellness and keep your household safe with our extensive
safety resources
that cover everything from
medical alert devices
to
carbon monoxide detectors
.
Find Your Perfect Home Security System