Best Smart Thermostats Buyers Guide
From energy and money savings to aesthetic updates, you can count on a smart thermostat to enhance your home and lifestyle. Ultimately your system's wiring will dictate what device is best suited for your home, but trust our handy smart thermostat guide to help you find which thermostat will seamlessly integrate with your abode.
Product
Where to Find It
Pros
Cons
Learning capabilities
Alerts
Easy-to-use app
Rewards program
Amazon Alexa compatibility
No wireless temperature sensors
Built-in Amazon Alexa
Wireless temperature sensors
Free cooling
Limited use of Amazon Alexa programs
Amazon Alexa compatibility
Learning capabilities
Adaptive comfort boost
User-friendly app
Humidity control
Auto-scheduling
Geo-fencing
Digital-inspired display
Geo-fencing
Smart device compatibility
Digital-inspired display
Alerts
Things to Consider in a Smart Thermostat
There are a lot of factors to consider when purchasing a smart thermostat. Your heating and cooling system, as well as internet connectivity, influence which thermostat will best suit your home. The product's features and convenience of installation can also impact whether you enjoy its functionality.
Device Specifics
Before you dash out the door and buy a smart thermostat for your home, we recommend that you first find out what kind of HVAC system you have. Next, you'll want to assess whether you want a wireless or hard-wired thermostat. Remember that both wireless and wired devices have to connect to Wi-Fi in order to function and be compatible with other smart devices.
Heating and Cooling Systems
The type of HVAC (heating, ventilation, and air conditioning) you have dictates which smart thermostat you can buy. For example, the Nest Thermostat is not compatible with solid fuel furnaces, but it does work with heat pumps. See our comparison chart below to find out whether or not your system is compatible with the thermostat of your choice.
Hardwiring
Your system's wiring can affect your purchase because every heating and cooling system has slightly different wiring. The upside of hardwired devices is that they don't require replacement batteries and are relatively low-maintenance.
Wireless
Rather than using electrical power, a wireless device is juiced up via batteries, which is a convenient feature if you live in an area that frequently loses power. But this also means you'll have to check for corroded batteries and replace batteries on a regular basis to ensure proper functionality.
Wi-Fi
In order for your smart thermostat to work, it needs to be connected to the internet. Wi-Fi also allows you to remotely control the temperature from your phone or computer. If the network goes down, you'll have to manually adjust the thermostat.
Smart Home Systems
If you currently own a smart home hub, like an Amazon Alexa or Google Home, you can easily link your smart thermostat to your hub—if the two are compatible. See our comparison chart below to find out if your smart home hub can be easily synced with the smart thermostat of your choice.
Rebates
Most smart thermostats on the market have rebates available when you purchase a product. These rebates can help ease the sting of the initial cost.
Professional vs. DIY Installation
Most smart thermostats don't require professional installation and have easy-to-use tutorials on how to install the device. But if your system is due for some maintenance, it couldn't hurt to have a professional install the thermostat and service your furnace at the same time.
Features
If you want to save money and conserve energy, features such as a geo-fencing and motion sensitivity can help you do both.
Touchscreen
A touchscreen can enhance the overall experience and give you hands-on control. But if you have young, curious children, you'll probably want to keep the thermostat out of their reach.
Motion Sensitivity
Some smart thermostat packages include a wireless room sensor that recognizes when someone's in the room and adjusts the temperature to your preferred settings—ultimately saving you money and energy. (Most thermostats are placed in only one location, which impacts their ability to read the temperature in other rooms, so a wireless sensor can be a valuable feature.) Other thermostats have a display that lights up when you walk by, allowing you to see preset temperature, weather, or time.
Geo-Fencing
A geo-fence is a virtual perimeter. If your thermostat has geo-fencing, it likely has a program that sets a boundary line around your home and observes when you're home or away. So, when you leave, your thermostat is notified that you're no longer on the premises and turns the dial down to a preset "low" temperature.
Alerts
A little bit of help goes a long way—especially when it comes to remembering when to change your furnace filter. Certain smart thermostats have an alert system that notifies you when you need to service your system or change a filter.
Thermostat App
The convenience of an app can make auto-scheduling on your programmable thermostat easy. It also provides remote control, so you're able to adjust temperatures from near and far.
Compare Smart Thermostats
Nest Learning Thermostat

ecobee4

Schneider Electric Wiser Air

Sensi Smart Thermostat

Honeywell Lyric T5

Wireless Temperature Sensor

N

Y

N

N

N

Humidity Sensor

Y

Y

Y

Y

N

Room Occupancy or Motion Sensor

Y

Y

Y

N

N

Geo-Fencing

Y

Y

Y

Y

Y

Touchscreen

N

Y

Y

N

Y

Convenient App

Y

Y

Y

Y

Y

Energy Reports

Y

Y

Y

N

N

Battery-Powered

N

N

N

Y

Y

Hardwired

Y

Y

Y

Y

N

Smart Home Integration

Amazon Alexa

Google Assistant

IFTTT

Amazon Alexa

Apple HomeKit

Google Assistant

SmartThing

IFTTT

Amazon Alexa

IFTTT

Amazon Alexa

Apple HomeKit

Amazon Alexa

Apple HomeKit

DIY Install

Y

Y

Y

Y

Y

Programmable Scheduling

Y

Y

Y

Y

Y

Home System Compatibility
Warranty

2-year limited

3-year limited

Limited

3-year limited

2-year limited
Best Smart Thermostat Reviews

Nest takes seven days to learn and record your habits, preferences, schedules, and household details (like how drafty your home gets and how long it takes to heat up or cool down). It then takes this information and channels it into precise, autonomous climate control.
Pros
The nifty and customizable Farsight feature will display your choice of local weather and time, temperature, or an analog or digital clock.
Learning Capabilities


The Nest thermostat learns when you're home and when you're away. It will adjust the temperature in correlation with the outside temperature, general conditions within your home, and Rush Hour Rewards (its energy saving system).

Alerts


Nest has filter alerts (to help you remember when to change your system's filter), as well as a Furnace Heads Up. The Furnace Heads Up warns you if something's awry with your heating system. You'll receive notifications via the Nest app, thermostat, and monthly report.

Easy-to-Use App


The Nest app is minimalist and a breeze to use. Simply download it, log in, input the necessary information (like the thermostat location, preferred temperatures, and so on), and you're on your way to saving money.

Rewards Program


Nest works with energy companies to offer the Rush Hour Rewards program, where energy companies pay you to lower energy usage during Energy Rush Hours (which are like an energy traffic jam).

Amazon Alexa Compatibility


Thanks to Amazon Alexa's verbal command capabilities, you're able to control your Nest thermostat from a few rooms over—so you can disconnect from your phone and enjoy the downtime.
Cons
Despite how great the Nest is, it costs a pretty penny even with the rebates.
No Wireless Temperature Sensors


Wireless temperature sensors can help regulate temperature more efficiently from room to room. If you have a drafty or large house, a stand-alone Nest may have a hard time keeping the temperature on an even keel.
Pros
The ecobee4 provides up to 23% energy savings and comes with an additional sensor to monitor your home's climate and ensure that it's perfect in every room.1
Built-In Amazon Alexa


Forget about having to purchase an Alexa device! The ecobee4 comes fully equipped with its own smart home hub, which allows you to order groceries or connect other smart home devices like lightbulbs, locks, or a doorbell.

Wireless Temperature Sensor


This subtle little sensor monitors the temperature in a specific room, so if it gets too cold or too warm, the ecobee4 kicks on the HVAC system to keep you comfortable. One wireless sensor is included with the thermostat, but ecobee has additional sensors available for purchase.

Free Cooling


On cool summer evenings (and if the outside temperature is less than what your thermostat is set to), the ecobee4 pulls in chilly air from the great outdoors rather than using the air conditioner. But this feature only works if your heating and cooling system has a ventilator.
Cons
Reviewers stated that the Amazon Alexa has tinny, subpar sound quality.
Limited Use of Amazon Alexa Programs


Despite the convenience of the ecobee's smart hub integration, the Amazon Alexa has limited access to programs and software.
Pros
The perimeter of Schneider's smart thermostat changes color between blue, yellow, and green to signify if it's cooling, heating, or using the energy efficiency setting. Schneider calls this feature Pulse.
Amazon Alexa Compatibility


The Wiser Air is compatible with Amazon Alexa, so you're able to change the temperature by simply saying "Alexa, turn the temperature up by two degrees, thank you."

Learning Capabilities


Wiser Air uses advanced technology to memorize your preferences and create your ideal climate—all while saving on energy.

User-Friendly App


You can always adjust the temperature manually by using the Wiser Air app. The app also offers remote control, so you can monitor the temperature from anywhere.

Adaptive Comfort Boost


With Comfort Boost, you can change the temperature of your home for a short amount of time—without impacting your normal scheduling. This is perfect if you're cooking for company and your house gets too warm, or if you come in from the cold and need to take the chill off quick.

Humidity Control


Prevent mold growth and damage to your home with this handy feature that controls your AC to remove unwanted moisture from your home's air.
Cons
Unfortunately, the Wiser Air's Pulse feature can't be turned off entirely, but you can dim it.
Glitchy Software


Reviewers stated that the software occasionally glitches and blacks out, leaving the thermostat with an error message.

This smart thermostat is extremely compatible with Apple HomeKit and uses batteries, so you don't have to worry about wires or fuss over a finicky app. Plus, Sensi comes with huge energy saving potential, a fast fifteen-minute setup time (half that of others), and a reasonable price tag.
Pros
In addition to being battery-powered, the Sensi Smart can also be hardwired, so you're able to choose which is most suitable for your system, lifestyle, and level of patience for installation.
Auto-Scheduling


The Sensi can be auto-programmed for each day of the week, so you can tailor the heating and cooling to suit your work schedule and weekend agenda.

Geo-Fencing


If you want to enable the geo-fencing feature, you'll need to download the app on your phone. That way, the thermostat can sense when you're within the virtual boundary and begin warming or cooling your home.

Digital-Inspired Display


The Sensi offers a modern touch with its digital-inspired display, so it won't stick out like a sore thumb on your wall.
Cons
Try as you might, you can't program the heating and cooling schedule through the thermostat itself. The only way to create an auto-schedule is through the app (via your smartphone or computer).
No Energy Reports


Despite the energy-saving appeal of geo-fencing, the Sensi doesn't have energy reports that track the feature's effectiveness.
Pros
The reasonable price of the Honeywell Lyric T5 gives competitor touchscreen thermostats a run for their money.
Geo-Fencing


Once you've downloaded the app and established your heating and cooling schedule, the Honeywell Lyric will automatically adapt to your comings and goings.

Smart Device Compatibility


Honeywell gadgets are chameleons and work with Amazon Echo, Apple HomeKit, Panasonic smart home monitoring systems, WeatherBug Home, Iris, Yonomi, Samsung SmartThings, and so many more. Having a Honeywell smart thermostat enables you to mix and match home automation products.

Digital-Inspired Display


The Honeywell combines the appeal of a modern, digital-inspired display with touchscreen capabilities for a functional, state-of-the-art device.

Alerts


Much like Nest's alert system, the Honeywell Lyric notifies you when it's time to change your furnace filter, and it sends you safety alerts to ensure your HVAC system stays efficient and functions well.
Cons
The Honeywell Lyric requires a C-wire connection and won't work with any other system.
Glitchy App


Reviewers stated that despite the overall fantastic performance of the thermostat, the phone app malfunctioned and offered subpar performance.
Tips and Tricks
Once you've determined which smart thermostat to buy, take advantage of these tips and tricks to streamline its usage. We've compiled a short list of recommendations for you.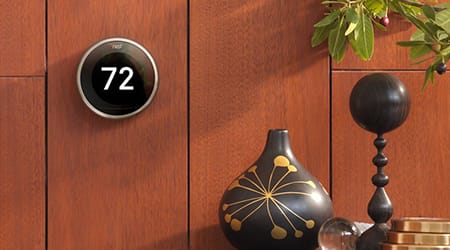 Check for Rebates
Most energy companies offer rebates if you purchase a smart thermostat. These rebates can be anywhere between $50 to $150, and you can likely combine rebate offers too. Tip: Keep a digital and hard copy of the receipt for proof of purchase.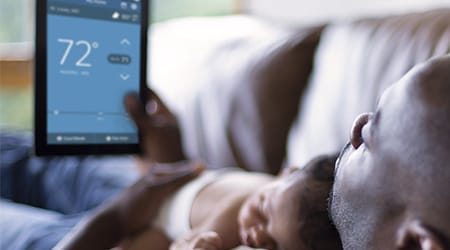 Use Eco-Friendly Settings
Eco-friendly settings not only minimize energy usage (which can reduce your carbon footprint) but also save you money—and who doesn't need more money? Tip: Most eco-friendly options are marked by a green font, emblem, or ring. For example, Nest uses a green leaf to show you're using the Eco setting.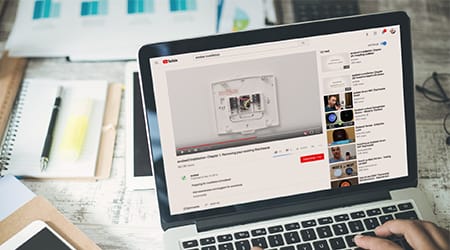 Use YouTube for DIY Installation
Smart thermostat companies and tech enthusiasts know that DIY installation doesn't always go as planned. So before you start hacking away at your wall, check YouTube for user-lead installations, or visit the thermostat company's branded YouTube channel for tutorials.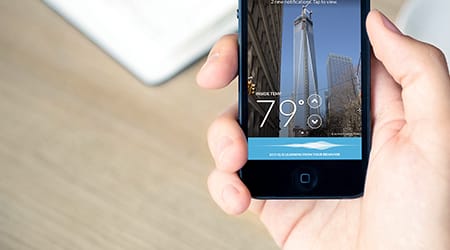 Download the App for Your Phone
Imagine how convenient it would be if you were able to change the temperature or eco-settings from your phone. Tip: Before you download the app, check to see if it's compatible with Android, Apple, or Google devices.
How to Check Your HVAC System's Wiring
To verify your HVAC system's wiring, start by turning off the system's power—you don't want to electrocute yourself.
Next, remove your thermostat's cover. You should be able to see labeled or different colored wires.
Check prospective thermostat companies' sites to see if they're compatible with your system. Most thermostat companies have resources, like Nest's Compatibility Checker, to help you find out if the thermostat is suitable for your home.
Write down or record what wires you see for future reference.
Smart Thermostat FAQs
What is a smart thermostat?
A smart thermostat connects to the internet and smart home devices, records HVAC system usage, provides alerts and weather, and can be controlled remotely through an app on your smart phone or computer. Smart thermostats often feature learning capabilities that reduce energy usage and save you money.
What's the difference between a smart thermostat and a standard thermostat?
Smart thermostats and standard thermostats both operate using a set temperature and work to maintain that temperature. But unlike a smart thermostat, standard thermostats will not adjust to outside temperatures, won't save energy nearly as efficiently, don't offer learning capabilities, don't sync with other smart devices, and don't feature remote control.
What is an HVAC system?
HVAC is short for heating, ventilation, and air conditioning. Types of HVAC systems vary from forced air to solid fuels and free cooling.
What's the difference between Nest and Hive?
The major difference between the Nest and Hive thermostat is that the Nest is a true learning thermostat, while the Hive is a more traditional one. The Nest learns your habits and creates its own program; the Hive requires you to manually set up a heating or cooling schedule. Other differences include display, power source, and smart device compatibility.
Both devices have geo-fencing and user-friendly apps, and they're compatible with a wide variety of heating and cooling systems. Additionally, the Nest and Hive brands offer an array of products for creating a streamlined ecosystem for your home (be it home security or energy efficiency). But the Nest's learning capability is what makes it stand out against the Hive.
Does the Nest have a Bluetooth component?
No. The Nest, and other smart thermostats, connect to Wi-Fi rather than using a Bluetooth connection.
Will my pet set off the ecobee's wireless temperature sensor?
No. The ecobee's wireless sensors are designed to know the difference between you and your furry friends.
Can I have multiple smart thermostats?
Yes, which is particularly helpful if you have a house with more than one story or multiple HVAC units. We recommend speaking with a professional about installation and the best thermostat location.
What is home automation and how does it work?
The day where we control our lives from our smart devices is here. Home automation devices like smart thermostats allow for energy savings, convenience, and insight into your energy usage. We hope you weigh the pros and cons of the top brands above to find the best solution for your life.
Ecobee, "Savings from Your ecobee"
Find Your Perfect Home Security System