Best Smart Home Hubs—SafeWise Buyers Guide
A Review of the Top 7 Home Automation Systems of 2018
As technology continues to evolve in the home automation space, so does the need to organize different devices in a cohesive, centralized system. And that's exactly what home automation hubs do: they ensure that all your connected devices talk to each other, giving you control over your entire home with the push of a button or the sound of your voice.
Now, instead of having different apps for different functions, you can manage everything from one place—your hub. And the cool thing is that there are a variety of hubs, so you can find exactly what you're looking for to control your home.
Top 7 Home Automation Hubs
Easy Installation
Simple App Interface
Versatile Compatibility
Entertainment System Control
Color Touchscreen Remote
Easy Setup and Use
Ability to Play Music
Far-Field Voice Recognition
Voice Control
Distorts Sound at High Volume
Connectivity with Existing Speakers
Alexa Voice Control
Lower Price than Other Options
Speaker Quality Is Not as Good as Amazon Echo
Google Search Results
TV Control Capabilities
Speakers That Communicate with Each Other
Limited Integration Capabilities
Ability to Connect with a Wide Variety of Devices and Protocols
Backup Battery
USB Ports for Additional Connectivity
Difficult Third-Party Integration
Secure and Encrypted Communication
Siri Voice Control Integration
Simple and Clean App
What Is a Smart Hub?
Smart hubs are like a brain: they receive and send signals that can adjust your lights, change the temperature, brew your coffee, and much more. With a smart hub, you can integrate different devices so they work cohesively and create a seamless experience.
Hubs can work with Z-Wave, ZigBee, Bluetooth, and IFTTT protocols, among others, so you can set specific sequence of events. For example: when I'm on the way home, adjust the temperature. And this is just the beginning; as devices and third-party integration capabilities continue to evolve, so will the scenarios you can create.
What Can You Automate?
As home automation apps become more intelligent, their capabilities become almost endless—from controlling lights and locks to small appliances. Not only can you control your home, but you can also set commands that help your devices learn and then automatically react to your schedule. Your devices can even work together to create a more cohesive experience. For example, you can have your thermostat adjust and your lights turn off at a certain time, say when you're leaving the house in the morning. You can also combine hubs to increase connectivity across your home.
How Much Automation Do You Need?
Just because you can automate almost anything doesn't mean you need to. There are various home automation hubs on the market, from extremely versatile ones to basic models. Before you select one, take a close look at your day-to-day activities: what do you do most? Once you have answers to some of your most critical questions, it will make the process of finding the right home automation hub much easier.
Things You'll Want to Consider
Compatibility
Make sure the devices you want to connect are compatible with each other to avoid buying additional hubs or new devices. If you already have some connected devices in your home, choose a hub that connects with them as well as future devices you might want to add. If you're just starting out, find a list of devices and protocols that work together from the start. Take a close look at the website before you select a hub, as most companies should provide you with a full list of compatible devices.
App Performance
Simplifying your life should be simple. When you're shopping around, read app reviews from users and if you can, test drive different automation hubs. You'll want to ensure that the app has a user-friendly interface that's easy to navigate and that it's versatile in connecting with different types of devices.
Installation and Tutorial Process
Automation hubs are still a growing market with lots of unknowns, so it's nice to have some help when it comes to getting everything installed and working properly. Most companies will provide tutorials and guides to make connecting everything simple.
7 Best Home Automation Hubs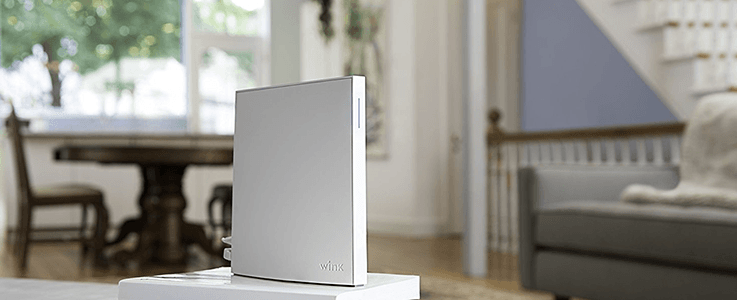 Wink Hub 2
The Wink Hub 2 lets you have it all without any of the hard work. It's easy to install and incredibly versatile, supporting Bluetooth LE, Z-Wave, ZigBee, IFTTT, Kidde, and Lutron Clear Connect protocols to name a few (check out the full list of devices). It also works with Alexa, so you can use voice commands to do just about anything.
The Wink Hub 2 app, which is free for Android and iOS, boasts a simple interface with well-organized information, easy-to-follow instructions, and big icons for user-friendly navigation. It also comes with powerful dual-band Wi-Fi and Ethernet connection. Although some users have reported latency and connectivity issues, we still believe you get a lot with the Wink Hub 2 at a generous price point. The only downside with the Wink Hub 2 is the lack of a USB port, limiting the number of devices you can connect.
Easy Installation This smart home hub is easy to install, so you can spend more time enjoying your connected home.
Simple App Interface The app is easy to use with big buttons and well-organized information.
Versatile Compatibility Connect to a wide variety of devices that use everything from Z-Wave and ZigBee to IFTTT technology and more.
No USB Port The lack of a USB port limits your connectivity to certain devices.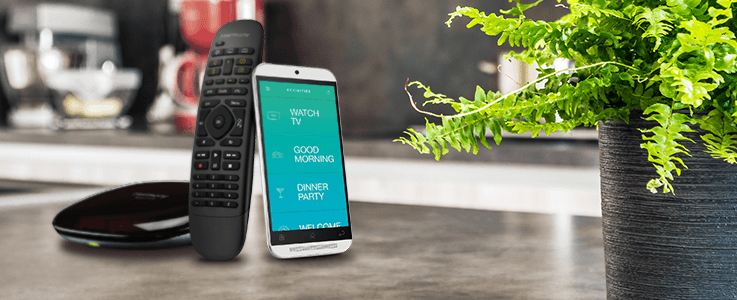 Logitech Harmony Elite
Remotes have always signified control. And with the Logitech Harmony Elite, you'll be able to control everything from small appliances to your entire entertainment system with a tap of your finger. The remote's color touchscreen interface and simple navigation make it incredibly sleek and easy to use.
What really sets the Logitech Harmony Elite apart is how easy it makes using your entertainment system. You can watch a movie, turn off the lights, and adjust the temperature all from your seat. Toggling between smart home devices and your entertainment system has never been this simple. And for functions that don't work on the remote, you can use the app, available for Android and iOS.
About the only thing you can't do with this remote is give voice commands, unless you connect it to Alexa. It also comes with wide device compatibility so you can customize your home for function and fun.
Entertainment System Control Enjoy movie nights with the family by setting the movie, lights, and ambiance with a tap of a button.
Color Touchscreen Remote The remote's interface and touchscreen makes it easy and enjoyable to navigate.
Easy Setup and Use There's very little setup required to get started, and the remote is straightforward to use.
Short Battery Life You'll have to make sure to keep the remote plugged in often to keep the battery charged.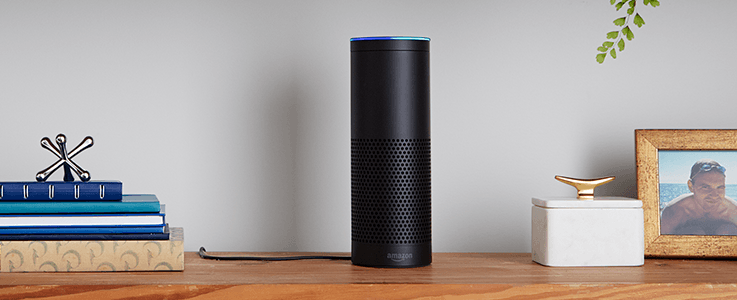 Amazon Echo
The Amazon Echo has one very powerful tool: Alexa. This voice recognition system is not only excellent at picking up your voice, but it can also learn twenty-five phrases and thousands of skills—and it's only getting smarter.
Like other automation hubs, the Amazon Echo can help you manage all your smart features and devices, but Alexa's technology is what really makes it stand out. The Echo is equipped with seven microphones that use noise cancellation and far-field voice recognition, so Alexa can hear you from just about anywhere.
The Echo doesn't just make your home smarter—you can also use it to play music, order food, read the news, and much more. To see all the tasks the Echo can help you accomplish, check out the full list of capabilities.
Ability to Play Music If you're a music lover, you'll enjoy this feature because it allows you to play your favorite tunes around the house.
Far-Field Voice Recognition With far-field voice recognition, Alexa can hear your commands from just about anywhere.
Voice Control Place an online order or read the news without lifting a finger.
Distorts Sound at High Volume If you have the speaker on really high, the sound could be distorted.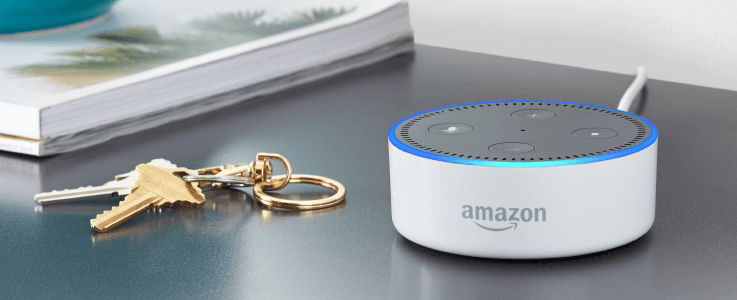 Amazon Echo Dot
Siblings tend to imitate each other. So it's no surprise that the Amazon Echo Dot—the smaller and less powerful sibling of the Amazon Echo—has a lot of the same functionality as its larger sibling.
Like the Amazon Echo, the Echo Dot gives you access to all of Alexa's skills and features, and it's compatible with similar devices. That means Alexa can order products online, play music, and answer your questions, among other functions. But the Echo Dot has one thing that other Amazon speakers lack: it connects to existing speakers in your house. So your speakers become an extension of Alexa.
The one thing that the Echo Dot lacks is a strong microphone. Users report that the Echo Dot can't always hear them over TV or music playing in the background. But even with this limitation, at less than half the price of the Amazon Echo, it's a great budget-friendly option.
Connectivity with Existing Speakers This smart home hub lets you connect speakers so you can use Alexa throughout your entire house.
Alexa Voice Control Order takeout, check the weather, or read the news without moving a muscle.
Lower Price than Other Options This is a great budget-friendly hub with a lot of high-end capabilities.
Speaker Quality Is Not as Good as Amazon Echo The Dot has a hard time hearing you over loud music or a TV playing in the background.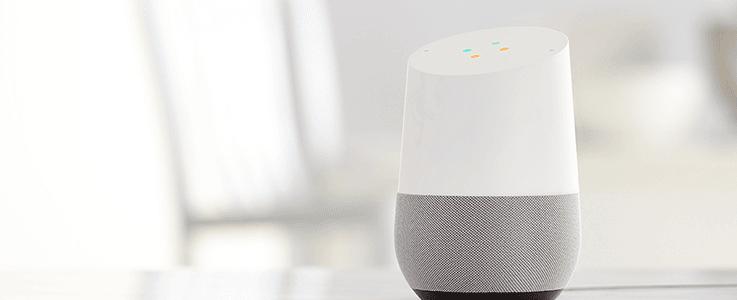 Google Home
Googling is part of day-to-day life. And with the Google Home, you'll have the intelligence of Google's algorithm at your beck and call. Google's voice assistant is smart, quick, and surprisingly funny. The Home combines home automation functionality with a personal assistant, so you can give voice commands to control everything, including your lights, locks, small appliances, and TV.
The one shortcoming of the Google Home is that it doesn't work with as many devices and protocols as other home automation hubs, but it's growing fast and has many more good things to come.
The Home has recently added new integration capabilities and multiple user accounts, giving other, more established, home automation hubs on this list some serious competition. Another cool thing about Google Home is that it gets to know you on a very personal level through your Google searches, Google calendar, and Gmail. This personalization makes it easier for it to understand what you mean when you ask a question.
Like its frenemy the Amazon Echo Dot, the Google Home lets you group speakers to play the same song throughout your entire house. Perhaps the most surprising part of all is how affordable the Google Home is compared to similar products on the market.
Google Search Results Get the intelligence of Google's results at your fingertips.
TV Control Capabilities Control your TV using voice commands for added convenience.
Speakers That Communicate with Each Other Group speakers to play the same song throughout your entire house.
Limited Integration Capabilities Right now, the Google Home doesn't connect with as many devices as other home automation hubs, but the list of products it works with is growing fast.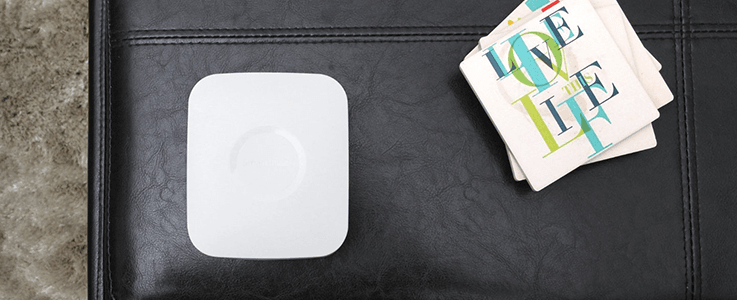 Samsung SmartThings Hub
What it lacks in looks, the Samsung SmartThings Hub makes up in brains. It's impressively one of the most versatile home automation hubs on the market, and it integrates with just about everything, including ZigBee, Z-Wave, IFTTT technologies, Alexa, and many more devices. It's also equipped with USB ports and Bluetooth capabilities.
But what really makes the integration between devices stand out is being able to link them together. For example, you can have your lights turn on and your thermostat adjust based on your location. And that's just the beginning. If you have a programming background, you can take a stab at integrating devices that aren't official partners of Samsung. In fact, there's a whole community of people sharing their projects and experiences with integrating devices in different and innovative ways. All that is pretty cool—if you know what you're doing. But if you're going to go the third-party configuration route, it won't necessarily be easy. You might end up needing to play around with the code and purchase additional equipment.
Ability to Connect with a Wide Variety of Devices and Protocols This hub is incredibly versatile, so you have more device connectivity options than almost any other home automation hub.
Backup Battery Your smart home devices will continue to work without interruption even if the power goes out.
USB Ports for Additional Connectivity Integrate devices seamlessly with multiple USB ports.
Difficult Third-Party Integration You can connect to a lot of protocols and devices, but the integration can be complicated unless you have a programming background.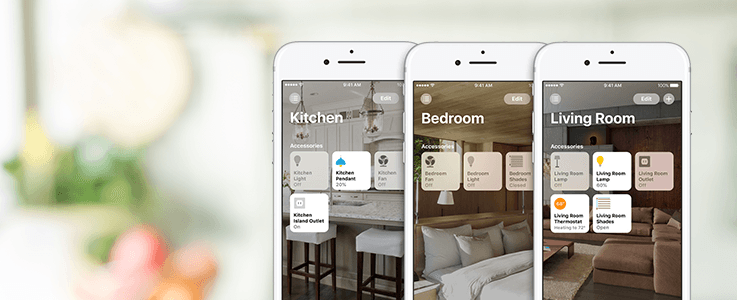 Apple Homekit
If you love Apple products, you'll probably want to add the Apple HomeKit to your collection. This home automation hub lets you control your lights, thermostat, locks, and much more through a variety of devices.
To keep things simple, you can create scenes, enabling multiple devices to work in combination from a single command. For example, if you're going to bed, you can set a scene that will turn off the lights, lock the doors, and adjust your thermostat accordingly. And, of course, the HomeKit wouldn't be complete without Siri. Like Amazon's Alexa and Google's Assistant, Siri will answer your questions, follow commands, set reminders, and more.
The one drawback of the Apple HomeKit is an all-familiar one with Apple products—it doesn't play well with others. Apple has strict rules such as requiring developers to purchase a license and hardware to have an encryption coprocessor. But for most Apple users, the company's security measures are something they're familiar with and have even come to appreciate.
Secure and Encrypted Communication Apple has strict rules for developers to ensure its high security standards aren't compromised.
Siri Voice Control Integration Siri follows voice commands, answers questions, and sets reminders.
Simple and Clean App Like all Apple products, the Apple Homekit app has a clean design and is simple to use.
Limited Device Support Apple Homekit doesn't connect to as many devices as other home automation hubs on the market.
Home automation devices are changing the way we interact with our homes, from controlling our lights, locks, and small appliances to adjusting our thermostat, turning on your sprinklers, and much more. But as devices proliferate, the need to control them from one central location becomes paramount.
That's where home automation hubs come into play. They connect to your devices and allow you to control everything from one central app.
Find Your Perfect Home Security System