Best Smart and Traditional Garage Door Openers
Open sesame! From jackshafts and belt drivers to openers with home automation capabilities, we reviewed seven garage door openers, both traditional and smart, to ensure you can make the best buying decision for your home. Regardless of what kind is best suited for your garage, know that you can trust SafeWise to provide you with transparent, honest reviews of these home safety devices.

Best Smart Garage Door Openers
Product
What We Love
Downsides
Where to find it
Backup battery
3/4 hp
Belt driver system
Smartphone compatibility
Belt driver system
Door timers
Jackshaft mechanism
Smartphone compatibility
Side mount
Easy installation
Safe-T-Beam system
Belt driver system
Best Traditional Garage Door Openers of 2018
Product
What We Love
Downsides
Where to find it
Easy installation
Powerful motor
Temperature control
Lifetime warranty
Quiet mechanism
Easy installation
Motor vibration isolation system
Ten-year motor warranty
Simple installation
How Does a Garage Door Opener Work?
Before we delve into the things to consider before choosing a smart garage door opener, let's examine how these devices work. The mechanisms that enable an opener to lift your garage door are usually one of the following:
Jackshaft
This is a generic term for a mechanism that transfers and transmits rotational force or power. Jackshafts can take a variety of shapes, but often times they'll consist of two pulleys, a belt, and cranks.
Rail
A rail system guides a motorized or non-motorized garage door opener. The mechanism will usually be reinforced by a chain, screw, belt, or motorized driver.
Chain Driver
This mechanism for garage door openers has been around the longest. It basically uses a chain, similar to a bike chain, to open and close the door. The only downside to these types of garage door openers is that they're louder, so if you have an attached garage, you might want to consider other options.
Screw Driver
This kind of driver is shaped like the body of a screw. Most garage door openers with this mechanism are quieter and cheaper than chain drivers, but they require more upkeep.
Belt Driver
This is by far the quietest but most expensive garage door opener mechanism. The belt driver works just like the chain driver, but because it's made of steel reinforced rubber, it doesn't have the loud metal-to-metal contact when the door is opened or closed.
Things to Consider in a Garage Door Opener
Now that you have a good understanding of how garage door openers work, let's start talking about the specifics of what you should look for in a smart garage door opener.
Motor Power
The garage door opener's motor power is measured in horsepower (hp). How much horsepower you need depends on the type of door you have. In general, most standard doors require 1/2 hp, wooden doors 3/4 hp, and large or industrial doors 1 hp.
Maintenance
Almost all electronic mechanisms require some maintenance. And because garage door openers are something you use daily, it's important to inspect them frequently as a preventive measure.
Make sure the roller brackets are tightly in place, and inspect them at least once a year. If the rollers have cracks or look worn, replace them right away.
Frequently grease the different parts of your garage door to ensure the components run smoothly.
Clear the door-tracks by removing debris that might obstruct the door from working properly.
Warranties
Big-ticket items should come with a warranty. Garage door openers usually cost a few hundred dollars, so look carefully at the warranty details. Warranties generally vary from three to five years, but most reputable brands provide a motor-specific warranty which can range from 10 years to the entire lifetime of the product. You should also consider the service fee; some companies offer warranties that cover the mechanics, but they may charge you for a service call.
Compare the Best Garage Door Openers
| | | | | | | | |
| --- | --- | --- | --- | --- | --- | --- | --- |
| | Chamberlain WD962KEV | Chamberlain WD832KEV | LiftMaster 8500 | Genie QuietLift 800 | Decko 24300 | Sommer Direct Drive Opener | Craftsman 1/2 Horsepower |
| Power | 3/4 hp | 1/2 hp | 24VDC | 1/2 hp | 3/4 hp | 3/4 hp | 1/2 hp |
| Drive Type | Belt | Belt | Jackshaft | Belt | Chain | Rail | Chain |
| Warranty | ✔ | ✔ | ✔ | ✔ | ✔ | ✔ | ✔ |
| Batteries Required | ✔ | × | × | × | ✔ | × | × |
| Smartphone Compatible | ✔ | ✔ | ✔ | ✔ | × | × | × |
| DIY Installation | ✔ | ✔ | × | ✔ | ✔ | ✔ | ✔ |
| Tech Support | ✔ | ✔ | ✔ | × | ✔ | ✔ | × |
| Ceiling Mount | ✔ | ✔ | × | ✔ | ✔ | ✔ | ✔ |
| Timer | ✔ | ✔ | ✔ | ✔ | × | × | × |
| Backup Battery | ✔ | × | ✔ | × | × | × | × |
| | | | | | | | |
Best Smart Garage Door Openers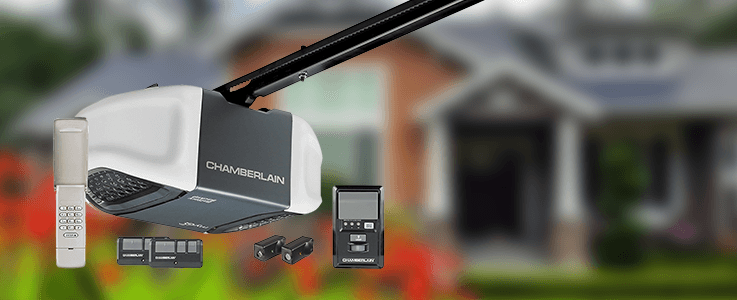 Chamberlain WD962KEV
The Chamberlain WD962KEV is one of the best garage door openers on the market, combining power, performance, and convenience in one great package.
Backup Battery will work in the event of a power outage, so your cars or other valuables aren't stuck in your garage until the power comes back on.
Powerful Performance With 3/4 horsepower, it can handle a heavier door, including standard and double-wide wooden doors.
Belt Driver It's extremely quiet, which is handy if your garage is attached to your home. This makes the Chamberlain ideal for folks who are light sleepers, graveyard-shift workers, or those with young families. You and others can sleep soundly—even if other family members are coming and going.
Confusing Installation It's supposed to be a DIY installation with step-by-step directions, but a lot of customers have complained that the installation process can be confusing and takes anywhere from eight hours to an entire day.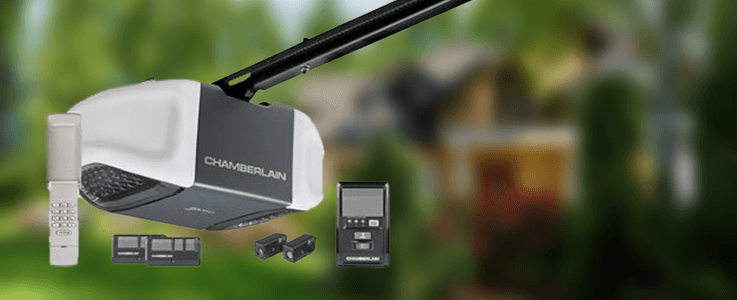 Chamberlain WD832KEV
If you love having a connected home, the Chamberlain WD832KEV is a great option. It has everything you want in a high-end garage door opener, from the best safety features to connectivity capabilities.
Smartphone Compatible This garage door opener is equipped with Chamberlain's smartphone-compatible technology called MyQ, which allows you to remotely control and monitor your garage door. In order to connect the garage door to your phone, you must purchase the MyQ Internet Gateway—sold separately.
Extremely Quiet If your garage is attached to your home, you'll appreciate that the belt driver mechanism reduces noise and is extremely quiet.
Door Timers If you're really busy—running around with kids or multitasking—you can set a door timer that will automatically shut your garage door, so you never have to worry about leaving your house exposed.
Confusing Instructions The installation instructions are not clear or very detailed, making it hard to install. Customers have complained that it took 10+ hours to complete the installation process in some cases, so consider getting professional installation.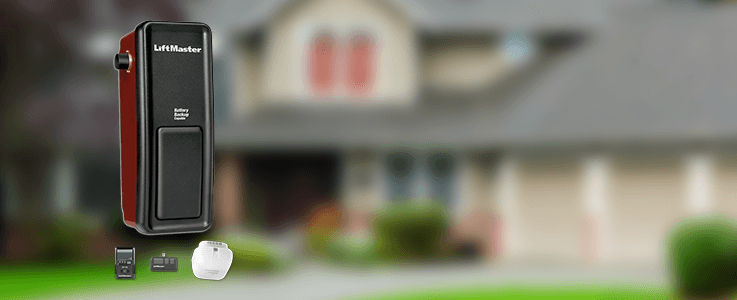 LiftMaster 8500
If you're concerned about keeping your garage looking clean and clutter-free, the LiftMaster 8500 is your best choice.
Jackshaft Mechanism The jackshaft mechanism offers you the best of both worlds: a sleek look and powerful motor.
Smartphone Compatible This garage door opener can be controlled from your smartphone, so you'll never have to wonder if you forgot to close the garage door again. However, in order to utilize the garage door remotely, you must purchase the MyQ Gateway device separately.
Side Mount Unlike most garage door openers that mount to the ceiling, this one mounts on the side wall, providing a clean look and saving headspace.
No DIY Option It's more complicated to install than other garage door openers on this list, so it requires professional installation.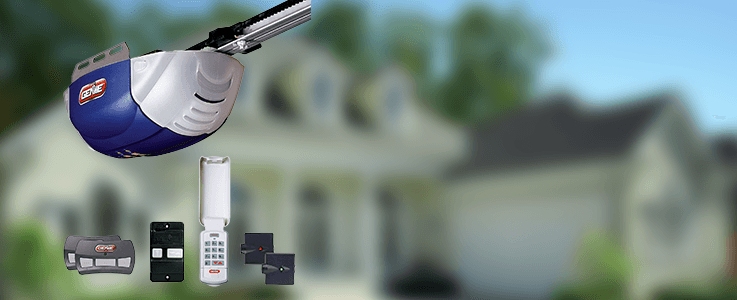 Genie QuietLift 800
The Genie QuietLift 800 is as quiet as it is safe. It features pressure-sensitive sensors, so if the garage door encounters an obstacle on the way down, it will stop, preventing injury to your loved ones and pets.
Easy Installation and Instructions If you're busy, you'll enjoy that this is very simple to install, so you won't spend your entire weekend trying to figure out how things work.
Safe-T-Beam System This feature sends an invisible infrared beam across the door frame. If anything crosses the beam when the door is closing, the door will reverse itself and open back up, which is especially useful if you have young kids that like to run around.
Belt Driver System The belt driver design ensures minimal noise, which is a feature you'll really appreciate if your garage is located next to or underneath a bedroom.
Small Buttons One thing that's lacking with the Genie QuietLift 800 is the design. It has very small control buttons that can make it hard to press the right one if you have your hands full or are in a hurry.
---
Best Traditional Garage Door Openers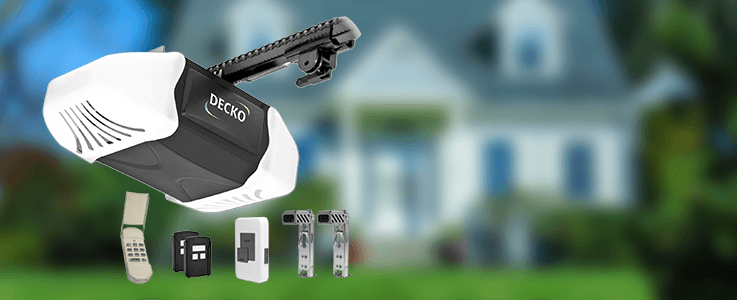 Decko 24300
The Decko 24300 is durable, powerful, and easy to install and has great customer reviews, making it a good overall value.
Easy Installation The Decko 24300 features clear instructions and non-polarized wiring, which makes for an easy, breezy, and error-free installation.
Powerful Motor With 3/4 horsepower, this garage door opener can handle heavy doors.
Temperature Fluctuation Control It's designed to work well in extreme cold and heat, which is incredibly useful if you live in an area that has drastic climate changes.
Chain Driver It's louder than garage door openers with a belt driver mechanism. If your garage is not attached to your house, then this might not be a deal breaker for you.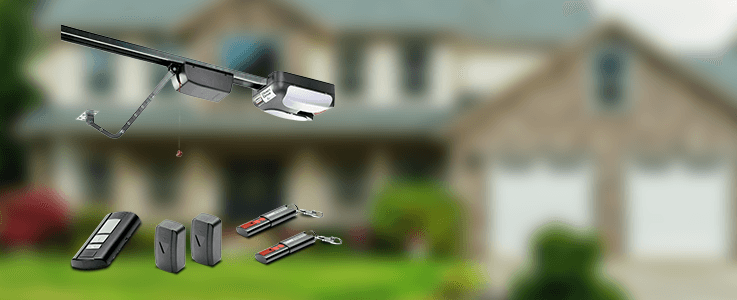 Sommer Direct Drive Opener
The Sommer Direct Drive Opener packs a high-performance punch that can handle up to 550 pounds. The 3/4 horsepower can easily handle double-wide wooden doors, and the rail works with a seven- or eight-foot door. If your door is taller, you might need to purchase an extension.
Lifetime Motor and Parts Warranty No matter what breaks or malfunctions over time, you'll always be covered, which is something most other companies don't offer.
Quiet Mechanism Smooth and quiet, this garage opener is uniquely designed with only one moving part, so it won't keep you up at night.
Easy Installation According to customers, the Direct Drive Opener is easy to install with straightforward instructions.
Lackluster Tech Support The support team is not very responsive, and it can be hard to get them on the phone.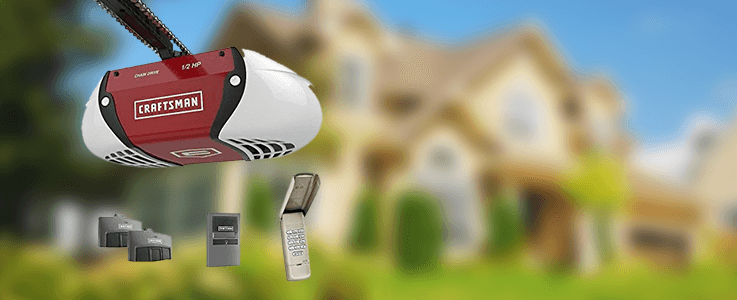 Craftsman 1/2 Horsepower
What the Craftsman 1/2 Horsepower lacks in home automation, it makes up in performance.
Motor Vibration Isolation System It's equipped with a motor vibration isolation system that eliminates any excess movement for smooth and efficient functionality.
Ten-Year Motor Warranty This motor warranty is longer than most garage door opener warranties on the market.
Easy Installation Craftsman is a great choice for DIY enthusiasts and those looking to keep home systems simple.
Non-Universal Remote Unfortunately, the included remote isn't compatible with other Craftsman products.
Whether you choose a smart or traditional garage door opener, trust the mechanism to bolster your home's overall security, sheer convenience, and curb appeal.
Find Your Perfect Home Security System