5 Best Smart Lightbulbs of 2018
A Review of the Top Smart Lightbulbs For Your Home
Light up your home with our recommendations for the best smart lightbulbs. These automated LED bulbs are easy to install and efficient, and they can be controlled by Wi-Fi, Bluetooth, or a compatible home security system hub.
While the shape of the average lightbulb hasn't changed much since Edison, what's inside has been transformed by technology over the past decade. Many homeowners have embraced emerging LED (light-emitting diode) technology to illuminate their homes because the bulbs are more efficient and longer lasting. Recently, LED bulbs have become part of a growing number of smart devices capable of being controlled via home automation.
Best Smart Lightbulbs of 2018
Works with Alexa
Connects up to 50 Lights
Requires a Hue Hub
Is More Expensive
Is Less Expensive
Works with Most Z-Wave Hubs
Has Shorter Range
Drops Connection
Emits Brighter Light
Works with Alexa
Has Connectivity Issues
Has Compatibility Problems
Offers 16 Million Colors
Works with Alexa
Requires a Hue Hub
Is More Expensive
Offers 16 Million Colors
Is Less Expensive
Can't Be Controlled at a Distance
Emits Dimmer Light
Things to Consider in a Smart Lightbulb
Venturing into the world of smart lighting can be overwhelming because there's a myriad of ways to control your bulbs. Homeowners can choose automated outlets, switches, smart lamps, or singular bulbs complex lighting systems that operate via a hub.
In this buyers guide, we've focused on the easiest and least expensive way to segue into smart lighting: replacing singular bulbs. Many of these lightbulbs can become part of an expanded smart lighting system later, when you're ready to bring your whole house online with smart automation. Before selecting which bulb is a good fit for illuminating your home, consider which of the following key features are important to you.
Color
Whether you're looking to replace all the bulbs in your home with smart lighting or you just want to experiment with some fun home automation, smart lightbulbs offer what you're looking for. You can go basic or go bold, and, if you're willing to spend a little extra, you can do both.
White: These basic bulbs emit a light that is the equivalent of a 60-watt bulb and can replace normal lightbulbs around your home. Several offer the ability to select specific shades of white or to set softer or harder shade variations depending on the time of day.
Color: The sky's the limit with these colored bulbs that allow you to pick any shade from the rainbow. Some of the colored smartbulb features—like syncing with music—can be a bit gimmicky, but with sixteen million colors at your fingertips, you won't be complaining.
Control
You'll want to decide what's important about having a lighting system for your home and how you want to control your smartbulbs. If you're simply dabbling in automation, you probably don't need a sophisticated hub or compatibility options, but if you intend to build out a complex system that you can control remotely, you'll want to invest up front in the right technology.
Bluetooth Lightbulbs: Bulbs that rely exclusively on Bluetooth technology can be easily controlled by a smartphone at close range. Bluetooth is best for novelty bulbs and those that aren't part of a more complicated lighting system.
Wi-Fi Lightbulbs: Wi-Fi enabled bulbs have more options for connecting and controlling your home remotely, but you'll need to invest in additional hardware, like a bridge or hub, to access your lighting at a distance.
Compatibility
If you've got an existing security system with home automation capabilities, you'll want to be careful to choose compatible lighting. If you're still trying to decide what type of hub you'll use in the future to control your smart home devices, erring on the side of more compatibility options is your best bet. The following are just a few of the methods you might use to control your smart lightbulbs, either from within your home or remotely.
Security System Hub: Several home security hubs allow you the discretion to control various smart devices, including lighting products. Check with your security company to ensure the bulbs you choose will be compatible.
ZigBee or Z-Wave: Depending on which protocol your current home automation hub or other devices use, you may be able to cobble your system together if you focus on Z-Wave or ZigBee compatible bulbs.
Phillips Hue Bridge Hub: Several of the best bulbs in the industry utilize this bridge to connect lighting and help the system speak with compatible devices like Alexa, but it's a bit of an investment, and it corners you into a certain protocol.
Alexa: Depending on the communication protocol being used, your lights may be compatible with Amazon's Echo and Alexa, which would allow you to control lights via voice command. At the very least, it's an impressive party trick.
Cost
The bottom line is you may have to purchase a few smartbulbs at a time rather than outfit your whole home at once due to cost. But take in these considerations before you decide how much to spend.
Efficiency: While bulbs can be a big investment up front, they pay off later with huge gains in energy efficiency and a bulb life that can last twenty years.
Integration: If you're just experimenting with colored lighting and having fun, stay cheap. It won't integrate, but it doesn't matter. If, however, you're looking to replace and control all the lights in your home, invest in a smart lighting system that can go the distance.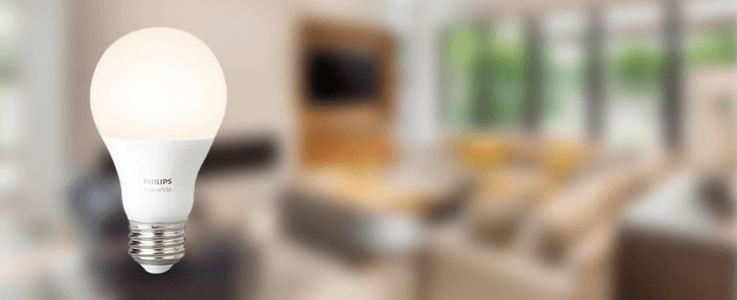 Philips Hue White A19 Smartbulb
Philips Hue bulbs are considered the industry leader in smart lighting, and it's easy to see why. These basic white bulbs are cost effective enough to allow you to replace all the bulbs in your home with a smart lighting system. We recommend the starter kit, which comes with two lightbulbs and the Hue Bridge hub you'll need to communicate with your router and control the lights remotely.
Works with Alexa. In order to activate Alexa voice commands, you'll need to purchase and connect the Phillips Hue Bridge hub. Once you do, you'll have voice activation to control all the lighting at your command.
Has Superior Light Quality. Reviews give this bulb high marks for producing a soft, white, dimmable light.
Connects up to 50 Lights. The Phillips Hue Bridge hub allows you to operate up to fifty lights within your home as part of a home automation system.
Can Be Controlled Remotely. Because it connects to Wi-Fi, the Phillips bulb can be controlled remotely and integrated into a more complex home security system.
Is More Expensive. Phillips bulbs are pricier because you'll need to invest in the hub, but you'll reap the benefits with more options to build out a lighting system with superior connectivity.
Requires Phillips Hue Bridge Hub. To make your smartbulbs speak to one another, you'll need to use a Phillips Hue Bridge hub. While this is an additional investment, it allows homeowners to easily build out a larger, connected lighting system.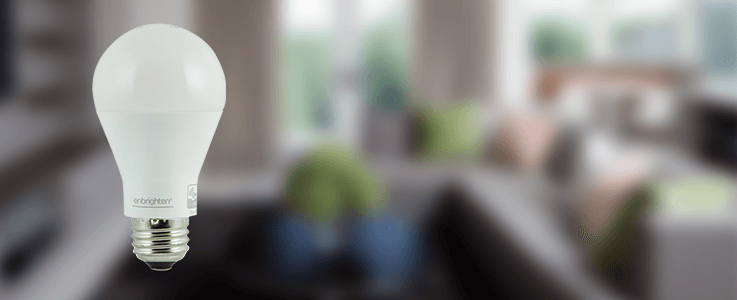 Jasco Z-Wave Enbrighten Smart LED Bulb
This basic white bulb provides plenty of light and is Z-Wave compatible, meaning it will work with a variety of home security hubs, including Samsung SmartThings, Iris, and more.
Wide Range of Compatible Devices. As a Z-Wave compatible lightbulb, Enbrighten connects with a large pool of smart devices, including home security hubs.
Lower Price. It's an inexpensive initial investment to buy a bulb and try it out versus having to purchase additional hardware to keep your lighting system connected.
Remote Control. Once connected to a hub, you can control these smartbulbs from a distance, setting timers and toggling lights on and off from your mobile device or desktop.
Great Reviews. Enbrighten earns solid reviews on Amazon and among industry experts for creating a dependable, inexpensive smart lightbulb.
Problematic Outdoor Use. While the product description indicates this lightbulb can be used outside, it also specifies not to expose it to weather or water, which makes regular outdoor use pretty difficult.
Short Range. Several reviews on Amazon indicate customers struggled with connectivity issues on these lightbulbs at short range. The manufacturer indicates the optimal range to control this Z-Wave device is 150 feet.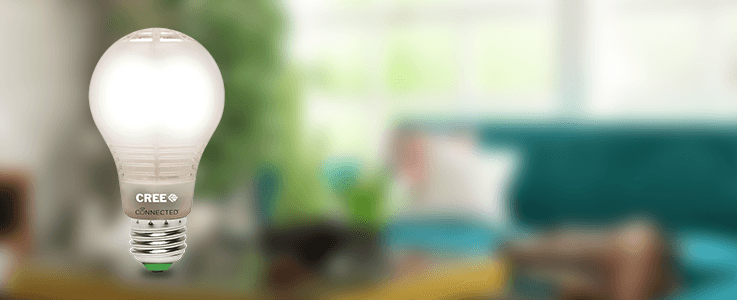 Cree Connected LED 60W Soft White Bulb
Control this connected lightbulb from anywhere, including Amazon's Alexa. This white bulb produces more lumens than any of the others on our list at a relatively inexpensive price.
Works with Alexa. Once you've got the Cree bulb set up with a compatible hub, you can use Alexa to control your lights and impress all your friends.
Has Brighter Light. While most of the bulbs on our list produce light that is the equivalent of a 60-watt bulb, some are tweaked to provide greater luminosity than others. Reviews indicated this Cree is the brightest bulb in the bunch.
Is Compatible with Multiple Platforms. This smart lightbulb is a ZigBee-compatible device, so it can be connected to and controlled by a variety of hubs, including Echo, Wink, Wemo, and more.
Has Connectivity Issues. Some customers report issues connecting this bulb with their various hubs, but others say depending on the setup, Cree bulbs work fine. Some of the confusion may arise when homeowners attempt to use multiple hubs that have competing communication protocols within the home.
Emits Harsh Light. While some reviewers love the brighter light, others find this smartbulb's luminescence harsh. You may want to steer clear if you prefer softer shades of white light.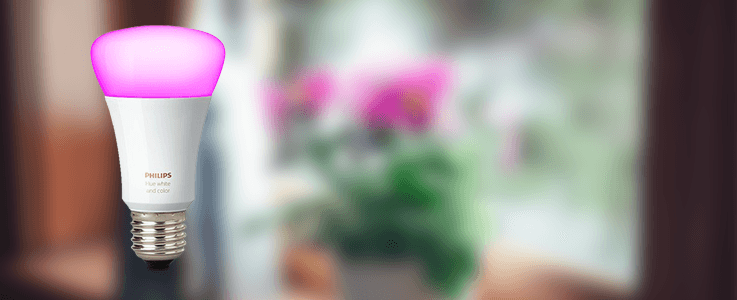 Philips 464503 Hue White and Color A19 LED Bulb
Bring the ambiance up a notch with Philips Hue White and Color LED Bulbs. These smart lightbulbs produce every color of the rainbow and beyond, with the ability to sync to music, movies, or games for extra party points.
Works with Alexa, iOS, and Android. Once you've got these synced to a Philips hub, you will have lots of choices about how to control your lights, both within the home and at a distance, including voice-activated assistance from the ever-helpful Alexa.
Has 16 Million Colors and 50,000 Shades of White. Dream up a color, and Philips will make it a reality, allowing homeowners to choose among variety of shades to set just the right mood.
Can Control up to 50 Lights via the Philips Hue Bridge Hub. One of the benefits of the additional investment in the bridge is that you can create a more complex lighting system for your whole home rather than struggling to adapt incompatible devices later.
Requires a Philips Hue Bridge Hub. While it does create a closely connected and controlled lighting system, the additional investment of the bridge—which is required to run Philips Hue lights—is a cost consideration.
Is More Expensive. Not only because of the bridge, but also because of their superior light quality and reliable connection, Philips Hue bulbs tend to be a bit pricier.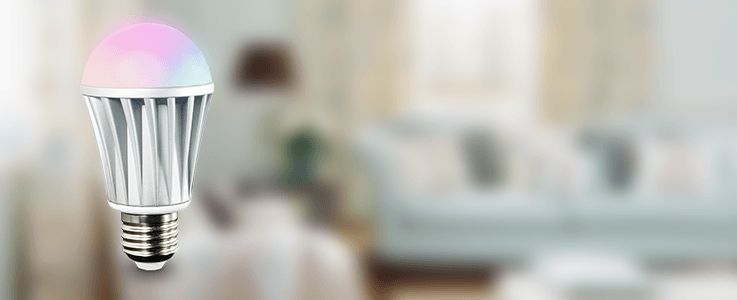 MagicLight Bluetooth Original Bulb
This party in a bulb will light up your life on the cheap, it includes most of the features of the Philips Hue smartbulbs without the additional cost. The catch? MagicLight bulbs are Bluetooth controlled only, meaning you can't control these remotely.
16 Million Colors and 50,000 Shades of White. Like the Philips Hue bulbs, you'll get your pick of the rainbow without the hassle of additional costs.
Timers and Wake/Sleep Modes. Although you can't control these remotely, you can set timers to adjust the shades of light for the time of day.
Lower Price. As we've mentioned, these colored smart lightbulbs are less expensive than the Philips Hue bulbs, so you can dabble in smart lighting without a serious commitment.
No Remote Access. If remote access is a must-have for your smart lighting system, you'll want to choose bulbs compatible with your existing hub or security system rather than the MagicLight. While you control these bulbs on your phone or tablet while in your home, you can't access your smart lighting at a distance.
Reliability Concerns. Some Amazon reviewers indicate this bulb has a much shorter lifespan than advertised, so buyer beware if you're looking for a long-term investment in lighting solutions.
Looking for more smart ideas about how to light up your home? See our home automation resources for additional buyers guides and reviews.
Find Your Perfect Home Security System