2018 Best Home Alarm Systems in the UK
When it comes to selecting the right burglar alarm system, nothing but the best will do to protect your family and home. Our team of experts researched, reviewed and ranked the best home security systems in the UK to help you confidently protect what matters most in your life. Check out our list of the top three home security systems of 2018.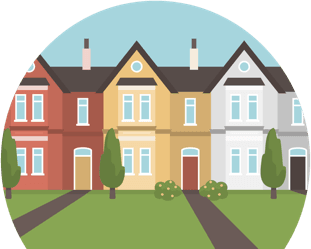 With an 11% increase in police-recorded theft across England and Wales, including a 6% rise in burglaries, now is the time to consider an upgrade to your home's security.1 We've carefully evaluated the most important factors people consider in a home burglar alarm system and highlighted what each security company does best to bring you a comprehensive review of each one's strengths.
#1 SafeWise Recommended: ADT

What We Love
Smart home options
Over 150 years of home security experience
Monitoring expertise
Read Review

What We Love
Packages for different dwellings
Fast response time
Family-friendly control system
Read Review

What We Love
Mobile app
Installation fee included
Annual maintenance check
Read Review
Burglar Alarm System Reviews
#1. ADT: Best for Home Automation
Pros
 Smart home protection
 Over 150 years of home security experience
 Monitoring expertise
Cons
 Cameras not included in base package
Trusted Name
ADT has over 150 years of home security experience, and it shows. This alarm company knows what it takes to keep your home and family safe. ADT is trusted by more than 210,000 UK homeowners who rely on its reputation and expertise to protect what matters most.
ADT says over 90% of intruders would think twice about targeting a home protected by an ADT-monitored intruder alarm. If you want 24/7 security provided by an alarm company with a proven track record, ADT is the obvious choice.
Smart Home Options
With ADT Smart Home©, you have home security that keeps pace with modern life. Use your smartphone or computer to remotely access your alarm system and control your home's lights and other connected devices.
In our research, no other major alarm company provides the extra security, comfort and convenience that comes with home automation. Plus, ADT's advanced security technology ensures your privacy is protected too, providing increased peace of mind. Stop wondering if you forgot to set the alarm or turn out the lights, and let ADT put the power to control security alerts, Wi-Fi cameras, lights and any other connected device in the palm of your hand.
Monitoring Experience
Every ADT alarm package comes with 24/7 monitoring. If your intruder alarm is triggered, ADT responds immediately—monitoring specialists are always on guard and never ignore an alarm.
Over 150 years of experience have taught ADT that every moment counts when your home's security is at risk. As long as your scenarios and notifications are set up on your phone or tablet, you'll receive an alert any time an alarm sounds. You will also receive a call from ADT's Automated Alarm Handler to alert you of an alarm. ADT monitoring can also keep an eye on other vital emergency response systems like smoke and carbon monoxide alarms.
We Recommend: Keyholder Smart Home
We recommend the ADT Keyholder Smart Home package because it offers outstanding security services, which ADT is known for, plus complete home automation integration.
Services
24/7 monitoring
Mobile access and alerts
Smart home control
Equipment
Control Panel and Keypad
Internal siren plus external decoy siren box
2 movement detectors and 1 door sensor
#2. Verisure: Best for the Whole Family
Pros
 Packages for different dwellings
 Fast response time
 Family-friendly control system
Cons
 Consultation required for price quote
Security for Every Type of Dwelling
Verisure alarm systems adapt to the needs of your home—no matter what type it is or however big or small it may be. This security company designs custom alarm systems for flats, villas, apartments, detached houses, garages and sheds.
One of the best features of a Verisure alarm is the portable control panel. This is the only monitored burglar alarm we've found that lets you take the heart of your home security system with you if you move. For security-minded individuals who haven't yet purchased a home, this is an attractive security option.
Free Security Consultation
Because every home is different, Verisure approaches home security with specific solutions tailored to deliver the protection each home needs to ward off theft and other home security threats.
Before you commit to a Verisure alarm, a security expert will visit your home and recommend a package that meets the needs of your family and property. This unique approach lets Verisure customize each security system for dwellings and families of all sizes. The security consultation is free, with no obligation to enter a contract, so you can explore Verisure alarms without risk.
Family-Friendly Control
Verisure's home alarm system comes with a 3G control panel and SOS button that work for every member of the family. Not only does the alarm system record every household member as they come and go, it's also simple enough to operate that everyone from children to older family members can easily manage it.
Smart keys that are assigned to each household member keep track of entry and exit times and make it easy for everyone to access the home without the risk of losing a traditional key. The Verisure burglar alarm is also equipped with a built-in microphone so you can communicate or listen in to verify an emergency situation.
Bottom Line
No matter where you live, Verisure can configure a bespoke alarm system to protect your family and property.
View Verisure packages
We Recommend: Flat Alarm System
We recommend Verisure's Flat Alarm System, which is custom-designed based on a free security consultation. This ensures the right amount of security for whatever type of flat you call home.
Services
Guard response
24/7 tech service
Lifelong warranty and maintenance
Equipment
Burglar deterrent sign
Shock sensors and siren
Portable control panel
#3. SECOM: Best for Maintenance Plan
Pros
 Mobile app, works with iOS and Android
 Installation fee included
 Annual maintenance check
Cons
 12-month equipment warranty
Control from Anywhere
With SECOM's HomeControl+ app you can access and monitor your home security system from your phone, tablet, or other web-connected device. New customers receive the app free for a limited amount of time, but monthly fees increase after the introductory period ends.
Smartphone control means you won't have to wonder if you left home without setting the alarm. The mobile app lets you check the status of every sensor and arm or disarm your system while you're on the go. HomeControl+ also sends alerts and notifications straight to your phone or inbox over a secure, encrypted connection.
Servicing and Maintenance
SECOM stands out for excellent service and maintenance. The company employs fully trained engineers in local offices throughout the country, so a qualified technician is never too far away. SECOM was recognised with the Metropolitan Police Service Award for reducing the number of false alarms.
Every home alarm system contract includes an annual maintenance check as part of SECOM's full-coverage service package. This means you'll have total home security support day or night. In addition, SECOM is an NSI Gold member, which guarantees that all SECOM home security systems comply with current industry standards for operation and reliability.
Bottom Line
SECOM provides ongoing maintenance and service to protect your family and keep your security system working; however, they only offer a 12-month warranty on equipment.
View SECOM packages
We Recommend: Home Secure Plus
We recommend the Home Secure Plus package from SECOM because it comes with an external siren. Even though it costs a bit more, the siren is such a powerful deterrent to stop intruders that we think it's worth the price.
Services
24/7 monitoring
Full maintenance coverage
Keyholder alerts
Equipment
Internal and external sirens
2 key fobs and 2 passive infrared (PIR) detectors
Door sensor and window stickers
Home Alarm Systems: Compare Side-by-Side
ADT

Verisure

SECOM

Installation

Professional

Professional

Professional

Warranty

Lifetime equipment guarantee if installed by ADT

Lifelong warranty and maintenance

12 months from installation date

Service Plan

24/7 maintenance and call-out services

24/7 technical assistance

24/7 servicing and maintenance

Monthly Fees

From £29.99

Around £42.00

From £26.00

Contract

36 months

Unspecified

36 months

Cancellation Policy

Early termination incurs 75% of remaining contract

×

Cancellation allowed before delivery or installation

Early termination incurs 2/3 of the service charges to the end of the contract

Mobile Access & Control

iOS

Android

iOS

Android

iOS

Android

Cameras

Indoor

Outdoor

Photo detector

Indoor

Indoor

Sensors

Door

Motion

Shock

Temperature

Natural Gas

Flood

Door

Motion

Shock

Perimeter

Door

Motion

Shock

Water Leak

Smoke & CO Monitoring

Both

Smoke only

Both

Smart Home Integration

✔

×

×

Home Automation

Lights

×

×
What to Consider in a UK Alarm System
We've identified the most important things to consider when searching for the best intruder alarm system. These six factors give you a solid starting point for evaluating the different home security options available.
NSI Accreditation
National Security Inspectorate (NSI) accreditation assures consumers that products and companies consistently meet or exceed security industry standards. Every alarm company we've reviewed holds gold-level certification from NSI. That means each company on our list delivers the "greatest perceived value across industry and by the police, fire and rescue services, and insurers."
Price
Protecting your home can require a sizeable investment. It's important to know how much an alarm system is going to cost you up front and long term. When you're researching burglar alarms, keep these three things in mind: equipment and activation fees, installation fees and monthly maintenance fees.
Companies usually provide different options—from buying equipment outright to leasing it on a monthly basis. Before you commit to an alarm system, identify both your monthly budget and the amount you're willing to spend up front. This will keep you from biting off more than you can chew in regard to overall system price.
Service
You rely on your alarm system to keep your loved ones and property safe, and you need the company you choose to provide top-notch service. Chances are you'll interact with customer service multiple times throughout the lifetime of your security system.
To ensure the best service, we recommend thoroughly vetting the alarm company before signing on the dotted line. Search online to find out what other customers say about reliability, responsiveness and overall quality of service. Once you've narrowed down your selection, give your top choices a call to find out firsthand how you'll be treated as a customer.
Installation
If you want an alarm system with police response, professional installation by a regulated alarm company is required. This means the alarm company has either National Security Inspectorate (NSI) accreditation or certification from the Security Systems and Alarms Inspection Board (SSAIB).
All the systems we've reviewed provide professional installation whether you select police response or not. This guarantees that your system will be installed properly to your specifications.
Home Automation
Thanks to home automation, your burglar alarm system can turn your house into a smart home. Some security companies are starting to offer packages that include automation technology that lets you control everything in your home—from the lights to small appliances—right from your smartphone, tablet or computer.
If you want the extra security and convenience of home automation, look for an alarm company that offers smart home features. However, you should keep in mind that home automation may be an upgrade that will increase your monthly and up-front costs.
Mobile Access
Everyone is on the go these days, so you need to control your burglar alarm no matter where you are. With mobile access, you can manage your alert settings and preferences or remotely arm and disarm your system.
If you have a system with home automation, mobile access is granted through an app that you download to your mobile phone or computer. If your system includes CCTV surveillance, you may also be able to view live or recorded video from anywhere at any time.
Types of Home Security Services
There are different types of home security available to meet different levels of security demands. Review the information below to make sure you select an alarm system that will meet your needs if a burglar strikes.

Verisure High Power Siren
Audible vs. Monitored System
Audible, or bells-only, alarm systems are the most affordable option, but their only line of defence is a siren that sounds when the system is triggered. Monitored alarm systems are linked to an alarm receiving centre where trained alarm monitors keep watch over your property 24/7.
When deciding between a monitored or bells-only alarm, consider where you live. If you live in a busy area with an active neighbourhood watch scheme, a bells-only alarm might be all the protection you need. But those who live in a detached home, where neighbours are farther away, may want the extra security provided by a monitored burglar alarm.

SECOM Home Security Products
Keyholder vs. Guard or Police Response
Monitored alarm systems come with different response options. Keyholder response provides alerts to the homeowner and any other named keyholders when the alarm is triggered. This is the most common response level, and it's usually included in most basic alarm system packages. Guard or police response—where a private security guard or the police are dispatched after an alarm—is likely an upgrade and may increase monthly fees.
The level of response you choose will depend on a number of factors including the type of property, the valuables you are protecting and the ages and abilities of household members. If you have rare or costly valuables that would be difficult to replace, or you want to provide extra help to younger or older family members, the added comfort of guard or police response may be worth the extra expense.

ADT Touchscreen Keypad
Wired vs. Wireless Alarm System
Both wired and wireless alarm systems are available. Which you choose can depend on multiple factors including cost, reliability and maintenance. Hard-wired security systems must be professionally installed, so that can increase costs. Wired systems are more likely to include police response, but they must meet National Police Chiefs' Council (NPCC) Intruder Alarm Policy standards.
Wireless alarm systems are considered more convenient and less expensive to install. Because you don't need to run cables or lift carpets, wireless systems are easier to install, which reduces installation fees.

Verisure Perimeter Detector
DIY vs. Professional Burglar Alarm
All of our top systems are professional alarm systems, but there are home alarms that you can purchase and install on your own. A DIY security system is usually less expensive and gives you total control over system design and installation. Plus, you won't have to worry about paying a monthly monitoring fee. If monitoring is not a concern for you, a DIY system may be an affordable alternative.
Professional burglar alarms provide the highest level of security, but they also cost more and come with fewer options. However, you don't have to worry about figuring out installation or conducting maintenance on a professional security system. There may be more costs, but the convenience and confidence provided by a professional alarm system are well worth it.

Security Cameras
Security cameras help you keep an eye on your home from anywhere at any time.
There's nothing worse than coming home and realizing you've been robbed or finding out that the package you've been waiting for was stolen. That's where security cameras come in handy.
There are a wide variety of security cameras, including indoor and outdoor options, so you can see what's going on in every part of your home. Some home security providers even let you view live surveillance footage from your mobile app and save recorded clips to review later.
Cameras might also deter potential intruders who want to avoid getting caught. Honestly, other than the price, there's really no downside to having security cameras. They provide your home with an added layer of protection and your family with the feeling of security.
When you're deciding on a security plan, think through all the areas in and around your home that could benefit from a security camera. You might need only a few in high-traffic areas like the living room, kitchen and front door.
To learn more about security cameras and how they can enhance your overall home security, check out our list of the best home security cameras of 2018.
Office for National Statistics, "Crime in England and Wales: Year Ending June 2017"