14 Best Home Security Cameras of 2018: Indoor & Outdoor
Cameras are one of the best ways to identify and catch burglars—especially with 52% of all residential burglaries taking place during the day when nobody's home. 1
Security cameras are a key component in home security systems and come in many types with a multitude of features. With so much to choose from, it's hard to know which security camera is right for you. This guide gives you the information you need to find the best security camera to make your home and family safer.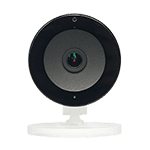 Best Monitored Home Security with HD cameras available.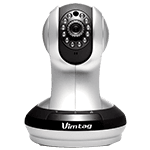 Vimtag VT-361 PTZ Cloud Camera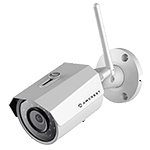 Best security camera for high-definition images
Important Security Camera Features
Below are some of the important features to keep in mind when comparing home security cameras.
Motion Detection
Cameras with motion detection can send you notifications when the camera observes motion within its field of view. These notifications can alert you to suspicious activity so you can monitor the situation.
Field of View
Field of view refers to how wide an angle a camera can record. This is important because it will affect how many cameras you'll need and where you should place them.
Sound
The sound feature can refer to your camera receiving sound via a microphone, emitting sound via a speaker, or both. Cameras with both can double as intercoms.
Wi-Fi Capability
A camera with Wi-Fi can communicate with your home network wirelessly, which can be very handy for installation, and is also less susceptible to being disabled because it doesn't have wires that could be cut.
Night Vision
The distance from which your camera can record images in low- to no-light situations can have a great impact on its effectiveness because often criminal activity can happen at night.
Movement
A camera that can pan and/or tilt may be able to record a larger area than a static camera and therefore reduce the total number of cameras needed to observe a particular area.
Cost
Obviously, if a camera costs so much that you can no longer afford the valuables you're trying to protect with it, then it doesn't serve a purpose. Cost is a factor for every purchasing decision.
Resolution
Resolution defines how clear the image from your camera will be. A clearly visible image is very helpful when trying to identify faces or items in the images your camera records.

Types of Security Cameras
The simplest way to think about the types of security cameras is to break them down into two groups: indoor cameras and outdoor cameras. While each of these groups have different styles of cameras within them, those differences will become apparent when you compare features, so separating them further isn't necessary. For instance, none of the cameras we talk about in this guide are dome cameras, not because dome cameras are of lower quality, but because they simply aren't necessary for most home security camera systems.
Both types of security cameras are available as stand-alone units with monitoring apps or as part of subscription-based home security monitoring systems. In this guide, we compare the top indoor and outdoor security cameras as well as the combinations of cameras available through the top subscription monitoring services.
Indoor Home Security Cameras
Indoor cameras are the cornerstone of a good home security system. We researched dozens of indoor home security cameras and found these to be a consumer's best bet. The cameras in this chart have Wi-Fi capability and can be monitored online and on your smartphone via each camera's corresponding app.
Camera
Resolution
Pros
Cons
Price
120° Pan and 320° Tilt
Mic and Speaker for 2-Way Talkback
Low Price
Unknown Static Field of View
Good Resolution
Huge 130° Field of View
Mic and Speaker for 2-Way Talkback
Unknown Night Vision Distance
High Cost
No Movement
Good Night Vision Range of 25 Feet
Good 110° Field of View
Ability to Be Used Outdoors
No Sound Capabilities
High Price
Good Resolution
Great Night Vision Range of 32 Feet
Mic and Speaker for 2-Way Talkback
340° Pan and 120° Tilt
Built-in Mic
Easy Setup
No Compatibility with Windows 10
No Built-in Storage
Vimtag VT-361 PTZ Cloud Camera
The Vimtag VT-361 HD home security camera is a smart investment for any homeowner. Along with the great range of motion and two-way audio highlighted in the chart, the VT-361 has a 3x digital zoom function. This kind of control is rare among stand-alone cameras. The VT-361 has 720p resolution, and while that's not the highest available, it's still considered high definition, so you should have no problems with image clarity. The best part about this indoor security camera is the price—it comes in at under $100. It also gets strong customer reviews on Amazon with an average rating of 4.1 stars from over 4,800 ratings.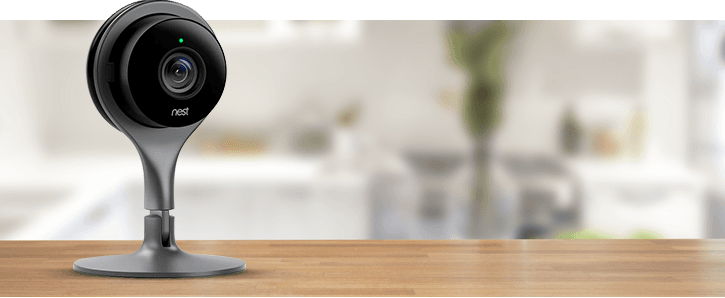 Nest Cam Indoor
While the Nest Cam is one of the more expensive stand-alone security cameras for home use, it makes our list for high resolution and its seamless integration with the rest of the Nest home automation suite. It has two-way talk capability and an incredible 8x digital zoom. The Nest Cam doesn't have any pan or tilt capabilities, but with its enormous 130° field of view, the motion isn't as necessary. Although the Nest Cam costs nearly $200, you can find discounts for ordering multiple units at once. Its average rating on Amazon is 4.2 stars with over 6,000 ratings.
Indoor Security Camera Features
Our team of experts compared the most important features people consider to determine the best home security camera. All the cameras on our list offer a mobile app and include live video streaming, digital zoom, and night vision. Every indoor security camera also features motion detection. Here's a look at how our top security cameras line up on other vital factors.
| | | | | | |
| --- | --- | --- | --- | --- | --- |
| | Vimtag VT-361 PTZ Cloud Camera | Nest Cam Indoor | Arlo Wire-Free VMS3130 | Amcrest ProHD | D-Link Pan & Tilt Wi-Fi Camera (DCS-5020L) |
| Connectivity | Wi-Fi | Wired/Wi-Fi | Wired | Wired/Wi-Fi | Wired/Wi-Fi |
| Field of View (Degrees) | 120 | 130 | 110 | 90 | 55 |
| Video Resolution | 720p | 1080p | 720p | 1080p | VGA |
| Frames/Second | 25 | 30 | 24 | 30 | 20 |
| Pan and Tilt | Both | Pan only | Pan only | Both | Both |
| Notifications | Email, Push | Email, Push | Email, Push | Push | Email |
| Storage | SD Card | Cloud | Cloud | SD Card, Cloud | None |
| Smart Home Integration | None | Amazon Alexa, IFTTT | None | None | None |
| Warranty | 1-year | 2-year | 1-year | 1-year | 1-year |
| Alarm | ✔ | × | × | ✔ | × |
| Two-Way Audio | ✔ | ✔ | × | ✔ | × |
| | | | | | |
Outdoor Home Security Cameras
Below are the best stand-alone outdoor cameras we researched. The cameras in this chart are wall-mounted cameras and can be monitored through online applications. Not all information is available for all cameras.
Camera
Resolution
Pros
Cons
Price
Great Resolution
High Waterproof Rating
Night Vision up to 98 Feet
Fragile Antenna
Limited Wi-Fi Range
No Sound Capabilities
Smart Home Integration
130° Wide-Angle View
Two-Way Talk
No Pan/Tilt Function
Subscription Required for Some Features
110-Decibel Alarm
270° Motion Detection
Built-in Floodlights
High Price
Hardwiring Requirement
No Weatherproof Rating
Multiple Storage Options
Good Resolution
Built-in Mic
Low Night Vision of 30 Feet
No Zoom
Software Problems
Low Price
Vandal-Resistant Housing
Great Night Vision
No Pan and Tilt Capability
No Sound Capabilities
No Wi-Fi Capability

Amcrest ProHD
If a clear image is important to you, it doesn't get any better than the Amcrest ProHD. Its 3-megapixel image sensor and processor stream in crisp ultra-high definition that makes it easy to identify details like faces and license plates. This camera also comes with four free hours of cloud storage, which is pretty rare. The ProHD also has one of the highest weatherproof ratings of all the outdoor security cameras we've reviewed. One downside is the lack of smart home capability, but if you're looking for a stand-alone surveillance camera, the ProHD delivers. This camera has an average Amazon rating of four stars, with more than 750 customer reviews.

Nest Cam Outdoor
There's a reason that Nest landed in the top two for both indoor and outdoor security cameras. When it comes to bells and whistles, the Nest Cam Outdoor security camera is hard to beat. The Nest Cam is missing a siren alarm, as well as pan and tilt capability, but these are easily overlooked when you consider its industry-leading two-year equipment warranty, wide-angle range of view, and seamless home automation integration ability. Nest Cam Outdoor boasts a 4.3-star rating on Amazon, and more than 2,800 online reviews.
Outdoor Security Camera Features
Once again, we compared the most desired features in outdoor security cameras. Every camera on our list has a mobile app, live video streaming, digital zoom, and night vision. This table breaks down how they compare on other important factors.
| | | | | | |
| --- | --- | --- | --- | --- | --- |
| | Amcrest ProHD | Nest Cam Outdoor | Ring Floodlight Camera | Phylink Bullet HD | ZOSI 960H |
| Connectivity | Wired/Wi-Fi | Wi-Fi | Wi-Fi | Wi-Fi | Wired |
| Field of View (Degrees) | 100 | 130 | 140 | 90 | 72 |
| Video Resolution | 3MP | 1080p | 1080p | 1080p | 1000 TVL |
| Frames/Second | 20 | 30 | N/A | 30 | N/A |
| Pan and Tilt | Both | None | None | None | None |
| Notifications | Email, Push | Push | Push | Email, Push | None |
| Storage | Cloud, MicroSD, NAS, FTP, NVR | Cloud | Cloud | MicroSD, FTP, Dropbox, NAS, NVR | DVR |
| Smart Home Integration | None | Amazon Alexa, IFTTT | SmartThings, Wink, IFTTT | None | None |
| Waterproof Rating | IP67 | IP65 | Not rated | IP66 | IP67 |
| Warranty | 1-year | 2-year | 1-year | 1-year | 1-year |
| Live Streaming | ✔ | ✔ | ✔ | ✔ | × |
| Digital Zoom | ✔ | ✔ | ✔ | × | × |
| Alarm | × | × | ✔ | × | × |
| Motion Detection | ✔ | ✔ | ✔ | ✔ | × |
| Two-Way Audio | ✔ | ✔ | ✔ | × | × |
| | | | | | |
Monitored Home Security Camera Systems
One advantage of ordering a monitored system is that you don't need to worry about the details of each specific camera because you can talk with the home security company's representative for help picking the system with the appropriate cameras to accommodate your needs. Each company's cameras will have the functionality to work best with its system, eliminating guesswork. Below you will find the home security monitoring services with the best camera and functionality combinations.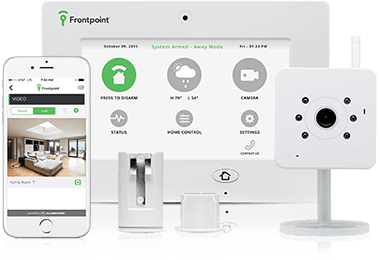 Frontpoint Ultimate
Lower monitoring fee
Frontpoint makes our spotlight for the great reputation its home security systems have among customers. The system has both indoor and outdoor camera options and also has pan and tilt capabilities on its indoor cameras. Frontpoint systems are all self-install systems. But, for anyone who needs a little help, Frontpoint offers installation tutorials for all its for all its components. Although the start-up costs for Frontpoint are high, the monthly monitoring fee is lower than most, so you can make up the difference over time. If you want a comprehensive home security system and good customer service, Frontpoint is the perfect choice.

Vivint Smart Control
Under $65 per month
Vivint offers the perfect balance of all the features you want from a home security monitoring system and a reasonable price. With multiple camera options and professional installation, Vivint gives you peace of mind in knowing that you have the equipment you need to properly monitor your home and that it has been installed correctly. This is the primary advantage of a monitored system in the first place. The one drawback to Vivint is the five-year contract, but as long as you're happy with the service, that shouldn't be an issue. The monthly monitoring charge is just under $55 and includes one camera. If you want a professionally installed system with lots of options, Vivint is the system you want.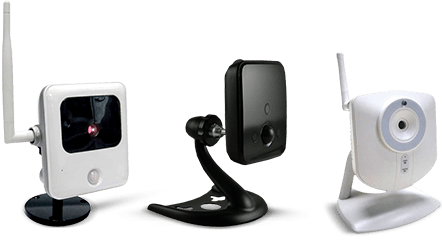 ADT Pulse Video Service
Lifetime warranty
We spotlight ADT for its low setup fee and lifetime warranty. With this stem-to-stern approach to ensuring the value of its service, ADT gives customers plenty of reason to sign up and a continuing reason to stick with the service. It also offers unlimited cloud storage. This could come in handy if your valuables go missing, but you don't notice it until months or even a year later. With unlimited cloud storage, you may be able to find stored video of the theft. ADT Pulse has both indoor and outdoor cameras. The outdoor cameras will cost a little extra. If you're a homeowner with no plans to move, ADT is a great choice because of the unlimited storage and the lifetime warranty.
Things to Consider When Buying a Home Security Camera
Security Camera vs Surveillance Camera
While the terms are regularly used interchangeably, there is a slight difference between security cameras and surveillance cameras. The difference is whether a camera is passive or active. Surveillance cameras are passive. They observe and/or record whatever is happening in their field of view. Security cameras are active. They alert people to unexpected events within their field of view. This distinction can be very subtle or very large depending on the circumstances of a particular situation. For instance, if a surveillance camera sends a constant feed to a monitor that is continually viewed by a security guard, it is essentially functioning as a security camera because simply by viewing the feed from the camera the guard would be alerted to anything unexpected happening within its field of view. However, most modern security cameras have the ability to detect motion and send alerts to owners or authorities via text or emails.
What do you need from a security camera?
Finding the best home security camera comes down to whether it meets your specific needs. Do you want a security camera to deter burglars, or are you more interested in keeping an eye on children or pets? Before you dive into the specs and features of different home security cameras, take the time to identify why you want the camera and what you need it to do.
If you're concerned about break-ins or keeping deliveries safe, an outdoor security camera with motion alerts might be the best fit. Check in on kids after school, or tell Fido to give the barking a rest with an indoor security camera that can provide live streaming and two-way talk.
Will you use the camera inside or outside?
Once you've decided on an indoor or outdoor security camera (or both!) there are other factors to consider. Outdoor cameras need to withstand changes in temperature and be sturdy enough to survive rain or high winds.
Indoor security cameras don't need to be quite as tough as the ones you install outside, but they should be unobtrusive. Many people look for indoor cameras designed to complement their home's décor. For both types of security cameras, note how they're powered and consider the proximity of a power source if they don't run on batteries. The last thing you need is a dead security camera when it matters most.
How much area do you need to cover?
Security cameras come with different fields of view, which refers to how much of your home or yard you can see at any one time. This can make a big impact on the type and number of security cameras you need to ensure full coverage.
If you want to watch over more than one room or outdoor area, look for a home security camera system that lets you hook up multiple cameras. It should also allow different users to receive alerts and check in on what's happening. That way, if you're in a meeting when something happens, your spouse or a neighbor could also get the alert. Another feature that can help you cover more area is the ability to pan and tilt the security camera.
Do you need audio from your security camera?
There's no reason to limit the power of your camera surveillance system to visuals only. Some security cameras have both sound and motion alerts, which provide extra protection. But these cameras usually let you only listen in and don't accommodate two-way audio.
If you want to give directions to a delivery person or scare away a potential intruder, two-way talk is the way to go. These home security cameras work like an intercom. They have a mic that picks up sound near the camera, plus a speaker that lets you interact with people or pets on the other end.
What about lighting?
The sun never sets on neighborhood crime. That's why you need a home security camera that captures crisp images in all kinds of light. We've all dealt with photos that are too dark to make out any details. It's frustrating when it's a wedding photo, but it's nerve-racking when you're trying to capture a face or license plate after a break-in.
Pay attention to the lighting in the areas where you want to install security cameras. Look for features like night vision and motion-activated floodlights—especially for outdoor security cameras. And beware of using an indoor camera to look outside; they can't usually capture images through a window or after dark.
Image resolution can also impact the quality of home security footage. Make sure the camera you choose produces high-resolution images that can help identify culprits if your home is ever targeted.
What about home automation?
Today there's a lot more to a home security camera than video surveillance. Many of the best security camera systems also help turn your house into a smart home. Security cameras can often integrate with a smart home hub like Amazon Echo or Google Home.
This can give you a huge home security advantage—the ability to remotely control lights, door locks, and your security cameras. You can also program your system to boost security measures when you're out of town or during the holidays when lots of packages are delivered. If home automation is something that matters to you, keep this in mind when selecting your security camera.
Do I have enough internet bandwidth to support the camera?
Home surveillance cameras that stream video and send alerts via email and text can use up a lot of data on your home network. How much bandwidth your camera uses depends on many factors. Some of the considerations include image resolution and whether your camera records everything or only clips triggered by motion or sound.
Another consideration is the number of cameras in your surveillance camera system. The more devices on the network, the more data they'll use. If you have caps on your internet data usage, make sure you understand how your security camera(s) could impact your monthly bill. You should also verify that your router can handle the extra devices and output—especially if you plan on using wireless security cameras.
You don't fool around when it comes to keeping your home and family safe, and neither do we. A home security camera is just one part of protecting what matters. If you're ready for a full-on defense against burglars, vandals, and stolen packages, check out our comprehensive collection of safety insights, tips, and expert advice.
Find Your Perfect Home Security System