Best In-Home Medical Alert Systems Buyers Guide
No one wants to give up their independence, but living alone can become dangerous as you age. Mobility issues and medical conditions can turn into emergency situations. especially for the elderly. Medical alert systems could save your life, putting assistance on standby and available at the touch of a button.
Medical alert bracelets and systems communicate with a monitoring station, so if you're in distress, you can call for help. If you're getting older and want to stay in your home, are concerned about an aging parent, or have a loved one with a disability that could require a quick response in an emergency, these are the medical alert systems we recommend.
Top 9 Medical Alert Systems
Product
Pros
Cons
Where to find it
Long Range
No Fees
No Contracts
24/7 Monitoring
Savings
No Two-Way Talk through Necklace
Only At-Home
On-The-Go
Fall Detection
Full Refund
No Contract
No Fees
24/7 Monitoring
Longest Range
Two-Way Talk
24/7 Monitoring
Fall Detection
Landline or Wireless
High-Tech GPS
Price Lock
No Fees
Temperature Sensing
Fall Detection
24/7 Monitoring
Decent Range
Wireless
24/7 Monitoring
Two-Way Talk
Multiple Call Centers
24/7 Monitoring
Extra Wearables
Savings Options
Contacts
No Contracts
No Fees
Fees Outside of Promotion
Fall Detection Add-On
Cheapest
No Contracts
24/7 Monitoring
Mobile
Fall Detection
24/7 Hotline
Well Connected
Wearable IDs
No Monthly Monitoring
Annual Fee
For Special Needs
Listen-In
Contact List
Almost Real-Time Updates
Safety Zone
App
Things to Consider When Choosing a Medical Alert System
An individual's needs are not one-size-fits-all, and neither are medical alert systems. To find your perfect emergency response system match, you should look at what you need and the type of support you want.
Specialty Settings
Some medical alert systems are designed with specific needs in mind. There are voice-activated alarms for people with dexterity challenges and other medical alerts that use motion detectors to automatically call for help in the event of a fall.
Two-Way Communication
Not all medical alert devices offer two-way talk. If the added comfort of speaking with an operator is important to you, make sure the medical alert system you choose has this feature.
Battery Backup
You don't want to worry about a dead battery when you need help. Make sure the medical alarm system you rely on has battery backup so that it can work even if the power goes out.
Range and GPS
Some medical alert buttons will work only in your home, providing coverage for a 300-foot radius on average. If you want to be covered for shopping trips—or even when you're out in your yard—look for a system with broader range. A senior alert system that uses GPS can increase mobility and make it easier for emergency personnel to pinpoint your location when it counts.
Monitoring Services
There can be a difference between companies that operate their own monitoring center and those that outsource support to a generalized call center. Companies with their own monitoring center have faster access to customer records and are specially trained to address the needs of medical alert system clients.
Wearable Options
Medical alert buttons are typically worn in a wristband or a pendant around the neck. Which style you choose can be more than a matter of personal preference. Consider the strangulation risk of a neck pendant—although it's a small risk, it can still be worrisome if you use a walker, wheelchair, or bed guardrails.
Cost
Many emergency response systems come with monthly service or usage fees in addition to the initial cost of the device. Be sure you understand the monthly cost before committing to a medical alert system—and ask if the company offers any specials or discounts on equipment when you sign up for monthly monitoring.
Top 9 Medical Alert Systems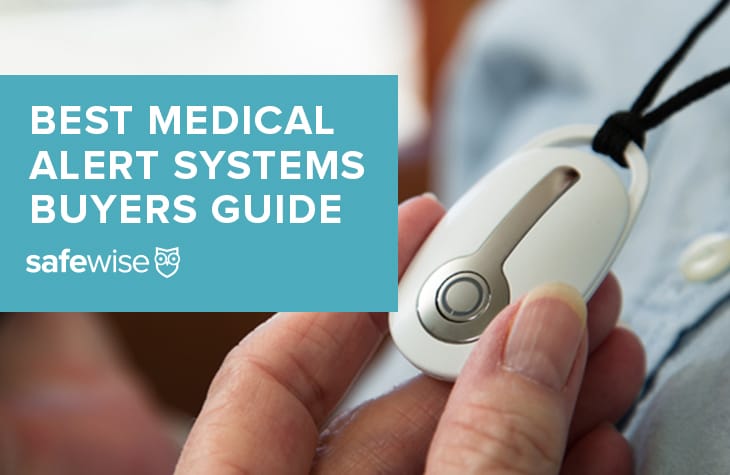 Best Medical Alert System Reviews

Medical Guardian specializes in medical alert systems. When you sign up for monthly monitoring, you'll receive a base station and medical alert pendants to wear around your neck. The base station connects you to the monitoring station. If you need help, you can have a conversation directly through that device. The emergency necklaces won't work this way, but they will send an alert for a professional to send help. Whoever needs a medical alert device in your home can have a necklace free of charge. They're water resistant, so you can take them with you into the shower and up to 1,300 feet from the main console.
Pros
Long Range


Compared to other medical alert devices, Medical Guardian has the longest range—1,300 feet.

No Fees


The equipment is free, you'll just start paying the monthly monitoring charge.

No Contracts


Cancel at any time without being billed.

24/7 Monitoring


Set the system up in your home, keep a medical alert necklace on, and press a button to call for help if you need it. Experts will be listening in, ready to help.

Savings


When you pay annually, you can save about $30. Plus, you'll get a free month of monitoring.
Cons
No Two-Way Talk through Necklace


You can call for help, but won't be able to speak to a monitoring professional through the pendant.

Only At-Home


You can only use this device at home.
Family-Friendly Feature
Each member of the household will receive a wearable pendant without an extra fee. This is great for those who have parents that both need emergency monitoring.

Many seniors lead an active lifestyle. That's why we love the LifeFone At Home and On-The Go With Fall Detection. It comes with a home base and mobile unit, so you can get 24/7 safety monitoring anywhere that has an AT&T cell signal. This medical alert system comes with GPS tracking, so if you get lost or disoriented, help can find you. LifeFone offers simpler and cheaper at-home models, but this one includes myriad safety features both seniors and family members will love.
Pros
On-The-Go


Take the mobile device with you to stay safe anywhere in America. It utilizes GPS tracking and uplinks through the AT&T cell network.

Fall Detection


Fall detection is normally an add-on, but you'll get with the monthly price of this device.

Full Refund


LifeFone offers a full refund of any unused prepaid service in the event you have to cancel. This is different than some provider contracts that often require you to pay even if a loved one passes away.

No Contract


Pay monthly for 24/7 monitoring that you can cancel at any time.

No Fees


Sign up for monthly monitoring without any equipment or start-up fees.

24/7 Monitoring


Someone will always be there to send help.

Longest Range


Get reception from your wristband or pendant up to 1,500 feet away from the base station.
Cons
Shorter Range


While you can take this anywhere, you will only have 600- and 300-foot reception respectively from the base and mobile unit.
Family-Friendly Feature
Your loved one can use this medical alert system in or outside the house—anywhere in the U.S.! It has GPS tracking and AT&T cellular service, so if your parent is still driving or likes to be out and about, they can carry this device with them.

Philips has been in the medical alert industry for over 40 years. To date, it serves more than seven million seniors. Philips offers a handful of medical alert systems at different prices, but the GoSafe is one of the best. You can use it in or out of the house, talk to a response center professional through your wearable pendant, and more. Philips' medical alert system sets itself apart by using six different tracing technologies, including GPS, cellular networks, WiFi, and more. This safety feature is huge and enables the company to find you quicker if you need assistance.
Pros
Two-Way Talk


Use the pendant to talk directly with service center representatives.

24/7 Monitoring


Get help anytime, anywhere.

Fall Detection


When the wearable pendant detects a fall, it'll call for help.

Landline or Wireless


Use wireless or landline service to run Philips LifeLine GoSafe.

High-Tech GPS


GoSafe uses six different location technologies: GPS, WiFi, cellular uplink, and others, so help can find you faster.
Cons
More Expensive


Other companies offer mobile service, GPS tracking and fall detection for less.

Fees


You'll be charged a one-time $149 device fee.
Family-Friendly Feature
Most wearable medical alert devices don't allow you to talk to the response center. If your loved one gets in trouble, he/she can talk to the emergency response center through their Philips LifeLine GoSafe pendant.

You might recognize ADT as a top home security system provider, but it's also one of the best medical alert manufacturers out there. With three different medical monitoring systems to choose from, we like their middle tier, ADT On-The-Go Medical Alert Plus. This device has a longer reception range than the basic package, wireless signal, temperature sensing, and more. It won't allow you to run errands, (you'll have to upgrade for that), but it includes everything you need for a quality at-home medical alert monitoring device.
Pros
Price Lock


ADT FOREVERate prevents your rates from going up.

No Fees


You'll only pay for monthly monitoring.

Temperature Sensing


If the system detects unsafe temperatures due to fire or freezing, it will alert the ADT Health Emergency Response Monitoring Center.

Fall Detection


This pendant is only an extra $14.99 and can call for help if it senses a fall.

24/7 Monitoring


Someone will be looking out for you and ready to answer your call every hour of every day.

Decent Range


Other home medical alert systems have twice the range, but you'll still have 600 feet of reception from the base.
Cons
No GPS


You can only use this monitor if you're within 600 feet of the base.
Family-Friendly Feature
ADT has a feature called, "FOREVERate™." It prevents monthly fees from ever changing—the perfect solution for seniors on fixed incomes or who are supported by family.

Bay Alarm Medical is ideal for people who like to customize products and services. Since most of its devices are add-ons, you can choose to go with a mobile-only plan, add at-home monitoring, and tack on additional sensors. We like Bay Alarm Medical GPS Monitor because it's a medical alert system you can take with you. The company advises people against using this as a dual at-home device because it works best when in motion. However, you can add an at-home device for a bundled price of $49.95/month.
Pros
Wireless


Bay Alarm Medical GPS Monitor uses the AT&T network to track location and communicate with response stations.

24/7 Monitoring


Get around-the-clock help.

Two-Way Talk


The mobile device is essentially a phone you can use to talk and listen to professional monitors.

Multiple Call Centers


You'll be assigned to three different call centers, so help will never be delayed.
Cons
Equipment Fee


You'll pay $80 for the equipment.

Bundle


The Bay Alarm Medical GPS Monitor works best when in motion. For proper at-home safety, you'll need to bundle products. The at-home device can be added for $10/month.

Fees


Most of these services and upgrades are à la carte, making them much pricier than other brands.
Family-Friendly Feature
Your family member will be connected to a network of three Bay Alarm Medical call centers. They won't ever have to wait in an emergency if one is down or busy; they'll be transferred to a center who can send help right away.

Whether you're the customer or you're shopping for a loved one, you can get monthly medical alert monitoring from MobileHelp for a good price. The MobileHelp Duo is our top pick since it includes at-home and mobile monitoring. Carry your pendant or wristband wherever you go and call for help if something bad happens. If you have a parent who lives alone, you'll get an alert from MobileHelp if they responded to a call. That way, you can stay on top of your family's health and rush to their side when they need you.
Pros
24/7 Monitoring


Call for help day or night—any day of the year.

Extra Wearables


Get two wristbands and neck pendants.

Savings Options


When you pay annually you can save.

Contacts


MobileHelp will alert loved ones if an emergency call has been placed.

No Contracts


Stop your service at any time.

No Fees


There are often promotions that waive fees.
Cons
Fees Outside of Promotion


When MobileHelp isn't running a promotion, you might have to pay a $99 activation fee and $15 shipping charge.

Fall Detection Add-On


For this price, we'd expect fall detection to come standard.
Family-Friendly Feature
MobileHelp will notify emergency contacts immediately when a customer calls for help. If you don't live with a loved one who has this device, you'll always be aware of health concerns and incidents.

For such a low starting price of $19.99/month, we almost did a double-take when we saw how much greatcall Splash has to offer. You'll receive at-home and mobile monitoring, two-way communication devices, GPS locator, 24/7 monitoring, and more. It's less than half the price as competitors. You can upgrade to a plan for $34.99/month that includes 24/7 access to doctors and nurses and a network of friends and family. However, we think greatcall Splash's basic plan is pretty cool on its own.
Pros
Cheapest


Besides the equipment fee, you'll only spend $19.99/month on monitoring services.

No Contracts


Cancel at any time.

24/7 Monitoring


greatcall's 5Star Urgent Response teams are always there to help.

Mobile


Take this device with you or use it at home.

Fall Detection


Your device will alert the call center if it detects a fall.
Cons
Upfront Cost


The monitoring device costs $49.99.
Family-Friendly Feature
greatcall Splash medical alert monitoring is the cheapest on our list—starting at $19.99/month. If your parent has limited income or you're supporting them, you'll get a lot of safety features for little cost.

This national Alzheimer's patient database works much like an Amber Alert. If your parent or relative has Alzheimer's or dementia and goes missing, you can report it, and a notification will be released to local law enforcement and emergency services. When you purchase a membership, you'll receive an ID bracelet that will help others identify the person wearing it and reunite him/her with family or caregivers. Elderly people with cognitive impairment can easily become disoriented, confused, and lost, so this service is a safety net in case that happens.
Pros
24/7 Hotline


Call at any hour to report someone missing and medically-trained specialists will answer the call and work to activate the "community network" (made up of law enforcement and local Alzheimer's associations).

Well Connected


If a loved one with cognitive impairment goes missing, local authorities, Alzheimer Association chapters, and emergency responders will be notified.

Wearable IDs


For the price, you'll receive a membership and ID bracelet.
Cons
No Monthly Monitoring


You won't have a GPS tracker with this membership, just a network of professionals and emergency responders on your side.

Annual Fee


You'll pay $35 a year to stay in the system.
Family-Friendly Feature
You can register a loved one who has a cognitive impairment and give them an ID bracelet, so they'll always be protected if they wander off. For an additional $35, you can also receive a "caregiver ID" bracelet for yourself, to signal to first responders that you provide care for a MedicAlert + Safe Return member, in case of an emergency.

AngelSense is a revolutionary product for people with special needs. While it was created for children, it can work for people of all ages who are mentally impaired. It works with a bracelet/wearable device and an app. The person with the disability wears the device, and friends and family monitor whereabouts and wellbeing through the app. Some of the fantastic features include the ability listen in through the bracelet to hear what's happening around your loved one. This comes in handy if your parent or family member has a caretaker you want to ensure is administering proper care. You may also use the app to set boundaries and get an alert if the person travels outside this area. If your loved one has dementia or Alzheimer's, this device can trace their whereabouts and save the day if they wander off.
Pros
For Special Needs


AngelSense is a GPS tracker with features for people with special needs.

Listen-In


Use the app to listen to what's happening in your loved one's environment, or to make sure they're getting proper care.

Contact List


Program contacts who will be alerted if the person wearing this device wanders off.

Almost Real-Time Updates


When someone wanders away, you can get 10-second updates on his/her whereabouts—including the direction they're moving in.

Safety Zone


Designate areas where the person wearing this device is able to go, and get alerts when they breach the perimeter.

App


Handle all this through an app.
Cons
Fee


You'll pay a one-time $149 start-up fee for this device.

Designed for kids


The look of this wearable GPS device is childish, since it's made for kids.
Family-Friendly Feature
AngelSense is designed for people with special needs. If you have a loved one who is cared for by others, you can still be involved in their care and daily lives through the app.
Frequently Asked Questions
How Do Medical Alert Systems Work?
A medical alert system keeps you connected to help 24/7. If you experience a medical emergency like a fall or heart attack a medical alert system makes it easy for you to get the help you need. Most medical alarm systems activate at the touch of a button, but others can detect a fall and automatically send out a distress signal.
Once your alert system is activated, you are connected to an operator at a monitoring center who assesses the situation and sends the help you need. Many medical alert systems also contact designated family or friends so that you won't be alone.
Are Medical Alert Systems Covered by Insurance?
In most cases, medical alert systems are not covered by health insurance or Medicare. But you may be able to get some or all of the cost of a medical alert covered by long-term care insurance.
Because long-term care insurance is devoted exclusively to helping people remain in their homes, a senior alert system may qualify as an in-home care service. As with all medical coverage, it's best to consult your insurance provider for a definitive answer about whether or not your medical alarm system could be covered.
When Should I Consider Getting a Medical Alert System?
Every eleven seconds, an adult age 65 or older goes to the emergency room because of a fall. Falls are the number one cause of fatal injury among older Americans, racking up $31 billion in fall-related medical costs in 2014.1
Falls are one of the most common reasons people consider getting a medical alert system—but they're not the only reason. Other considerations include getting older, living alone, or living with certain medical conditions such as diabetes. Unfortunately, there's no perfect answer about when to add a medical alert system to your personal safety plan, but there are a few guidelines that may help.
First of all, listen to your gut. If you feel the need for an extra lifeline to help, don't ignore it. Your peace of mind is important, and it shouldn't be overlooked. Other factors that may signal it's time to look at a medical alert system include changes in mobility, balance, memory, or eyesight. But your decision doesn't have to be related to changing health. Medical alarms also make sense for anyone who regularly hikes alone or to help keep track of children and others who are prone to wandering.
Find Your Perfect Home Security System