Packages starting at
$39.99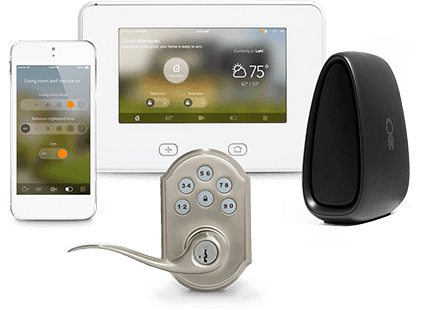 Current Deal: Get a FREE doorbell camera when you sign up for Vivint Smart Home Video!
What Sets Vivint Apart
Vivint leads the home security industry in terms of technology and home automation. With available features like a video doorbell, an automated door lock, and a smart thermostat, Vivint offers a state-of-the-art experience.
Key Features



Security Monitoring



Mobile Access



Security Cameras



Home Automation



100% Wireless



Professional Installation
Order your Vivint package today.

Call

855-374-4999
About Vivint Home Security
Vivint home security serves over half a million customers. If you're looking for the most advanced security technology on the market, Vivint may be your answer. Vivint boasts home automation and energy management features that can help you make sure the coffee pot is turned off when you leave and program your thermostat while you're away. Vivint's packages can get pricey, but they offer some impressive high-end packages, complete with 100% wireless components and leading home automation features.
Complete Home Automation
With every Vivint security package, you get alerts through emails or text messages. If any motion is detected while your system is armed, you'll know about it. With the Smart Control package, you get the whole kit and caboodle. You can also control your thermostat, small appliances, and locks from any web-enabled device, no matter your location plus 1TB of cloud storage. Whether you want to turn on a lamp or make sure the coffee maker is turned off, you can do both from across town or across the country with Vivint Control.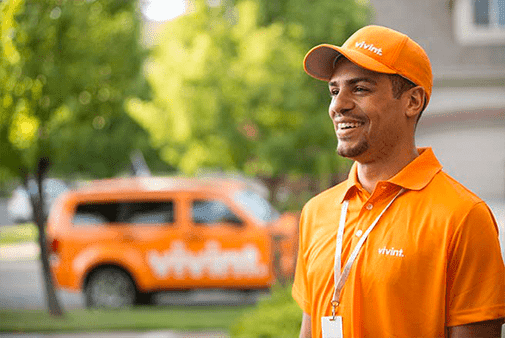 Energy Management
With the Smart Control package, you can remotely control your thermostat, lamps, and small appliances from any web-enabled device. Whether you want to turn off the curling iron or turn down the thermostat while you're not home, you can do so from your smartphone. In addition, Vivint also offers solar panel installation for customers looking to go green and lower electricity bills even more.
Completely Wireless
All the parts of a Vivint home security system communicate wirelessly, and the system communicates with a monitoring center via a cellular uplink. This means the entire alarm system is 100% wireless, no phone line necessary. Vivint offers a touchscreen panel with every package. This control panel is the hub of your system, and it includes an LCD screen and remote access capabilities.
Security Cameras
Vivint's streaming video allows you to watch real-time camera footage or recorded clips of your home from any location. Just pull out your smartphone or other web-enabled device to check up on your home and see camera footage. If you're home and don't wish to record, simply use Privacy Mode on your camera to disable remote viewing and recording, or turn it off completely.
See how stacks up. View SafeWise's best security systems review 
Vivint Home Security Equipment
$699

Navigate the user-friendly LCD touchscreen to control your security system. It includes 2-way voice communication, so you can speak directly to a monitoring center representative in an emergency.

 Vivint SkyControl Panel 

$70

This detector alerts you of the odorless, tasteless, colorless, toxic gas before it can harm your family.

 Carbon Monoxide Detector 

$100

This smoke alarm detects smoke particles as well as heat. It will alert Vivint professions to check on you and notify local fire authorities if necessary, all in less than a minute.

$50

A door or window sensor lets you know the moment someone tries to open an entry point to your home.

$100

If any windows are broken in your home, you'll know about it. With a 360 degree sensing angle, the glass break detector will even work in areas with several large windows.

$35

Arm or disarm your system, press a panic button, and open or close your garage door from up to 100 feet away.

$199

Watch live-streaming video footage or recorded clips from any web-enabled device or smartphone. It's like you never left home.

$50

Control a range of household devices, from curling irons to coffee pots, and instantly know if you accidentally left them on. You can also turn on your lights before you get home.

 Lighting/Small Appliance Control 

$159

Unlock and lock your doors from anywhere. Skip making copies of keys—when you need to unlock your door remotely, just pull out your smartphone or other web-enabled device.

 Electronic Door Locks 

$199

With a pan and tilt camera, you can view a large area of your home and watch live surveillance footage or recorded clips with a smartphone or any web-enabled device.

 Pan and Tilt Video Camera 

$169

Remotely control the temperature of your home from a smartphone or any web-enabled device. With 7-day programming, you can even set different temperatures for certain times of day.
Pricing listed requires a 3 year monitoring agreement. Prices subject to change.
Why Choose Vivint Home Security? The Bottom Line
Email and text alerts with every package
Every system completely wireless
Home automation and energy management features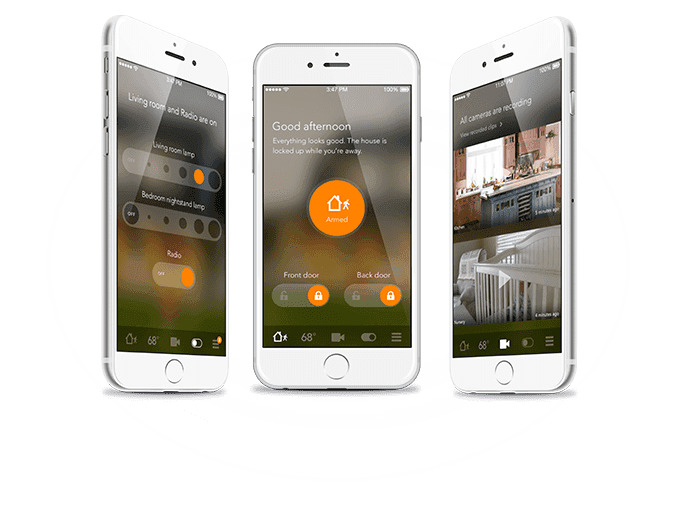 Order your Vivint package today.

Call

855-374-4999
Vivint FAQs
How Much Does Vivint Cost?
Vivint's Smart Home Security package starts at $39.99 per month and includes 24/7 monitoring, customizable equipment options, remote access to your security system, and automation features.
Vivint's Smart Home with Video starts at $49.99 per month and includes everything the Smart Home Security package has plus video monitoring options.
How Does Vivint's Security System Work?
Vivint's security system works in three simple steps. Once a sensor is triggered, your control panel will set off an alarm. The alarm will then signal the monitoring center, and you'll receive a call to verify the emergency.
Does Vivint Integrate with Other Smart Home Platforms and Devices?
Yes, Vivint integrates with Nest and Amazon Echo. With Amazon Echo, you can use voice commands to lock your doors, turn off your lights, adjust the temperature, and arm your security system. And with the Nest integration, not only can you adjust the temperature from your mobile app, but also the thermostat knows when you're away and adjusts accordingly to save you money.
Do I Need a Landline Phone to Use Vivint's System?
No, you won't need a landline to use Vivint's home security system. Vivint uses a wireless connection to communicate with its monitoring centers.
Vivint Home Security Reviews
10
Otaniel M. from Johnston , RI |
September 10, 2018
Was this review helpful?
No one has rated this review
Peace Of Mind Away From Home
My family and I frequently spend long stretches of time away from home. Last summer, Vivint notified us of a break-in during one such absence. When I think of what could have happened without Vivint, I am so thankful for the peace of mind knowing our home is protected. Thanks, Vivint!
Nelda F. from Las Vegas, NV |
September 06, 2018
Was this review helpful?
No one has rated this review
Excellent Service
Paulette H. from Upper Marlboro , MD |
September 06, 2018
Was this review helpful?
No one has rated this review
**In certain cases, customers are incentivized to leave a customer review. Specifically, those customers who leave an applicable and honest review of Vivint will be eligible to be entered into a contest to win a $500 gift card to The Home Depot. There will be one winner for each one hundred qualified review submitted.